Gary Marshall
Grace was Jeff Buckley's first fully-fledged album. It also turned out to be his last as, on 29th May 1997, he drank some wine, went for a swim and didn't come back.
As anyone who pored over "All Apologies" in the aftermath of Kurt Cobain's suicide will attest, whenever an artist dies young there's a morbid pull to their recorded work. For anybody discovering Buckley's music since his tragic death the lyrics to Grace will seem shockingly prophetic: "And the rain is falling and I believe my time has come, It reminds me of the pain I might leave behind… I feel them drown my name, so easy to know and forget with this kiss… I'm not afraid to go but it goes so slow". And when those words are sung by one of the finest voices you'll ever hear, moving from a whisper to a roar which rises above a rush of chorused guitars and hammering drums, the effect is both heartbreaking and chilling.
Since Buckley's death it's become more and more obvious how significant an artist he was and how much potential he had. Across ten songs we're taken from brooding ambience to Zeppelin-esque rock, Leonard Cohen songs and classical carols. Across it all is The Voice, recalling both Roy Orbison's multi-octave range and the power of Kurt Cobain or Thom Yorke.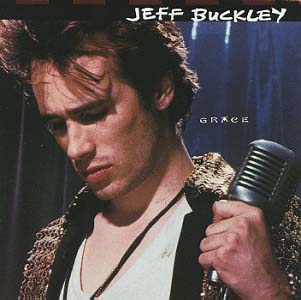 Although Buckley avoids obvious melodies and employs a range of moods and sounds in his vocals, he never let his ego get in the way of the songs and Grace is mercifully free of the vocal histrionics that plague most naturally talented singers. Instead of using the songs to showcase his range and ability, Buckley prefers instead to exercise self-restraint in songs such as the slow-burning "Hallelujah". When he lets rip on lines like "Last Goodbye's" "kiss me, please kiss me / kiss me out of desire, babe, not consolation" it's like nothing on earth.
The cover of Cohen's "Hallelujah" is the cornerstone of the album, with its co-mingling of the sexual and spiritual. It's a theme which recurs throughout most of the songs as Buckley sings about the search for redemption and trancendence, combining the spiritual and the personal in a way that conveys a profound sense of longing. At times the lyrics are painfully honest – "I love you but I'm scared to love you" in "Lover, You Should Have Come Over" is one of the most direct and unexpectedly honest approaches to the idea of love in pop music.
There's an unwritten rule that pop and rock music should deal with the simplistic and ephemeral, should stick to long-established rules of melody, content and structure. This album, on the other hand, is all about love and faith, desperation and loss, and the music wraps around the lyrical content accordingly. At times frantic and cacophonous, on first listen you could be forgiven for thinking you'd wandered into improvisation hell. Repeated listens reveal the sheer range of the music and it soon becomes obvious why Buckley has been cited as an influence by so many artists. Rather than stick to the conventions of rock music Grace throws the rule book out of the window and maps new artistic territory.