This week, Jacob Knowles-Smith ponders whether its us or them to blame for the muted response to HBO's lavish series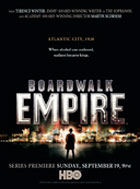 Wikipedia is a killer. A plot killer, that is. Before its advent, the history of a period drama like HBO's Boardwalk Empire would be known only by those with an interest in prohibition-era American history. A wider audience might reasonably be expected to know a little about Al Capone but he's hardly at the centre of the show; which is a good thing too because an 'origin drama' focusing around Capone wouldn't hold any of the subtleties that Boardwalk Empire does – it would be painted as the traditional saga of a man driven by poverty to exploit and crush everything around him until he destroys his very soul – and we've had that in The Sopranos. As it is, we have Nucky Thompson, a fairly obscure player in the history of American gangsterism but at least we know he's a man for whom salvation isn't an option or even much of a concern, and, thanks to Wikipedia, now any viewer – with but a few keystrokes – can find out about his entire history, something which they might not have been inclined to research a decade (or less) ago. My point (thanks for staying) is that surprise and invention can't play a large part in such an authentic programme and because Nucky, and Steve Buscemi's portrayal of the character, are the very large and imposing focus of Boardwalk Empire the writers don't have much room to manoeuvre.
This may be part of the reason why the show is yet to achieve the popularity it covets, and surely, to some extent, deserves. This is not the popularity of critical acclaim and awards but the 'water cooler' factor, the public have not fallen in love with the show. The two shows of which it is surely the heir to, The Sopranos and The Wire, both had central characters that obviously loomed large over the entire series. Tony Soprano was a central character people lived to watch – and vice versa, I'm sure – for over a decade but we were equally captivated by the stories of the supporting cast, plots which often had no direct connection to Tony. The Wire, on the other hand, was careful never to have a too obvious face, characters at the forefront of one season could be ruthlessly butchered by the next and even McNulty was a minor presence in the fourth season, but Baltimore itself was the central character in that series and was no less a presence than Stringer Bell or Omar Little.
Nucky Thompson, however, is the only character, so far, presented with any depth in Boardwalk Empire. Jimmy and Margaret perhaps, but they are mere Pips to Buscemi's Gladys Knight. Even the scenes that don't feature Nucky, which are few, are usually full of people plotting against him or wondering when he'll be back for dinner. (It should be noted, of course, that every scene is gorgeous – and often gorgeously violent, so watching just for aesthetics is encouraged.) In the first episode of the second season we have sulky Jimmy, proud Commodore and jealous Eli preparing to take down the man who has been, respectively, father, son and brother to each of them – only literally in the third case, of course, but it remains to be seen whether or not it will be the actual blood tie that saves Nucky. Then again, if the previous season is anything to go, he will probably mastermind his own solution and single-handedly defeat each of his many adversaries, or will it be the dulcet council of Margaret Schroeder that proves his salvation? Behind every great man and all that…
In the end, Boardwalk Empire is stuck in a difficult position: it's easy to criticise such a fatted-calf of a show and easy for critics to overpraise it. When people say it's the best thing on television, or some bore in a wine bar utters those chilling words "it's the new Wire", they're clearly not paying enough attention to Breaking Bad, Justified or even Mad Men – a show which one would wonder how people could pay more attention to and, yet, people even criticise that for not being engaging enough. Could it be we've all been spoilt? In Boardwalk Empire, we have a show with quality direction, performances, dialogue and enough precious 'themes' – social, political, etc. – to keep even the most post-modern Marxist-feminist blogger happy, and so should we all be.
But it could be funnier.
For those whom have access to the Universal Channel (UK), and want to wile away an evening with the best kind of good-bad TV, it would be remiss not to direct you toward Law & Order: Los Angeles (Thursdays, 9:00PM). This is a clever enough procedural/legal drama, produced with all the slickness and snappiness (the cliché threat level is on its lowest setting) you'd expect from Dick Wolf (producer of Miami Vice and the Law & Order franchise) with the added bonus of having the great Alfred Molina filling its maverick role. I only came to the show about two thirds of the way through, but, when a UK DVD release is announced, I can already feel my cursor drifting toward 'Pre-order this item today' . Yes, we all have our vices.