You wait all season for a misanthropic, sociopathic doctor, then two come along at once. Jacob Knowles-Smith reviews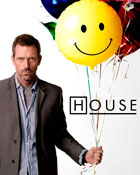 Around the turn of the last century, events both natural and unnatural conspired to shed the giants of the 19th century, such as Queen Victoria and William McKinley. In our new century, however, assassinations being less frequent (in the West) and healthcare being more advanced, we don't seem to be able to escape the extant dinosaurs lumbering across the contemporary landscape. Neil Kinnock's soundbites are unavoidable whenever the Labour party does anything newsworthy (or otherwise) and Norman Major was even dragged up during the recent plight of poor Dave and Dr Fox. Granted, the '90s weren't so long ago but More4's recent documentary True Stories: Kissinger was a grotesque display of pandering to a mandarin who's had his time.
An obvious point to make is that a documentary series entitled True Stories and Henry Kissinger could be considered something of a misnomer. His lines have been so rehearsed since the '60s that he is now the personification of a foreign policy statement. Furthermore, this is pretty cheap TV, as surely these are just Niall Ferguson's research interviews on tape, whether filmed with a good camera and spliced with archive footage or not. The time to delve deeper into the Kissinger legend will be when Ferguson's (two-volume) biography is published and, on that point, Ferguson is a good historian but it's possible he has been commissioned for the project simply because he is the most sympathetic candidate Kissinger has come across since his displeasure at Walter Isaacson's admirable book published in 1992. (Alistair Horne was allowed to do a snapshot history focusing on a mere year when the doctor was at the height of his power.)
Kissinger proudly boasts, either here or in another interview, that he has had more direct involvement with American foreign policy and/or met more Chinese leaders than anyone else. This is quite true and thus, by natural progression, it is therefore no surprise that wherever there is a human rights issue in the world, China, and indeed Russia, have their boot firmly inserted in the backdoor. However, the main problem with the documentary is that Kissinger isn't terribly interesting. Whatever charm – it can't simply be power, can it? – that allowed him to spend so much time with beautiful women has long since vanished. He is not without a twinkle in some of the early archive footage. Nixon will always be a more complex puzzle of a man. Perhaps this gives truth to Hannah Arendt's thesis that evil is banal.
The film reminded me of a documentary about another old warmonger, Robert McNamara, who (in The Fog of War) displays genuine, tearful regret for the decisions and actions of himself and the Kennedy Administration over Vietnam. Kissinger stands by and attempts to justify his every action and shows no outward signs of any regret. I thought of the words of Traudl Junge, one of Hitler's secretaries, from interview footage that appears in the movie Downfall and says – to paraphrase – that ignorance was no excuse. They could've found out what was going on under the Third Reich if they had wanted to. This is not to say that many people did not know, and especially not to make a comparison between Kissinger and McNamara with Hitler but these former two did know what was going on, what they were doing, and they don't get to have our sympathy.
Meanwhile, in the eighth season of Fox's drama, another doctor, Gregory House, is where many people would like to see Kissinger – in gaol. Luckily – for the sake of the show's format – only for the first episode, which really served only to introduce a replacement for Cameron (girl-doctor) in the form of prison doctor, Jessica Adams. When House (Hugh Laurie) is inevitably released at the start of the second episode, everyone was no doubt surprised to see that Foreman (Omar Epps, as ethnic-doctor) has taken over the top role at PPTH. Not that most people with Twitter would be surprised to know that Lisa Edelstein had departed from her role as Cuddy but anyone with half a brain might wonder how a doctor who with so little management experience could become Dean. All shows need conflict, of course, and House, like Frasier after Niles and Daphne came together, lost much of its energy when the tensions between Cuddy and House were relieved, as it were. Furthermore, Foreman, as the character always most in danger of turning into House, could prove to be a more stubborn and capable opponent than Cuddy.
No doubt Chase (boy-doctor) and Taub (everyman-doctor) will be back as well as Foreman, but by the third episode House has assembled a motley firm consisting of the aforementioned Adams (new-girl-doctor), Thirteen (Olivia Wilde, briefly, it would seem, reprising her role of bad-girl-doctor) and a very annoying character called Chen (ethnic-girl-doctor). With the introduction of this latter character, it's hard to understand what the point of med-student Martha Masters (no, no more designations) was in the last season, other than yet another fresh person for House to test his skills of manipulation on. Clearly we just like programmes about misanthropes and sociopaths. But the banter seems, so far, crisper in this season and, when that ankle-tag comes off House, I look forward to seeing what tortures he can inflict on the new management in the name of medicine.