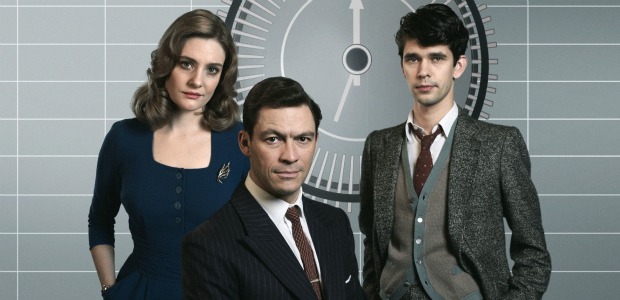 In his second episode of television reviews, Jacob Knowles-Smith looks at the BBC's Suez-and-spies drama The Hour and The Culture Show on holiday in Edinburgh
Just when you think that the BBC have peaked with a smash hit like Dr Who and abandoned the idea of a making programme that comes without limitless potential for merchandising, they slap The Hour (BBC 2) onto our screens and you thank heaven that an hour-long show is always an actual hour on the BBC, rather than the dissected alternatives higher up the channel list. All of the comparisons with Mad Men have already been made and, in most cases, found wanting. The one thing they undoubtedly (and, again, thankfully) share is a look so easy on the eye that it leaves no room for the spirit of British amateurishness and occasional chumminess that haunts many shows. However, it is still easy enough to imagine the command filtering down through the BBC that it might not be a bad idea if someone got together a series, if not similar to, then in the same vein as Mad Men, especially since BBC 4 will no longer be premiering that show on this side of the Atlantic.
Because The Hour is limited to the standard BBC run of six episodes, it has a somewhat quicker pace than an American drama which will typically have double the episodes to play around with. Thus we can see certain twists and trysts coming along and waving their arms in the background but the show is driven and kept engaging by it's three leads: Ben Whishaw (Freddie Lyon), Dominic West (Hector Madden) and Romola Garai (Bel Rowley). Whishaw plays a brash young journalist with shades of brilliance who seems to have come up with the whole idea of a serious weekly news show (it's not clear) and is pipped to the role of host by Dominic West's Standard English pretty boy, a man whose chief purpose in life seems to be the charming into bed of their female producer – and who can blame him? Romola Garai combines sassiness with a certain quiet resignation towards the insecurity and authenticity of her position as a female producer in those times, not to mention the wider inequalities imposed upon her by society – though who would really want to join those men for brandy?
It's fortunate that these three performers are so credible, because there is something lacking in the script – hire an American? – and, looking at the descriptions above, those could all be stock characters plucked from a novel written by someone like Lyon's beloved Ian Fleming – which brings us to the cloak and dagger element of the plot. Without risking any spoilers, one has to wonder if this series wouldn't be more interesting if it were a drama concerned more with the struggle to launch a new television format without having to have so much subterfuge involved? (As an aside, it seems that Dominic West got the better of the BBC offers after the success of The Wire compared to Idris Elba's struggles in the mind-boggling Luther – I never doubted either of their accents on the streets of Baltimore, but I'm not entirely convinced by Elba's English one.)
If you weren't already kicking yourself for not being among all the champagne swigging, Primark wearing, tattoo stamping, frappé quaffing fauxhème booboisie wandering around the streets of Edinburgh over August then BBC 2's The Culture Show special may, or may not, leave you with sore limbs. Sometimes the main impression derived from the Edinburgh Festivals is that of the atmosphere of the Cambridge Folk Festival and the knowingness of a Radio 4 panel game being thrust upon the arts in all their gloriously bizarre and beautiful forms – fortunately The Culture Show spared us from hearing the opinions of the punters.
It failed, however, to spare us from hearing the opinions of Julian Sands and John Malkovich whilst they were getting excited over Harold Pinter's poetry. It's not particularly exciting to read in the first place and one got the feeling that Simon Armitage didn't see what they were getting at either. We also learned that Rauschenberg's later constructions were about greed, but that he lost his edge – terrible fate for metal sculptor – and that humanity is obsessed with its own inevitable demise. That sting couldn't come soon enough when one presenter, an Edinburgh Festival virgin, toured us around the shows require varying degrees of audience participation: when required to dance in one performance piece he warns us "I'm not much of a dancer". Where was the warning "I'm not much of a presenter"? Doing a piece to camera takes skill, but mild proficiency is surely the least an audience at home can expect from a man who is otherwise talking to the bottom of their screens.
Thankfully the whole show was rescued by the women, A.S. Byatt and Ruby Wax in particular. Byatt deployed her dulcet tones to describe her new book Ragnarok: The End of the Gods and spoke brilliantly about the superior relevance of the Norse mythology to the world and our lives. The Book of Revelations, for example, sounds like Sunday lunch compared with the story of Ragnarok. And Ruby Wax was her usual enchanting self – enchanting in the way that all Jewish comedians seem to be able to enchant this reviewer – though she was somewhat subdued compared to her previous self, and no surprise after her mental breakdown which she explores in her new show Losing It. Finally, Sue Perkins proved herself to be a better hand at presenting The Culture Show than any of the regulars, perhaps it's because she was as serious as a fairly lightweight overview of arts and culture actually needs to be.