Kevin Fitzgerald gathers together the narrative fragments of Didion's novels and finds that identity is a collaborative process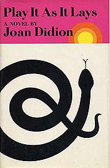 In her essay 'Facing Reality', Marilynne Robinson likens our present model of the world to so much 'floorsweep' – the meagre skimmings from a hundred years' worth of economics, history, technology merged into a seamless narrative. It is a "collective fiction", she thinks, and underwritten by its authority we vote, send our children to school and earn our living – but it is a "poor" contrivance which no one would believe in "if we did not want to".
That narrative is the nightmare from which the novels of Joan Didion are trying to awake. Existing somewhere in the flotsam of Robinson's sweepings – "the hot white empty core of the world" – they experience a kind of high anxiety over cause and effect. Dread-filled protagonists uncertainly, endlessly, encircle the "might, could, would, did, did not" against backdrops of deserts and equatorial islands – vanishing points where story lines never meet. Taco Bell and abortionists, film directors and arms dealers, newspapermen and CIA expats ally in some sinister, materialist continuum.
"What makes Iago evil, some people ask? I never ask", thinks frazzled actress Maria Wyeth in Play It As It Lays. Languishing in rehab, she refuses to interpret Rorschachs – to see something in nothing. "They will misread the facts, invent connections, will extrapolate reasons where none exists", she says of her evaluators. 'NOTHING APPLIES', she writes with electronic pencil.
Maria's passive attitude in the novel has been criticised, but it is the modus operandi of her defiance. When we see her driving, conceiving "audacious lane changes, strategic shifts of gear", on the spiralling multi-lane freeways of outer Los Angeles, she shares something with J.G. Ballard's Vaughn in Crash – the lure of careering off a pre-constructed path, of escaping the science fictional, mass-produced narrative she no longer believes in.
But it is in the radical scenarios of Didion's novel Democracy that this recalcitrance becomes most urgent. Characters in the novel often read as if they were not much more than an paper trail. They might be an entry in Who's Who. They might be a label on a prescription bottle, a customer account at a bookstore. They might be a Vogue interview, a conversation heard in a Washington hotel lobby. They feel like a series of representations, ledger entries. And just like in any respectable totalitarian bureaucracy, those entries are frequently revised, downgraded, subject to imperfect recall (accidental or otherwise). CIA man Jack Lovett likes to sand his tracks with meticulous detail, never leaving the same name on bar tabs. He's a man who leases one-bed rentals under the name 'Mid-Pacific Development'. Obviously someone who stage manages world events can only leave the vaguest traces of his presence.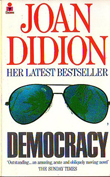 Meanwhile Inez Victor, who continues a long and doomed love affair with Lovett, struggles to maintain control over her biography. We see the novel slowly accrete into specifics, like a memory cautiously set down, as if it might at any moment be forgotten: "He said to her. Jack Lovett said to Inez Victor… Jack Lovett said to Inez Victor (who was born Inez Christian) in the spring of 1975". The backdrop is the Vietnam endgame and the febrile Presidential campaign of husband Harry Victor. This is a world where nothing happens unless you read it in The New York Times. Watching a CBS broadcast about her life as a young girl, she hears about a childhood governess from Neuilly and how Inez was called Nezzie and how Nezzie spoke pidgin. She is silent: "There was no Mademoiselle. She had never been called Nezzie. She had never spoken pidgin. The governess from Neuilly had not been a governess at all but the French wife of a transport pilot who rented the studio over Cissy Christian's garage". Memory, Inez knows, is one of the first casualties of political and ideological posturing.
Covert stage-managing of events without leaving evidence and staying in control of the story… these seem like a writer's concerns. And just as we are making this connection, Joan Didion herself enters the proceedings.
"Consider the role of the writer in the post-industrial society", she turns to us and suddenly asks. "Consider the political implications of both the reliance on and distrust of abstract words." Then the character Joan Didion reads The Los Angeles Times and The San Francisco Examiner and finds the same kind of Orwellian revisionism that we noticed earlier: "Tank battalions vanished between editions. Three hundred fixed wing aircraft disappeared in the new lead on a story about the President playing golf". Environments are reorganised, individuals transposed, history restaged at a moment's notice. The world is Authored. So is that the role of the writer in the post-industrial society? Or is it – paradoxically – the reverse: to challenge the authority of Narrative, to show us that history is a hoax, a bride stripped bare?
What started as political exposé is now something more complicated. Democracy is its own problem. The novel becomes conscious: it knows that to narrate is to corrupt. She asks us to "consider her own involvement in the setting", and what 'atmosphere' results. There are puzzling questions about the implications of using the autobiographical third person. "Call me the author" she writes (recalling Melville), as if that were only a stand-in, a label to be discarded later for something more conclusive. Perhaps negotiator might be a better word? Through this narrated self, direct experience becomes mediated experience. Her 'I', just like Inez's 'I', is destined to be a commentated 'She': a sometimes suffocating, disruptive imposition of one identity over another, but also possibly a sometimes open and reflective collaboration. Thus Democracy.
 What remnants, fragments are left over from this obliteration? If Democracy is about resisting narrative, it is at other times fascinated with the incantatory power of nouns, details. As if ineluctable matter is all that there were. Forget verbs, context. Nouns are immobile, context free. There are lists: "iridescence observed on the night sea off the Canaries, guano rocks sighted southeast of the Falklands, the billiards room at the old Hotel Estrella del Mar, a particular boiled beef lunch eaten on Tristan da Cunha". Elsewhere there are "Brown-and-white spectator shoes, very smart. High heeled sandals made of white silk twine, very beautiful. White gardenias in her hair on the beach at Lanikai. A white silk blouse with silver sequins shaped like stars". There is the list of cruise ships' names Inez compiles. The Pacific functions as a tabula rasa – a vast stage upon which the fiction of US post war ideology was imposed. And then there is the final note she writes to explain her decampment to Kuala Lumpur: "Colors, moisture, heat, enough blue in the sky". Those things alone, she explains, are "four fucking reasons" to stay.
Didion seems to have reached the same impasse as the 'detonation theorists' working out at the atolls in the Pacific, one of whom, Lovett tells Inez, was "a pretty fair Sunday painter". But he could never quite paint the "nuclear pink of the dawn sky" after a shot. "Just never captured it," Lovett tells Inez, "Never came close". Didion might advise this artistically inclined physicist that he will never succeed in composing an accurate picture, and that it isn't the point. The real trick is simply to note the debris patterns, particle trajectories, ignition sequences, fallout clouds – the dust that rises when a floor is swept.