Chris Mitchell gets a sneak preview of the outrageous new film, The Killer Tongue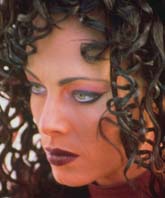 This year's Cannes Festival witnessed an explosion of tongues, transvestites and the tightest costumes ever devised with the premier screening of The Killer Tongue, the debut film from the Brighton-based production company Spice Factory. Starring Robert ('Freddie Krueger') Englund and Doug ('Pinhead') Bradley, The Killer Tongue looks like a collision between Priscilla: Queen Of The Desert and The Evil Dead, with a distinct tip of the hat to The Rocky Horror Picture Show for good measure.
The Killer Tongue's plot is as gloriously camp as its costumes. The debris from a meteorite slamming into the Tex-Mex desert winds up in the soup of Candy (Melinda Clarke: Critic's Choice, Return of The Living Dead III), a former doublecrossing underworld desperado currently lying low in a convent. Once said soup is imbibed, Candy becomes host to the aforementioned alien mutant Killer Tongue, complete with talking Alien-esque mini-maw. Just for that finishing touch, Candy's pet poodles metamorphose into the drag queens Loco, Coco and Rudolph. With her underworld enemies in hot pursuit, Candy flees into the desert, transvestites and tongue in tow.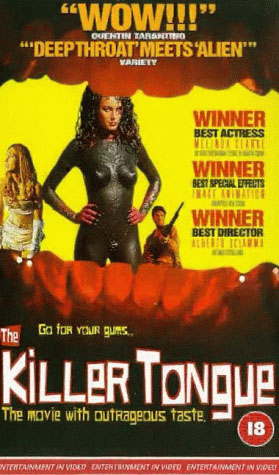 Meanwhile, her former crime partner Johnny (Jason Durr: Young Soul Rebels, Between Two Worlds) is serving time in a chaingang under the sadistic Chief Guard (Robert Englund). Amongst Johnny's fellow convicts lurks Doug Bradley. Hearing of Candy's plight, Johnny escapes the gang, teams up with Rita, a nun still convinced of Candy's convent credentials despite the fact the tongue has already eaten half of her heavenly choir, and also sets off in pursuit. Volkert Struyken, one of the executive producers along with Jason Piette and Michael Cowan of the Spice Factory, comments: "It's a psychotic comedy, but there's very little gore, no flying heads. One thing you can guarantee, it's going to be one of the most memorable films of 1996," he states, before dissolving into laughter.
What we have here is a comedy horror transvestite road movie of the first order. As Robert Englund remarks, "When I got the script, it was very different to anything I had read. There was something about the snowballing visual images which made sense to me. I realised that it must have been something like reading a David Lynch script before we all used 'David Lynch' as an adjective. It reminded me a bit of El Hobo, Dust Devil by Richard Stanley and also the Coen Brothers; it has that almost cartoon, story-board aspect to it. It is very strange in its weird kind of juxtapositions – I've been calling it a visual non-sequitur."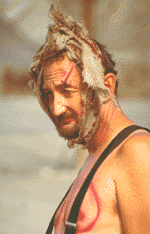 This sort of comment is all the more remarkable seeing it's concerned with a British film. If Four Weddings, Sense and Sensibility and Trainspotting have all recently played on their quintessential forms of Britishness as their main selling point, The Killer Tongue takes great glee in being a complete hybrid of trash Americana and spaghetti westerns. As Michael Cowan of Brighton's Spice Factory who co-wrote, produced and organised the financing for the film comments: "Spice Factory really doesn't give a fuck about Channel 4 or any of those people because they really aren't interested in the type of movies that we want to make. The world's becoming a much smaller place. People want to be entertained, not go and watch My Beautiful Launderette which has only 50 screens, all made in the UK, costs £1 million and takes 5 years to produce because everyone's trying to make money out of Channel 4. Our philosophy's really different because it's grown up from the video age. I think a lot of kids from that era who have grown up knowing a lot about all sorts of different films and music want to see that same diversity in the cinema."
This is reflected by the other key figure in The Killer Tongue's genesis, the 34 year old Spanish writer-director, Alberto Sciamma. Like David Fincher's rite of passage before his directing debut on Alien 3, The Killer Tongue is Sciamma's first feature film after directing a host of critically acclaimed music videos. That experience shows in the fact that shooting for the film wrapped up after eight weeks in Almeria and Madrid, holding to its $6 million budget.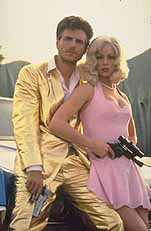 Acquiring the money for such a relatively modest film budget is still a difficult process, as Cowan attests: "It took us nearly eighteen months to get it financed. Alberto Sciamma had suffered total rejection when he was touting the original script for The Killer Tongue. But after we got involved and Jason [Piette, the other co-director of Spice Factory] did some extensive rewriting, we were ready to go. We used a front guy as a producer called Christopher Figg who produced the Hellraiser movies 'cos otherwise people would have said, 'Unknown director, unknown producers, who the fuck are they?'. We used him as the front and then put all the deals together to make it work. During that process we got a lot of rejections from a lot of people, Polygram et al, who couldn't see it, couldn't understand it, couldn't get it. But we did it."
The Killer Tongue has eventually emerged as a co-production between Spice Factory and Spain's Lola Films, with backing from the UK's European Co-production Fund and the giant Spanish publishing corporation Prisa's entertainment division, Sogetel. Cowan makes a telling analogy to this complex process: "The film business is something like the futures market- all you're doing is selling names and bits of paper That's the bottom line, which is pretty shocking when you've spent so much time trying to create something!"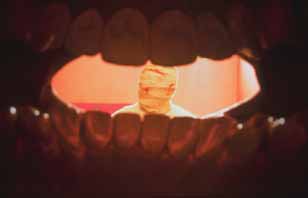 Spice Factory are themselves part of a bigger company, Brighton's Epic Multimedia Group, itself the largest independent multimedia company within Europe. This gives Spice Factory an added edge as Jason Piette points out: "We're the only production company in the world that makes both computer games and films." This is demonstrated by The Killer Tongue game tie-in, Point and Lick, due out later in the year, and Spice Factory's development of the game to accompany the $25 million film Space Truckers, featuring Dennis Hopper. From their dealings over Space Truckers, Spice Factory have managed to persuade Goldcrest to finance their next film Crush Hour to the tune of $14 million.
Cowan, a graduate of the National Film School, indicates the great strength of Spice Factory is precisely this diversity: "We're not just film producers: we actually originate product – we're creative writers and we work with other creators. And we also understand the business side." Far from spreading themselves too thinly, Spice Factory reckon they've hit a unique formula to fund production of future films without having to continually compromise over financing. Spice Factory are already commanding respect within the British film industry: "In the beginning we spent a lot of time travelling up to London to meet a lot of people – now the likes of Channel 4 and British Screen are coming down to Brighton and see us. We're not trying to be cocky, like we're going to be a great success, it's a business like anything else."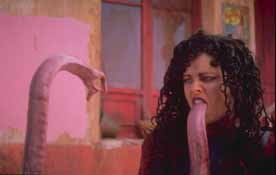 "But what we like about the film business is that it's unpredictable, it doesn't matter how great a script or how much money you have, it's whether people are going to go and watch it. I think last year especially proved that. A lot of the major studios have produced big name movies which haven't performed in any way whereas a lot of the smaller movies like Clerks, Clueless and The Usual Suspects have worked. I don't think people go to a movie anymore just because there's a big star in it. I think it's all to do with what the story is and what they want. And I think they're looking for something different, because over the last 4 years it's been so repetitive with sequels et cetera. Which is where The Killer Tongue comes in – it's wild, wacky and it's in-yer-face." And, indeed, in yer mouth. Scheduled for a September / October release in the UK, Spice Factory are hoping for a 15 certificate once The Killer Tongue gets licked by the BBFC.
Killer Tongue Update
Latest news regarding The Killer Tongue as of September 1996 is that it went down a storm at the Toronto International Film Festival earlier this month and is being released on a hundred screens in Spain in October.