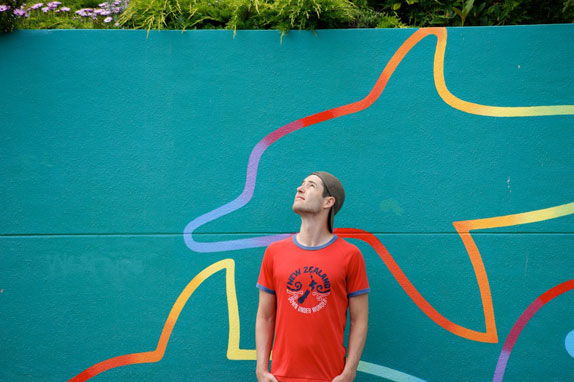 Sourav Roy interviews New Zealand artist Shannon Novak about the history of synesthesia and how his practice focuses on the relationship between sound, colour, form, time, and social context

Just what shade of orange is a hemidemisemiquaver? If you could hear a Mondrian, what would it sound like? The works of Shannon Novak, an emerging artist from Auckland, New Zealand will not answer these questions but will raise plenty more, one more fascinating than the next. His work explores the multiple strands that link sound, colour, form, time, and social context. A pianist since a very young age and an instructional designer for a significant number of years, his abstract paintings of simple shapes and colours, sometimes accompanied by his own musical compositions are anything but simplistic. His exploration of these connections have taken him places: musical and silent installations, piano albums and even a global sound/art project which resonated across ever-expanding ring of participating galleries in locations including, Belgium, Iceland, Nigeria, Italy, the UK and the USA.
How do you compare your work that has an audible sound component to work without?
The inclusion of audible sound in a work is determined by whether or not it supports the investigation at hand. In The Four Dimensions of a Note, I explored the relationship between four integrated dimensions of sound. Given the focus of each work was on an individual note in isolation I opted not to add an audio component, as it would have taken away from the simplicity of the work. In contrast, Semitone Shift considered multiple notes moving from one state to another therefore added an audio component to compliment and energised this complexity.
How has your work as an instructional designer influenced your work?
The influence is heavy if we consider instructional design as designing the optimum learning experience for a given audience. In The Four Dimensions of a Note works were displayed in three major groupings or phases: introduction to the dimensions, the conceptual framework, and the four dimensions realised. This design follows an instructional design principle where an idea is revealed stage by stage to help learners construct knowledge. It was envisaged that if a viewer walked around the works in order through the three phases, they would arrive at a deeper understanding of the underlying concept than if they chose to view works in random order. Another aspect of instructional design that influences my work is the layout of information in a way that best focuses the learner on what is most important. In Semitone Shift, the works were designed to focus the viewer on particular forms and colours.
How has your childhood influenced your work?
I grew up in a small coastal village called Oakura on the west coast of the North Island, New Zealand. My mother is an artist so I grew up in an environment full of creative energy that never wavered and was always challenging. We lived a short distance from the main city New Plymouth where public art thrived in multiple forms and I distinctly recall feeling a pull to the works of two well-known New Zealand artists, Michael Smither (who is now a mentor of mine) and Len Lye. Michael Smither had created murals using colour and form to represent sound related investigations whilst Len Lye had created alarmingly loud kinetic sculptures. I was encouraged to explore ideas through both art and music from a young age, many of which have helped form investigations present day.
What is your take on synesthesia?
There are many forms of synesthesia and I seem to have a blend of a few. One form I haven't seen thoroughly documented is a 'form-to-beat' synesthesia. I look at everyday objects like buildings, and can hear a percussive beat. Different objects will have different beats. I recently connected with a leading researcher in synesthesia about this and was told this was rare and that there wasn't enough data on this form to draw any solid conclusions at this point in time. The other form I have is the more common and well-documented sound to colour (and vice versa) synesthesia.
One of the most obvious visual representations of music is a musical note. Do the abstract forms in your works somehow refer to the forms of musical notes?
The forms I have been using lately are largely rectangular and circular. I have attempted to deconstruct these forms into motifs that allude to sound events and in the process have avoided using literal representations of musical notes. Circular forms were used in the works from Semitone Shift to represent the activation of sound, whilst rectangular forms were used to represent sound qualities such as pitch, volume, and timing.
What about the use of colour? Does a specific colour represent a specific note?
There have been many studies throughout history that link a specific colour with a specific sound from Isaac Newton's colour wheel, to George Field's Chromatics, to Alexander Scriabin's 'colour hearing'. Present day and new studies are emerging that extend this view such as the colour to sound correlations made by harmonic scientist Richard Merrick in his text Interference. Merrick maps colour relative to a key based on harmonic function as opposed to mapping colour absolute to a sound frequency or pitch. In my own work I do not select a particular colour or colours to represent a given note, rather colour is used to represent my synesthetic response to sound. It creates a tension in the work between the measurable aspect of sound (pitch, volume, and timing) and the more immeasurable (the synesthetic response).
Have you thought about the visual representation of music genres such as country, rap, and pop?
One concept I developed last year that never reached fruition was called "Music Shop". I wanted to create an experience where viewers would walk into the gallery and experience a range of synesthetic responses to different musical genres as works augmented with audio components. The consideration of music genres is something Michael Smither has explored and an example of this was present in his exhibition Shared Harmonics. One work titled DAG was based on a common rock guitar chord progression.
Do ideas come to you first as music or visuals?
When developing a work I begin with a sound, and let the sound guide the composition. This can be a wrestling match at times as I often experience a strong desire to create geometric forms first, then compose sound around the forms. From experience this is usually an unsuccessful strategy so always return to the sound and let it lead the way.
Which artists past and/or present have inspired your practice?
When I think about those who have inspired me, I think not only of artists in the field of geometric abstraction but those in other fields, as I am inspired by both visual and behavioural practices. For example, Victor Vasarely's use of colour is visually inspiring, whereas Claude Debussy's act of challenging the traditional methods of composition inspires my behaviour. Key New Zealand artists that have had a major influence on my work to date include Michael Smither, Gordon Walters, Roy Good, and Michael Parekowhai. Key artists outside New Zealand include Jasper Johns, Bridget Riley, Victor Vasarely, and Piet Mondrian. Key influences in other fields include Richard Merrick (harmonic science), John Stuart Reid (cymatics), Neil Ieremia (dance), and Michael Nyman (music).
What role do installations play in your practice?
Installations are integral to my practice as they are one of many ways to extend the reach of my ideas. I was recently commissioned to create an installation called Sonic Meal that commented on how the digitisation of sound has diluted the experience of spirit in sound. The replacement of live sound with electronic substitutes is like the processing of food from its raw form into the seemingly more palatable. I set up a dinner table in front of a well-known New Zealand cathedral and placed chopped up musical instruments on plates with a single figure sitting at the head of the table. The instruments were painted a block colour that alluded to a type of food. The figure wore headphones connected to one of the plates and a piece of music I had composed was playing in the background (chopped up and reassembled). If I were not engaged in creating installations, this idea may not have been the multi-sensory, three-dimensional experience I had envisioned.
Sonic Meal image gallery
Last year you led a global installation called Sound Fragments. What was this about and what were some of the challenges and highlights?
Sound Fragments was inspired by research I was undertaking at the time in the field of harmonic science, in particular, the analysis of sound waves. It started out as a few circles on a piece of paper then slowly evolved into a global event. The installation represented sound waves that spread outwardly from a New Zealand gallery, to other galleries around New Zealand, then to galleries around the world. Fragments of sound (works) were left in each gallery as the sound wave passed by, so over time, works appeared locally, nationally, then internationally. One key challenge was the project management of multiple stakeholders in different countries with different time zones, different etiquettes, and different languages. Another key challenge involved getting potential stakeholders to see geometric abstraction as a valid form of communicating an idea. Key highlights included a successfully executed installation despite the risks, contribution to the field of geometric abstraction, and promotion of New Zealand art. It was also interesting to see how the work was treated differently in different contexts around the world.
What are you reading and listening to now?
I am about to read a book called Movement and Balance that delves into the art of Sophie Taeuber-Arp and I have been listening to the works of New Zealand composer Jack Body.
Further Resources: