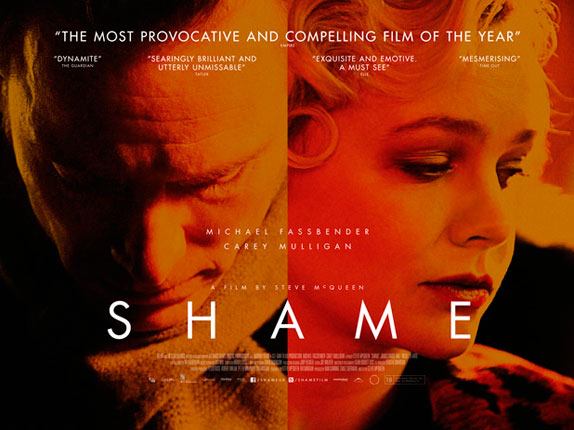 Reviewed by Declan Tan
Steve McQueen's second feature is a visually arresting, thematically dense piece of cinema, that may, and probably will, prove to be an important film in years to come. That is, if enough people get to see it. Having been cursed with a NC-17 rating in the US and a limited release in the UK, it seems those it may have been intended for will be largely unaware of its arrival.
From the opening frames it becomes clear there is again, after Hunger (2008), a meticulous method at work, both in front and behind the camera; McQueen's fine arts training fixes every image immaculately, as if leafing through a glossy (yet depraved) coffee table book, a look which works as irony for its subject matter, and the extension of McQueen's intention to interrogate his audience.
Then there is Fassbender as Brandon, a long-time sex-addicted New Yorker running the hamster wheel of untameable urges and the subsequent self-loathing, his demeanour and quiet menace recalling fellow-pointy-face Christian Bale in American Psycho, only less cartoonish and more sinister.
Brandon's condition worsens when his younger, ever-vulnerable and needy lounge-singing sister, Sissy (Carey Mulligan), comes to visit. The pressure of her presence and her constant encroachments on his territory adds to the strain he already feels. Her re-appearance twists him in new ways, not helped by her dalliances with his boss, Dave (James Badge Dale). Brandon gradually crumbles into himself.
And there is much to admire in its telling. Shame is something of an orchestral symphony, all of the components coming together to form a cohesive and remarkable whole, made from the music, and the visuals, and (most of) the acting. One notable sore spot, however, is the mildly irritating dinner scene, in which Sissy performs a heart-wrenching number in front of her brother and Dave. The camera trained on Mulligan's quivering face, the film's flow is interrupted. A long long shot of just too much supplicatory 'acting'. We are made fully aware that what we are witnessing is an actor's attempt to state her claim as being 'the brightest young thing', the scene far too drawn-out to leave any sympathy remaining in this particular instance. That is not to say Mulligan won't be praised. She surely will be; it is the kind of thing that critics go for, this false attempt at intensity behind a look of painful worldliness.
Despite this, what co-screenwriters McQueen and Abi Morgan have managed is to make real, living, breathing humans of Brandon and Sissy. You may not like them; one is an arrogant bully, the other a needy liberty-taker, but somehow you reach some state of empathy.
Of course, as you may have heard, a lot of the film is sex. That almost goes without saying. (It is like the filmed memoirs of Dan Fante.) But the way McQueen has worked it disconnects the viewer from the sex, even from the sex in other films, this sex for gratification, the cold relief sold as 'love'. It is the same with Brandon, and we arrive again at empathy. He cannot resist his urges to abominate himself, using hookers, masturbating at work, spending the in-between watching internet pornography, sat with a beer as if looking at a football game, completely on automatic. While, at work, his computer is confiscated as a result of the material found on it.
As he goes on, Brandon has more and more emotionally numbing sex, his pursuit leading him eventually to physical injury and homosexuality (with an odd and subtle implication that homosexuality is rock bottom, if we are to go by the music and intended drama. But it is little trips like these* that make you realise this film was actually 'made', that it didn't just fabricate to teach our society a lesson.)
Shame seems not only about sex addiction as a distancing affliction, but also about alienation in general, though it does too hint at familial problems, sexual or otherwise, as the root cause of the siblings' troubles. But McQueen is less interested in working the psychological aspects, opting instead to document, not explain: Here is a man who is of no value to himself. He has lost touch with any sense of worthiness, any purpose, other than fleeting and momentary gratification. What is he worth, if he is nothing even to himself? This is why it seems as if this is an "important" film (in quotation marks as how important a film can get has its obvious limitations), and completely of this era of commodified sex. An issue of the times.
Quickly the glossy sex becomes abhorrent to watch, because we are with Brandon, and it's as equally degrading to the viewer as the participant, made most obvious in the clips of porn flickering on Brandon's screen. McQueen merely shows this to the audience, does not tell it, by taking us from our awareness of his commercial-like images, which open the story, to the grimy opposite, but filmed in the same style, while simultaneously the world that Brandon inhabits becomes as glossed over and false as the sex and pornography that clouds him.
"These days it is not realistic to limit yourself to one partner", Brandon says at one point during a date with a girl from work in which he also expresses his pessimistic view of long-term relationships, that one becomes bored with the other. It is clear that he is constantly reaching for the now, the instant gratification. This is what makes this film of our time. It sounds like social commentary, and it probably is. Fassbender's Brandon is an icon of modern man, a symbol, while the final effect of Shame has some kind of reverb with Tarkovsky's (disappearing) idea of having a film hopefully make the viewer turn to 'good'. Shame is the sound and sight of an artist speaking and moving, yet without didacticism or lame solutions. And by the end, we are given a sense of hope, of man resisting himself, gaining control. Shame that a lot of people probably won't even get a chance to experience it.
[*How many times can the distorted reflection of a protagonist be used as a metaphor in film, without someone piping up and saying something?]