Reviewed by Robert O'Connor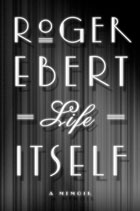 "I was born inside the movie of my life." That sentence starts off Roger Ebert's new memoir, Life Itself. The first chapter, 'Memory' – which is numbered zero in the table of contents – shows the great arc of his life from the beginning to now. It touches on the essential moments, the essential people, and demonstrates why writing a memoir now at the age of 69 is just the right time. The life Ebert ends up describing, most of it spent as the film critic for the Chicago Sun-Times, is an extraordinary one, and what makes the memoir so much fun is that it seems like Ebert is just as astounded by it as any chronicler of it would be.
Ebert was an alcoholic when he won the Pulitzer Prize for criticism, the first film critic to win it. He has lived the last five years with just as much vigor and worked with the same enormous industry as before, despite being unable to speak, eat or drink and thanks to corrective surgery, it is painful for him to stand and hard to walk. And after starting his blog, his voice has been even more powerful. Any of these things could easily make a somber, melancholic memoir just by themselves, but Ebert tells his life story – all those things and more – with no cynicism or anger.
Chicago magazine had a long piece on Ebert several years ago that pointed out that he had lived an extraordinary life without making enemies. One of the most moving chapters in the book is about his rival, who eventually became his great friend, Gene Siskel. Siskel was the film critic at the Chicago Tribune, and was given the job to rival Ebert. They were fiercely competitive with each other and when WTTW wanted them to host a show about the movies, neither of them wanted to do it. The show made them famous, in part because in almost every respect they were the opposite of the other. When Siskel died in 1999, Ebert dedicated a show to him, sitting in his usual spot, while Siskel's seat stayed empty. In a recent profile by CBS Sunday Morning, Ebert said that he "misses [Siskel] terribly every day."
Much of the book is pulled from the most personal writing that's appeared on Ebert's blog, with some editing. There's a chapter on the Eyrie Mansion, where he stayed while in London that first appeared in 2010 when it was torn down. His chapter on Russ Meyer includes the tale of Who Killed Bambi, the never-made film that would've starred the Sex Pistols. He had posted his original script and retold the story when Malcolm McLaren passed away. His stories about O'Rourke's, where he would go every night after work when he drank, read poetry, sang songs and interviewed movie stars also first appeared on his blog. Some of the people he interviewed there like John Wayne and Robert Mitchum get their own chapters.
This isn't a criticism. After all, the best stories are told many times.
Before the surgeries that took his voice, Ebert produced a stunning amount of work: six movie reviews a week for the Sun-Times, a weekly TV show, a Great Movies column and an Answer Man column, to say nothing of the features, interviews and opinion pieces he would do for the Sun-Times and various other places. He still does all of them, albeit he produces the show instead of co-hosts. I'm convinced he's possessed by the same demon that Studs Terkel said possessed Mike Royko that made him write so much. Those two great Chicagoans get tributes and memories in the book.
The most moving stories he tells are the ones Ebert leaves until last. His memories of Gene Siskel at the end and his tribute to Studs Terkel. He also has a loving tribute to his wife, Chaz, who has saved him from living out the rest of his life alone. He closes with a chapter on his beliefs about religion and another about death. His religion is what Richard Dawkins would call "Einsteinian," in that the experience of the universe, from the grandness of it to the smallest of intricacies gives him the ecstasy others find in a personal God. And death – which he's already stared in the face – is nothing to fear.
Publishing details for Roger Ebert's Life Itself at Grand Central Publishing