The Physical TV Company is taking dance beyond the body and into virtual worlds. Its founders tell us about movement on screen and the rhythm of editing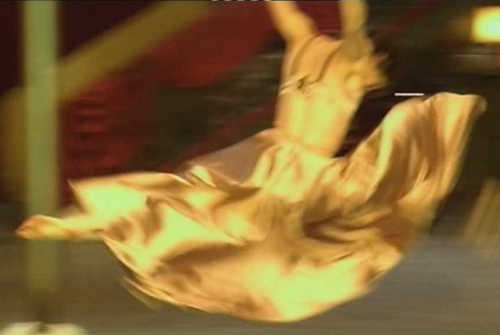 As much as we love contemporary dance – Siobhan Davies, Wayne McGregor, Liz Aggiss, and others, it isn't covered by Spike's remit. We do, however, write about film and can bend the rules for The Physical TV Company. Formed in 1997, by Dr Karen Pearlman and Dr Richard James Allen, the Australian-based outfit has focused on dance film. Although their motto is "stories told by the body", Physical TV has an increasing interest in transmedia and mixed reality. It's an exciting proposition.
There has been an overtly rhythmic aspect to film since Eisenstein's theories of montage at least. And, whilst even Busby Berkeley spectaculars have an implicit cinematic choreography, it is probably with Merce Cunningham that we first find a more explicit fusion of dance and moving camera. Cunningham conducted lifelong experiments with film, video, and computer technologies such as motion capture. Since the 1970s, the relationship between dance and camera has developed into many forms, often with subtle differences of approach – videodance, for example, is not simple documentary, but a crafted hybrid of performance and editing techniques. The result could only exist on screen. Some companies use video as a tool for rehearsal and choreography. Others, like DV8 Physical Theatre, have incorporated video into live performance. Wayne McGregor's work has taken place against a backdrop of video art. It is the exploration of mixed reality that differentiates Physical TV.
Working with Gary Hayes of MUVEDesign, Pearlman and Allen's most recent project is Entanglement Theory, "a mixed reality dance film" in which "a busy dancing man takes a nap in two realities". Live dance takes place within Second Life whilst avatars cross over into 'real life'. The film garnered a nomination for Best Editing in a Short Film by the Australian Screen Editors Guild. This is hardly surprising, as Dr Pearlman has specialised in the theory of rhythm in editing and ideas about tension and release. Originally from Missouri, she trained as a dancer to degree level and studied with Twyla Tharp company members, amongst others. A number of projects ensued, including roles for the Bill T. Jones/Arnie Zane Company during the 80s. Two Masters degrees, in Editing and then Media Production, led to a Doctorate and the book Cutting Rhythms.
Richard James Allen's career is difficult to summarise, taking in various forms of dance with a number of companies and choreography, a scholarship student at the Merce Cunningham studio, as well as yoga, acting, and poetry for page, stage and screen. In his thesis, he talks about the idea of being a 'shapeshiter'. Allen's interest in transmedia extends to his literary work. The Kamikaze Mind included work for mobile phone. He first began working with Karen Pearlman in New York when they founded That Was Fast in 1985. The company was already using video as part of a mixed media approach. They were artistic directors of Tasdance, before forming The Physical TV Company in the Surry Hills suburb of Sydney, with the express purpose of exploring screen dance and physical theatre.
Although each of these areas could fill a book (in Pearlman's case, it has), Dr Pearlman and Dr Allen spoke to Spike about their work. This is intended as an introduction to a rich and expanding world. Luckily for us, the Physical TV site offers a trove of resources, reflecting their deep experience and fascinating projects.
Dance for the camera is a fascinating idea, as if the camera itself were a dancer and the editing process adds additional rhythm. Could you say a little about what fascinates you most about these possibilities?
Dr Karen Pearlman: Absolutely – the camera needs to be a dancer and editing is a form of choreography. Probably the most fascinating things about the mix of dance and cinema are the rich histories and possibilities cinema offers for meaning making with time and movement. The root word for cinema is of course 'kine', which is Greek for movement. The frame is a fascinating alternative to the stage because of the way it shapes movement dynamics, and uses composition in space to tell story or convey emotion. The editing process therefore is often a process of re-choreographing in the sense of finding the original creative impulse and making it anew inside a different frame.
Dr Richard James Allen: We brought this idea from subtext to text in the dance drama No Surrender starring Bernadette Walong, in which the camera becomes a character, that of the voyeur, intruder, invader and the dance between the dancer and the camera becomes a very dangerous one in which the audience is by necessity implicated. In this project, editing in conjunction with cinematography and design, creates a seamless verisimilitude.
Karen writes about editing as a form of choreography in her case study of our surreal dance fantasy feature film Thursday's Fictions in her book Cutting Rhythms: Shaping the Film Edit (Focal Press) developed from her doctoral thesis and her various articles, many of which are online.
There's so much to be said on both these topics, but I would also like to add that I think that one of things that has distinguished Physical TV films has been a bringing together of the whole of the language and the production pathway of cinema (not just cinematography and editing but scriptwriting, production designing, directing, sound design, music, visual effects, grading, etc) with the language of dance. I believe this creates a deeper synthesis of the possibilities of the media.
Film also allows you to introduce non-corporeal elements to dance, such as computer graphics. Doesn't this radically change our definitions of dance?
KP: Definitions of dance shift all the time, so what is really interesting here is the notion of 'dance-driven' or 'creating from a choreographic sensibility'. Almost everything we do has this sensibility whether it is a CG animation, a drama, a walk through a virtual world… We think physically, we think in movement, so our responses to technologies and frames are always in motion!
RA: Since David Hinton's film Birds (a choreography in editing of BBC wildlife bird footage) won the IMZ Dance Screen Award for best dance film some years ago, everything has been fair game… As Karen says we think in movement, but we also think in character and story so that whatever the movement is and whatever is moving, the moves have meaning and coherence within the whole.
What narrative elements are unique to dance that cannot be found in any other medium?
KP: Dance is very strong on emotion, pattern and dynamics. It can surprise and move you with these things, and it tends to be much harder to work with abstract ideas. For example, dance would be a very bad medium for exploring law, but a very good one for exploring order. A bad one for exploring ideas like money or wealth, but not bad for exploring things like class or dialectics or unity and diversity or things that can be expressed in physical pattern. It is amazing how much physical patterning (including physical dynamics, gesture, times and space) can be used metaphorically to express complex ideas, especially in the context of the creative possibilities that cinema offers – our most recent work, Entanglement Theory is about merging multiple layers of reality and it is all told physically.
Music videos are a rich platform for choreography, as well as filmmakers and cutting edge special effects. Is this perhaps the undervalued art form of all? Are there many innovative choreographers working in the medium?
KP: There are some innovative choreographers, directors and editors working in the medium and there are some stunning music videos in the world, and no doubt many more to come. As an industry it has been decimated lately and it is no longer really possible to make a living or even earn a crust in music video so there has been an exodus of talent from the form. The other issue is the music itself which is sometimes fantastic and some times, um, less so? The music video did become formulaic surprisingly quickly given that it started out so openly, as a real ground for play and development of ideas, and there is also a struggle for 'authorship' that sometimes keeps choreographers away, along with the the question what is the piece really about – the band or the dance? But when those things fall away, as they have on a couple of projects Richard has worked on (see Faker's 'Sleepwalking' or 'Too Much To Do' with Sparkadia, both of which really helped launch those bands), it can be so much fun and incredibly creative to work on music video.
There has been an explosion of public interest in dance over the last decade. Why do you think that is? Has Physical TV seen the benefits of this?
RA: To quote Karen from a recent essay on myth making in the Australian film industry: "Naturalism has run its course, and yes, we think we can dance!" Seeing it makes people want to do it, doing it makes people want to see it. It's not just Physical TV that is benefitting, but everyone who gets up and shakes a leg!
From the outside, Australian arts seem very forward looking, with healthy state support and a genuine engagement with technology. Is there as much excitement as there seems to be?
RA: Excitement probably isn't the first word I would choose to describe Australians, but Australians are not afraid of technology, we have nothing to lose by embracing its potentials, and, given the old' 'tyranny of distance', everything to gain. There is a growing sense here that culture and the arts are a necessary part of a vibrant life, not an 'extra'. These things wax and wane in different political and economic climates, but here at Physical TV we continue our commitment to living creatively and to creating works that live!
Further Resources:
The Physical TV Company's website
Links to articles by Dr Karen Pearlman
The film Thursday's Fictions
Physical TV's YouTube page
Richard James Allen's site for The Kamikaze Mind
Gary Hayes' Personalize Media blog
A South-East Dance talk with David Hinton from 2009