Alex Von Tunzelmann serves up a thrilling take on the Cold War. Reviewed by Vikki Littlemore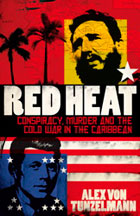 Notwithstanding the racy title, it's possible for Alex Von Tunzelmann's Red Heat, a substantially detailed account of politics in the Caribbean, to appear intimidatingly opaque, or Everest-like, to the non-expert reader. Halfway down the first page, however, the fear is put aside. Von Tunzelmann writes with such excitement and energy that the grey and factual expositions become an adventure. Instead of relating dates and figures with dispassion, creating educational but lifeless non-fiction, Red Heat is invigorating, and becomes a page-turner instantly. Harnessing the energy and romanticism of Che Guevara and The Motorcycle Diaries, Von Tunzelmann uses the rich drama and revolution of that period to create spell-binding reading, without losing facts. Red Heat somehow manages to combine the intricate and vital details, with a compelling and fantastical story, making it a valuable resource on many levels.
The prologue, called 'The Secret War', immediately introduces the reader to Alex Von Tunzelmann's unique talent for merging historical illustration with wit and the finesse of a good, contemporary fiction writer. She begins with a trick. "The plot was aimed at New York" are the first words of the book, and they begin a paragraph which appears to depict the terrorist attacks of September 2001; "The plot was aimed at New York: the most famous city in the richest nation on earth, and the most sought-after prize for any anti-American terrorist". However, after lulling the reader into the assumption that the paragraph is talking about 9/11, the record is set straight; "The date was 17 November 1962". In this self-aware, socially connected way, Red Heat, guides the reader along what is undoubtedly a journey; from the youthful strivings of Fidel Castro, through Spanish wars of 19th-century Haiti, and slave trades, to the Cold War and Cuban Missile Crisis. Every historical event is related with pure clarity, cool needle-sharp precision in dates and facts, and most importantly, an exuberance that compels the reader to carry on.
The detail in every episode suggests an incredible amount of research and in-depth expertise from Von Tunzelmann. Not a single word is wasted, every sentence holds a vital, precious seed of information. There is no fluff, or vamping, because there is no need to find fillers and incidental pulp. Von Tunzelmann expresses encyclopaedic and unfailing erudition, while never being academic or lofty. Each sentence is filled with fact, but simultaneously breath-holding with thrills and drama, living up to its title; 'Heat' is exactly what it has. This is something very unique in a writer; the exhilarating suspense and story-telling of a top-notch whodunit, combined with the flawless factual knowledge of a valuable reference resource. It makes the material accessible to readers coming from any approach, for any purpose. One can read Red Heat as part of academic research, or as a revolution fan on the back of The Motorcycle Diaries.
Von Tunzelmann moves seamlessly from high-office political chess manoeuvres and the intricacies of men in suits in Washington or Santiago, to the sweat on the backs of unwashed and exhausted guerrilla forces following Fidel and Che through mango groves, carrying ammunition for their next terrorist strike. There are despotic villains manifested in international dictators; Trujillo, Batista, and sweaty, idealistic heroes to make women swoon. The book is exciting, and brings together far-reaching worlds; wars on tropical islands; ("The question that must be asked about 1962 is not whether it is feasible that the government of the United States might have resorted to such techniques- evidently, it might–but what could have been going on among the palm trees on a couple of islands in the Caribbean to provoke a superpower to such extreme action"), the uprising and revolution of oppressed people all over the continent, and the Kennedys, the Cold Wars, and politics, and Missile Crises that involved and frightened the entire world, not just its leaders. Red Heat incorporates them all, and submerges you, totally, in the action. The narrative voice, because that's what it is, even though this is non-fiction, is not only passionate and erudite, but casual, so much so that the book feels like a conversation with a clever friend. Von Tunzelmann is always affable, and filled with rapt joy in her subject.
Red Heat is enriching, whether you're a student, romantic, or just enjoy literature. This is one of the first books to absolutely capture my attention, so fully that I lost awareness of my surroundings, which is surprising given that this is a non-fiction book in an area that I'm interested in, but by no means well-educated in, the extent of my knowledge being that Che Guevara was from Argentina. One feels captivated, and educated, all at once.