Gonzo scribbler, internet entrepreneur and backing vocalist for Eliza Carthy, Ralph Steadman spills the beans on being ripped off and Hunter S. Thompson's mother. Chris Wood listens.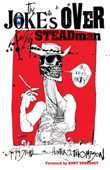 "I felt savaged a bit by the whole thing… Hunter was in the middle of institutionalising his mother at the time, for her drinking. Great lady, by the way. Met her once, she had this kind of drinks zimmer frame with all her requirements in it. Very useful."
Ralph Steadman is recounting his first meeting with Hunter S. Thompson. That assignment, later recounted as The Kentucky Derby Is Decadent and Depraved, was the first foray into Gonzo journalism. This broke enough moulds to pave the way for Fear and Loathing In Las Vegas, which followed a year later.
The Kentucky stint was a trial-by-fire nightmare. A life threatening liberty risking menace that only a sick fool would want to repeat. Thompson really did empty a restaurant by firing mace about.
"Only a few squirts," Steadman blithely recounts. "You don't need very much of that stuff."
On the subject of the Kentucky project, no, he isn't sorry he never got to write 'Fuck The Pope' on the side of a huge yacht in spray paint. I felt I had to ask, as it seemed such a great idea.
"I'd have been jailed if I'd done that, and never got back into the country. And then I wouldn't have worked with him all those other times."
There in a nutshell is the flipside of Hunter S. Thompson's other ego, Ralph Steadman, the artist responsible for illustrating much of HST's prose. A more rational, less chemically enhanced soul, to be sure. Ink drop for ink drop, one of the few people to be Thompson's match. In his field he is the equivalent of HST.
He was also someone who could be put through many trying, sordid ordeals, produce wonderful work and then come up smiling with the words, "Great, when can we do this again?"
This probably why Ralph insists on stating, very clearly, that Thompson was a son of a bitch. He was a mean bastard, and he always was.
That much is made clear early in the conversation. It is also apparent in Steadman's book, The Joke's Over, a behind-the-scenes look at life with one of American letters' most dissolute, honest and crazy souls. This had to be worth recording for posterity, and it's delightful that the Steadman brand of (written) invective is lucid, evocative and even generous. He recounts the details behind some of the finest American writing of the last century.
Assignments would typically start along the lines of: "Ralph, you filthy perverted pig. I want you to draw something for me, Ralph. Only you would know how to do this. I need you to draw absolute evil".
That's an odd way of talking to friends but it creates an allure, a solid bond of piss-taking, menace and curiosity. I try and dig for a little background on the Thompson bloodline. Steadman is effusive in tracing Thompson's lineage back to Scotland (via Manchester, by the way).
"Incidentally," he asks, "have you heard his voice?"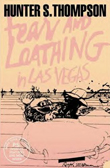 At this point, a tape is played down the phone. A bizarre rumbling patois barks out, roughly a third of which is coherent. I catch the words "Time magazine" and "masturbating." The rest is seething angry gibberish and static. It doesn't sound Scots, though. More like how Badger in Toad Hall might've sounded if he'd been cornered by weasels while drunk.
Trying to define something like Gonzo is difficult. For the uninitiated, it means basically getting horribly shit-faced, mingling with the subject of a journalistic assignment, provoking them to bile and incest, disappearing from town looking half dead, and then recounting the matter with a twisted, mocking style.
One point Ralph emphasises is how funny a writer Thompson was, and this cannot be overstated. Certain types of people miss the astoundingly keen, precise reportage because the drugs and rage act as a screen. This is a damn shame. The drugs and rage are the extra spicing. Also the social justice. HST cared for an America that is now in retreat, the flag he proudly draped round his shoulders degraded in his eyes by Bush's time in the White House. It's a shame the mean bastard's dead.
Talking to his artistic enabler underlines all the more how much of an absence that proud raving figure has left. The two fused magically. Without Steadman, there would still have been Thompson, but it wouldn't have been as brilliant. Equally as sure is that Steadman hasn't had his share of the credit. Many American readers believe that HST did the pictures himself, despite the signature.
Satire is a sore point to Ralph. He feels ripped off by Spitting Image. Apparently Roger Law swiped the, well, spitting. Terry Gilliam also took certain cues from Steadman's biliously nibbed arsenal. Apparently Michael Palin's been… well you know… the whole 'which circles do you move in?' type of situation. Those doors never opened for him.
At this point I feel a little sorry for Ralph. When I told him how I first read Fear and Loathing In Las Vegas, after seeing its elegantly warped, intriguing cover, he recounts how this threatened Thompson. The drawings pull at the reader, providing some hilariously twisted insight in the depravity being spewed out onto the pages. It seems this cut a sight too near sharing credit for Thompson, who made Ralph suffer for this apparent slight.
At a push, and finely recounted in The Joke's Over, we can see real affection between the two men. Also, a rare instance of the author being shamed. Thompson apologised with sincere humility for the time he almost killed Steadman with an accidental shotgun discharge. That may sound only sensible, but do bear in mind the vast weight of things he didn't apologise for. Only rare types can get away with that.
"He created for himself a mountaintop and never really lived up to it. He gave himself a peak. He was the same way with drugs, always wanting to get back to that high spot. His approach was, 'I've got to write it as I'm going – each step is another sentence'. But after all that, when it came to putting these things together, it seemed right and natural that I should do the work".
At this point, without any eliciting, Steadman gives his theory on why the good doctor, as Thompson liked to be known, committed suicide.
"He shot himself because he was afraid of an old people's home, just being strapped in. He had a crazy dream where he couldn't do anything, and this old woman was crawling slowly closer to fondle his balls".
So now you know: it was them mad old sack strokers in the old folks' home that finally did for Thompson.
There is a parallel between that and the acid vision of his grandmother crawling up his leg with a knife between her teeth circa Las Vegas. Maybe such demented notions run in circles. Possibly the downside to having the insight of a demented loon is being a demented loon with insight into too many things.
On a personal level, Steadman is clearly tired but still running full tilt. He is engaged upon a variety of business ideas. Check out ralphfancygoods.com for all your elegant needs. He works exceptionally hard. The drive comes from wanting to establish his children in the whole art market thing. There is also the constant need to create. It would be easy to admire Steadman as a working definition of the term 'artist,' but graft often detracts from the end product in people's minds. We're a funny bunch, us artistic consumers.
–––––
Chris Wood is the author of Sherlock Holmes and the Flying Zombie Death Monkeys, available from Amazon.