Reviewed by Robert O'Connor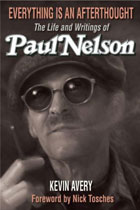 Frank Zappa once said "most rock journalism is people who can't write, interviewing people who can't talk, for people who can't read." However true that might be, Paul Nelson was one who most definitely could write. And he interviewed people who could talk, and plenty of people read what he wrote.
Kevin Avery certainly read what Nelson wrote, and has now written Everything Is An Afterthought (Fantagraphics, who usually publish comics), which is both a biography of Nelson and a collection of his work, including some pieces that have never been published. The book is covered in praise for Nelson, both on the jacket and throughout the book, from other people who read his work and were inspired by it. They're from the people he wrote about, his friends, colleagues, fans or some combination of the three: Jon Landau, Robert Christgau, Jackson Browne, Greil Marcus, Rod Stewart, Cameron Crowe and Bruce Springsteen are just a few of the people quoted.
Nelson was born and raised in Warren, Minnesota, a town in the northwestern corner of the state with a population of around 2,500. He went to the University of Minnesota where he started The Little Sandy Review with Jon Pankake. It covered folk music, which Jon loved. They reviewed new releases from national folk labels like Folkways and Prestige along with local artists like Tony Glover (who later joined the 'zine as a contributor), Spider John Koerner, Dave Ray and Bobby Zimmerman.
Nelson's work caught the eye of Irwin Silber, the editor of the magazine Sing Out! Nelson moved out to New York when he graduated in 1962. He covered the folk scene in Greenwich Village, populated by the same folks he wrote about in Minneapolis, including Zimmerman, who by now was going by the name Bob Dylan. He wrote for Sing Out! until 1965, when he parted ways with them over Dylan going electric at Newport. He was one of Dylan's few defenders from within the folk community.
Nelson moved to Mercury Records where he worked as an A&R man. His most famous act there was to sign the New York Dolls for their first recording contract. He also released the album 1969: The Velvet Underground, the band's last album.
He then moved on to Rolling Stone, where he took over the mantle of the reviews editor from Jon Landau. He stayed at the magazine until 1982. For the next 24 years until his death in 2006 he ran a video store, worked on projects and his name hardly appeared in print. One of the few exceptions was a 2000 interview he gave to Steven Ward which starts with the same question that the press release for Avery's book starts with: 'What ever happened to Paul Nelson?'
Avery fills in these missing years, describing what Nelson had been up to, much of it pieced together by works collected from Nelson's apartment after he died. Among the things he worked on were long articles about Clint Eastwood and a biography of Neil Young called Rust Never Sleeps, which he never finished. He co-wrote a book about his good friend Rod Stewart with another good friend, Lester Bangs. He also labored over a screenplay, something he had wanted to do ever since he started his writing career.
In these, Nelson shows himself as a first-rate writer, who didn't stand at a distance when critiquing artists. All too often he was – or would become – friends with the people he reviewed. They provide intimate portraits of the artists and Nelson shows an immense respect for his subjects. He held an intervention for Warren Zevon, who was suffering from alcoholism, and described the experience in his famous 1981 Rolling Stone Piece 'How He Saved Himself from a Coward's Death.'
Like the best critics, Nelson was primarily a fan of what he wrote about, subjects that struck a chord with him. And here's a bio and a collection of his work written by a fan of his.
Note: Avery has another book of Nelson's collected writings that came out around the same time as this one, Conversations with Clint, (published by Continuum) which collects a series of interviews he did in the late 70s early 80s with Clint Eastwood.