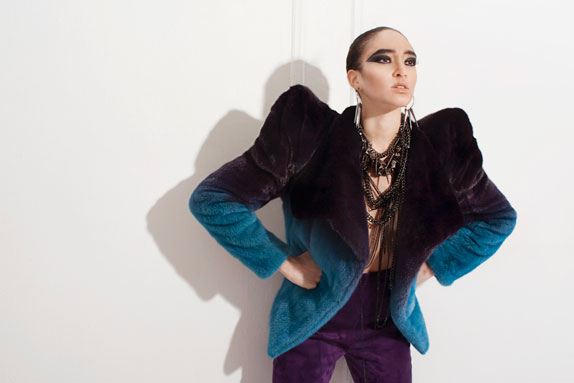 Best known as the mohawk-sporting outsider who won America's Next Top Model, Naima Mora prefers being the vocalist for the prog-inclined Galaxy of Tar. Jeanette Hewitt tracked her down
First brought to my attention as the softly spoken and serene multi-cultural young lady whose silky smooth voice contrasted deeply with her punk-rock exterior, Naima Mora, the winner of season four of America's Next Top Model, is now the vocalist in rock bank Galaxy of Tar. After following her career over the last six years, from the catwalk via the television studio to what seems to be her real passion of music, I discovered her band through Twitter. Through our email communication Naima was as courteous and lovely as her previous interviews suggest and she enthusiastically agreed to answer some questions for Spike Magazine.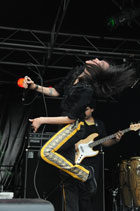 Naima, you come from a very talented family: your father is a jazz percussionist, your grandparents are painters/sculptors, your sister is a vocalist for rock group livemas and your twin sister is a photographer. Was it inevitable that you would end up in the arts and entertainment industry?
I definitely think that it was inevitable that I ended up in the arts. Growing up in my household, my sisters and I were always encouraged to explore our creativity. Nia actually picked up her camera when we were 13 and I remember Ife had an all girls band that would practice in the basement when my parents weren't down there with their own Latin-jazz group. Not sure if it's in the blood or familial influence, but all the right ingredients were in play to create who I have become.
You've done it all: actress, ballet, model and musician. What has been/is your favourite and, although you are still modelling, would you ever consider a return to dance or acting?
I can say that living as a musician and playing with my group Galaxy of Tar is the most fun for me. It's probably unfair to separate everything though, because it all contributes to who I am today. I pull a lot of influence from ballet and classical theatre into my rock shows, the drama of it. I also draw a lot aesthetically from modelling. Everything I've done in my life I have done with love, thus it's all been rewarding! All in all, I'm a performer and a storyteller that has been granted magnificent tools from many talented people in several beautiful mediums of expression.
Would you say that you use your modelling to finance your greater passion of music?
Modelling has definitely helped me to finance many other creative projects I am currently involved with, music being one of them. The thing though is that I really love and enjoy my day job and while music is my main focus in my life right now, I am still passionate about modelling.
At the last count, you had five tattoos. In the modelling world it seems the majority of clients want a blank canvas. Do you feel that you can be more 'yourself' in the world of rock, and do you have any plans for further body art?
Ha ha, that's a good question that people actually ask me quite often. I now have six tattoos and yes, I do feel that I can express myself more truly as a musician. It's completely different, as when I model I am working to express myself through someone else's vision. For a lot of models just starting off, it's a little difficult to book more work with tattoos, because that doesn't always fit into a client's vision. It also depends on how you brand yourself within the industry. I, for example, have a particular androgynous quality and what they call "edge", so my tattoos work quite well with what clients want to hire me for. I do plan on getting more ink… I really love my tattoos and I want to get more someday. Also, you can't model forever, so why live my life based on something so temporary? I just have to maintain true to who I am.
You've won numerous awards, including the Spirit of Detroit, the California Legislature Assembly Certificate of Recognition and the prestigious Key to the City of Cincinnati. How does this make you feel and which award has meant the most to you personally?
Wow, yeah, it makes me feel proud of myself. I have always just striven to inspire people towards observing and creating beauty and feeling beautiful within themselves. So to be awarded was a bit strange at first, because I'm just being me. But I'm proud of it now. Really it doesn't matter whether we are awarded or not, because the biggest reward is and always will be what stays with us forever. That feeling you get when you're helping out a close friend who's sick in bed with the flu and who really needs you. Everyone knows the feeling, its whether we decided to extend ourselves this way to strangers that makes the biggest difference within.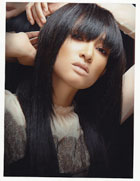 Which musicians inspire the sound for your rock band Galaxy of Tar and what genre of music would you file your sound under?
Well, I guess the closest genre that Galaxy of Tar would fit into is the current definition of prog-rock. We do a lot of experimenting with time signatures and strange sounds. We want to create something new and interesting to listen to. Of course all creation is a continuum of and has been influenced by what came before. Our strongest influences go from prog bands like Yes, Rush, King Crimson to Latin music (as Elias and I are both of Latin origin) to electronic/trip-hop music with the likes of Björk, Carl Craig, Lamb. Elias and I write and both contribute, so it really depends on how the music expresses itself organically after we have a basic idea. It always maintains true to our style and the types of music that has moved our lives and consciousness.
How long have you known your musical partner, Elias Diaz and how did you meet? Are you in sync or do you often have conflicting musical ideas?
We met a few years ago and Elias was actually playing with my sister's band livemas. That project didn't however continue as all things do at a certain point. Ife has moved on and actually just released her first solo project titled In Love Story. Elias and I went on to work with our previous group. We had a lot of creative conflicts in our first band with the other members, so we all thought it best to move on. Elias and I share a lot of same work ethic, passion for the music we write, and an understanding of each other's perspectives. We do clash at times, but we both try to remember to put our egos aside, open our opinions, and go with what works best for the music.
You've been touring throughout New York, do you have plans to take the band nationwide and maybe further afield?
With our first album, Pneuma, we have been touring Galaxy of Tar a lot in New York and New England. We do plan on doing a national tour soon and definitely the west coast in a few month's time. Now we are taking a few months just to write a new album. It's really quite amazing to find out the possibilities of what we can create when we open ourselves up creatively and work there consciously and unconsciously.
Your myspace page reports Galaxy of Tar as being unsigned. Are you actively seeking a label or do you find you have more freedom in releasing your own material?
As Galaxy of Tar, we are just working right now a lot on creating good music and playing it for people who are willing to listen and who are open to new things.
http://www.youtube.com/watch?v=NAUjz5ZOe1Y
Further Resources:
Both albums from Galaxy of Tar, *The Covers EP and Pneuma, are available from the website galaxyoftar.com