Sourav Roy from Mumbai battles gluttony, despair and cricket fever to hunt down seven utterly original book stores of the city
As somebody who has been taking books to bed way before hitting puberty, I have it on good authority that the addiction of buying and reading books, is not so very different from any other addiction. Your ears prick up at the mention of new releases, your breathing changes when you meet a strange book review and your legs do their own walking when they see a bookshop close by. But just like any veteran junkie would tell you as the monkey on your back gains weight, only higher doses just don't cut it.
The fume of addiction grows denser, splits into veins and develops its own ecosystem of multiple sins, each demanding its own special fodder of words, pages and genres.
As your fix changes, so does your peddler. You start avoiding the standard-issue, brightly lit, bestseller-clad, staffed-to-the-gills-with-idiots chain bookstores and ache for the ones little-known: the roadsiders, the rare, the forgotten and the niche. A bookshop with that glorious musty smell, shady alcoves where you can disappear for hours and an owner as obsessed as Calvin Tower yet as colourful as Willy Wonka. In short, a Flourish and Botts for adults.
As one evolves into a reader every author daydreams about – "ah, and a lover of lists, a twiddler of lines. Shall this reader be given occasionally to mouthing a word aloud or wanting to read to a companion in a piercing library whisper? Yes; and shall this reader be one whose heartbeat alters with the tense of the verbs? That would be nice…" (1) – your quest for the ideal book store becomes more and more fervid. You are neither intimidated by previous wisdom – "If Jack Kerouac had set out to find a real bookstore in the suburbs, he would still be on the road, Phileas Fogg would still be in the air, the Ancient Mariner wouldn't have had time to tell anyone his story" (2) – nor are you disheartened, even if the city is Mumbai, where Mammon is the said ruler, fantasies apparently come attached with business plans, and devoted readers are said to be as rare as authentic book stores.
The Despair of Discretion vs. Strand Book Stall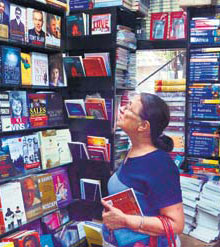 As courtship with books turns into a long-term relationship, the usual tricks up a book's dust sleeve – the bold and bright bestseller insignia, the gushing blurb, the shady ellipses in the praises section – start losing their charm. They only make you more wary instead of more enthusiastic. You tread with caution remembering all the times in the past you have been hasty and burnt. You look for genuineness and magic which don't fade out once you are back home with them. 

When it comes to loving books truly, madly, deeply, it is hard to find somebody more genuine than late T.N. Shanbhag, founder of the 63-year-old Strand Book Stall. Driven out of a bookstore for browsing way too long, he started his own bookshop at the lobby of the elite Strand Cinema, Mumbai. He started with not one but many quixotic dreams which come true everyday at seven of their outlets across India for hundreds of readers – one in Mumbai, three in Bengaluru, one in Mysore, one in Pune, one in Hyderabad. Except the major two in Mumbai and Bengaluru, the rest of them are by request of IT majors Wipro and Infosys in their respective campuses.
The dreams of a book stall where browsing is held sacred, only genuinely good books are stored (bestsellers are sourced in a jiffy too, if you insist on being a yokel) and most importantly every book comes with a discount of at lest 20% on the cover price, are dreams no more. The discount is actually the margin from publishers, aka profit, handed over to the readers. None of them seemed to make any sense for a businessman, but Mr. Shanbhag was a reader first.
And now that Strand Book Stall is run by his daughter Vidya Virkar in Bengaluru and the family of his Man Friday and Manager, Mr P.M. Shenvi in Mumbai, things have only turned sunnier for readers.
Strand Book Fair, a brainchild of Vidya, is now a bi-annual pilgrimage for Bengaluru and Mumbai book lovers. Huge exhibition spaces are hired and the entire warehouse of Strand Book Stall turns up in full glory. When this collection joins hands with up to 80% discounts, the book lovers' eyes glaze over with lust and their wrists ache with plastic bagfuls of haul.
True love for good books compels Strand Book Stall to take up occasional publishing endeavours of exceptional books, simply because nobody else will. Like the 1931 book A Case for India by the noted philosopher Will Durant. A book which went to great lengths to praise India's poise under British fire and its upcoming glory. This book has since been conveniently let go out of print. Now republished by Strand Book Stall in English and several Indian languages it's finally getting its due share of attention.
And it's again true love of books that makes them think twice before spending money on expanding, computerizing or sprucing themselves up. Because who would want yet another shiny book shop that keeps the profit and sells bestsellers at cover price?
Strand Book Stall, 'Dhannur, Sir P.M. Road, Fort, Mumbai 400001. Tel: 0091 22 2266 1994/2266 1719/2261 4613, www.strandbookstall.com
The Gluttony for Bargains vs. City Book Centre
There has been at least one recorded instance where a biblioholic has paid the price of a steady girlfriend for a rare autographed book. (3)
And there have been gazillions of instances where book addicts have spent other equally obscene amounts on books. In fact, there is someone, somewhere blowing the roof off his credit limit right now at a book store. But inexplicably, if there is anything which this species enjoys more than overspending of books, it is saving money on books. They will go anywhere, even the deep entrails of the internet to get a great deal on books.
They also go to City Book Centre. It was transported to the suburbs after being evicted following the Municipal Corporation's enforcement of their no-hawking policy at Fort a couple years ago. Very few of the wonderful roadside booksellers have been so successfully replanted.
As soon as you cross the crowded street, you are thrown headlong into books of all sizes, shapes and ages. The readers are just as varied. Mothers buying books for children, Engineering students fingering text books, Medical students looking at them irritatedly (medical books are not stocked due to their high price) and pretty much everybody leafing through modern day penny dreadfuls and the latest Man Booker winners.
Nobody leaves empty handed from City Book Centre because even if you don't want to spend a pittance (it's impossible not to like even a single book in this tiny yet jam-packed darling of a store), there is a lending library system with dirt cheap refundable deposits and variable fees. The beauty of the fee structure is the resale value of the book is less than the deposit. So the books are theft-protected.
The owners reveal that they source their rich haul of secondhand books from containers at Mumbai ports. I could have pressed on but I shut right up when the throw in a cup of tea in my bargain haul of books.
I smile as I wade through knee-deep traffic.
City Book Centre, Shop No 5, Sukhamani Building, Junction of S.V. Road & V.P. Road, Near Archie's Gallery, Andheri West, Mumbai 400058. Tel: 0091 22 6553 2739, pramodcitybookcentre@yahoo.com
The Sloth of Familiarity vs. Victoria Book Centre and VCD DVD Library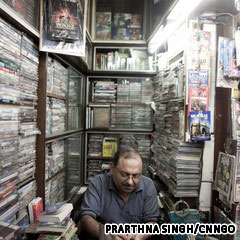 Every book lover has a favourite position in bed, for reading. (4) Lying on your side, lying on your back holding the book up with your strong hands, doing the half-cobra pose with your hands propping your cheeks, pillow under your stomach with the book against the wall, and several others which might best be kept inside bed rooms. But no matter how uncomfortable your position sounds to others, it is instant Nirvana for you. The moment you and your book strike that pose, the cares of the world fade away, the day slowly slides off your shoulder and you are home.
I feel the same aura of familiarity when I enter Victoria Book Centre and VCD DVD Library, even though I have never been there before in my whole life. Past the faded, hand-painted 'Wanted Help' posters (not a single spelling mistake, by the way) and racks and racks of magazines, I enter the store and learn that the owner has been out for lunch for the last couple of hours. As a strong supporter of both independent spirits and long lunches, my heart gladdens and I start browsing. A shopfront with multiple sections for new books, old books, magazines and soon to be added text book section, it's a place with a whole long, lazy summer afternoon's worth of browsing. Luckily, it was a long, lazy summer afternoon. I spot usual suspects, vintage favourites fallen from grace and a surprisingly eclectic collection of Indian writing in English.
As I chat with the lady in the store and the owner on the phone, I wonder why this 60-year-old store seems so familiar to me. Then, a bunch of kids walk in to browse, and I know the answer. This was how all bookshops used to look when I was a kid.
The kids turn out to be a few of the thousand plus members of the lending library who pay a laughably low fee to read hundreds of books. When I ask the owner why the fees are so low, he laughs indulgently and says most of the kids who are members today are third generation patrons of the store. Then he mentions the really high number of members to make it good, as well as the advantages of being located next to a school. Then he stops for a moment and hastily cracks a joke about me being a probable income tax agent in disguise.
When I step out, I notice the owner has trust enough in strangers like me and many others to keep the keys hanging from the glass cases. I let out a contented sigh. All seems to be well with the world.
Victoria Book Centre and VCD DVD Library, 12 L.J. Road, Between Sitladevi Temple & Victoria School, Mahim, Mumbai 400016. Tel: 0091 22 2446 1897
The Lust for the Niche vs. Marine Sports
There is a very thin line between discretion and niche-snobbery when it comes to the reading habit of biblioholics. For example, a fellow biblioholic had started an online group for discussing books so niche that only a handful of people had read them, an idea poetically doomed to some and simply doomed to most. On the other hand, there is another biblioholic who refuses to read Harry Potter books simply because they are way too popular. But no matter which side of the line your err in, just like the occult to the masses, the niche has an Eldorado's appeal to biblioholics.
Reason why I landed up at Marine Sports, Mumbai's and India's only sports bookshop, despite being gloriously underaccomplished in all kinds of sports since childhood. The Cricket World Cup 2011 has just been over. I have avoided it like the plague and cursed it repeatedly for hindering my bookshop-hopping. But there was another, secret reason. I frankly could not believe that there were enough books about sports that could fill up a bookstore. Because playing sports are all about not reading books and vice versa, right?
I realise how wrong I was, the moment I step into the store. Only cricket rulebooks cover up a sizeable portion of the wall. Then there are some more cricket. Biographies, analyses, history, rare Wisden Almanacs and encyclopaedias. Though the three-fourths of the store are cricket books, there are books on tennis, netball, rugby, water sports, cycling, football, hockey, judo, table tennis, sports psychology, sports medicine and, most importantly, Olympics. I also spot a gorgeous giant tome about the automobiles of Maharajas. In fact,their online catalogue lists sports alphabetically with sometimes multiple entries under each letter. And then there are how to videos, recorded matches and other paraphernalia. When a gentleman drops in for a history of table tennis, he is confidently told that no such book existed yet, otherwise it would have been available.
When the affable owner, Theodore Braganza drops in to chat, I get to know the amusing birth story of this store. Started by his father late Bruno Braganza in Marine Lines, Mumbai as a sports goods store it slowly turned itself into a bookshop. All because of his abiding love for books and increasing distaste of the murkiness of sports goods business. And his acquaintance with the leading sports institutions and sportsmen of those days certainly helped. Legendary cricketers dropped in often, asking for books on opponents, before they went on tours. Thanks to extensive networking with sportsmen, sports journalists and genuine eye and nose for sports books, Marine Sports has grown into the institution it is today, supplying to hundreds of library and thousands of individuals worldwide. Prudent moves like a website and regular presence at all major sporting events have not hurt either. In fact, so encyclopaedic is their collection that many a devoted mail order customer have been shocked when they have walked into the tiny store.
This unique access to the sports fraternity has also helped them publish unique books, mostly on cricket that are considered collectibles by the discerning. India's recent Cricket World Cup 2011 win has spurred him into publishing two books, once for the serious cricket junta and one for wide-eyed fans.
After an unusually long chat and browsing, when I finally get up to leave, I realise my apathy to sports has come down several notches thanks to the familiar empathy with books I saw at the heart of Marine Sports.
Marine Sports, 63A, Gokhale Road North, Dadar West, Mumbai 400028. Tel: 0091 2432 1047/2436 6076, www.marinesports.in
The Pride of Idealism vs. Gandhi Book Centre
No bibliophile ever says this out loud but all of them secretly believe that books can change lives. And this belief has not come to them from any self-help book but from themselves. They know how books have changed their own lives, helped them travel through time, discover deep bonds with perfect strangers, made them live hundreds of lives in one lifetime, made them less judgemental, more compassionate and most importantly less bored. That is why when I come to know of a bookstore that only sells Gandhi-related book, I take down my shield of cynicism and get going without any delay. After all who has changed more lives than this man in loincloth and a pair of round glasses?
With the latest idiotic Gandhi controversy (5) still buzzing in my head I approach the book shop, my vision stumbling into Mumbai's tallest building sticking out like a sore thumb in the background. A few moments after I walk into the store and start browsing a little self-consciously, the staff rush to my help, stricken perhaps by my utterly non-Khadi appearance. My ruse of browsing over, I meet up with the man at the helm, T.R.K. Somaiya. And from him I come to know the surprising origin of the book centre and why Gandhi Book Centre is anything but a book centre. The story had, not surprisingly, had less to do with lofty thoughts and more to do with down-to-earth actions, just the way Gandhi intended.
The year was 1982. Richard Attenborough's Gandhi was running in Bombay to packed theatres and Gandhi-ism was in the air. T.R.K. Somaiya, a dedicated Gandhian, decided to make use of the opportunity and started selling The Story of My Experiments with Truth (Gandhi's autobiography) in front of theatres. The plan seems to work wonderfully and thus was born Gandhi Book Centre. Twenty-three years later, the Gandhi Book Centre is hardly a book centre but an exhibition, a museum and most importantly a Gandhian nerve centre that sends out his thoughts in periodic waves throughout the country. As a book centre it stocks more books by Gandhi than on Gandhi with a special emphasis on affordable books in Indian regional languages. It also stocks works by Vinoba Bhabe and Swami Vivekananda, both considered Gandhi's spiritual blood-brothers.
While personal monetary losses mount every year, T.R.K. Somaiya doesn't hike the mark-up on his titles, neither does he man every exit of city cinema halls but looks for more practical and exciting ways to take the message of Gandhi forward. He doesn't stop at the usual exhibitions, seminars, exchanges and speeches. He visits the principals of schools and colleges and wardens of prisons in person and convinces them to join the Gandhi Peace Examination Programme, a unique written examination, where the study materials and question papers are supplied from the centre and the prizes as well as certificates are arranged by the respective institutions. About 35,000 students from 73 colleges and 67 schools and 500 prisoners have taken the examination this year. The moment you secretly start scoffing at the naivete of it all, he would smile and introduce you to Laxman Gole. Currently a corporate consultant, he used to lord over a nine member extortionist gang. Charged nineteen times with various crimes and already six and a half years prison sentence over his head, he was all set to go places in the Mumbai underworld. But that was all before he wrote the Gandhi Peace Examination.Now a model citizen, he is one of the living, breathing results of Mr. Somaiya's experiments with truth.
And whenever T.R.K. Somaiya takes a short break from spreading the truth, helping hands show up from everywhere. Like Professor Aparna Rao from NITIE, a respected local management institution, who helped sell 6,000 copies of Gandhi's autobiography in a month through her students as part of a management experiment.
While India's relationship with Gandhi remains ambiguous, a curious mixture of hate, idolatry and occasional surrender (the sales of Gandhi-related books show a sudden spurt whenever there is a national crisis), the relation with T.R.K. Somaiya and Gandhi has remained rock solid in foundation but fluid enough to change with the times. Quite like the tetra-packed buttermilk he gave me to drink.
But next morning Anna Hazare (6) breaks his fast with fruit juice.
Gandhi Book Centre, 299 Tardeo Road, Nana Chowk, Mumbai 400007. Tel: 0091 22 2387 2061/2388 4527, www.mkgandhi.org
The Greed for Serendipity vs. Smoker's Corner Book Stall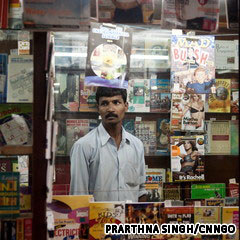 "Secondhand books are wild books, homeless books," said Virginia Woolf. "They have come together in vast flocks of variegated feather, and have a charm which the domesticated volumes of the library lack."
Book veterans would agree wholeheartedly. The joy of secondhand bookshops are more in the chase than in the finish. So imagine my anticipation after finally making into very suggestively named Smoker's Corner Book Stall after three misses. More than half a century ago, the entrance of this store had a tobacco shop frequented by sailors in transit and hence the name.
The readers in the know had told me this was one of the best second-hand bookshops in town. And I am not disappointed. With a zig zag of glass cases, nooks and alcoves, I am already in a biblioholic's candy land, a secondhand book version of Alice's wonderland, a little musty, a little dog-eared but with infinitely more character. I wander aimlessly and meet lavishly illustrated German fairy tale books, Harlequin romances, oddball science fiction all tied up in strings, looking out like orphaned puppies in an animal shelter for a second home. I comply.
Smoker's Corner Book Stall, Botawala Chambers, Sir P.M. Road, Fort, MumbaI 400001. Tel: 0091 22 2216 4060
The Longing for the Lost vs. The New & Second Hand Book Shop, Kalbadevi
The journey unfortunately comes to an end with an obituary. No book pilgrimage in Mumbai supposedly should exclude The New & Second Hand Book Shop, Kalbadevi. I was forced to commit this blasphemy. Because the book shop no longer exists and has given way to a computer goods shop recently. From a report from the past, by cnnngo.com:
Founded in 1905 by Vishram's grandfather Jamalbhai Ratansey, this corner store started out selling raddi paper, moving on to include school texts and exercise books before finally introducing fiction and non-fiction around the Second World War.

Ask whether people still read a lot nowadays and Vishram smiles somewhat ironically, "to use modern terminology, the 'feedback' is not so great." He rues especially the decline in the number of younger readers thanks to media like television and the Internet, saying that "most now read only if they have to, if the book happens to be in their curriculum."

Even though there's no (apparent) order within each section, browsing through these shelves is like taking a chronological crash course in Mumbai's reading preferences. From the frail 1855 copy of the Poetical Works of John Dryden (Rs 350), to the quirky Rise and Fall of American Humour (Rs 150), the beautiful illustrated 366 Goodnight Stories (Rs 120) and an outdated Cassette Guide from Penguin (Rs 150). (7)
May the soul rest in peace. Amen.
Footnotes:

In the Heart of the Heart of the Country, William H. Gass
Michel Winerip, The New York Times
Great Soul: Mahatma Gandhi and His Struggle with India, Joseph Lelyveld
Images Courtesy: Prarthana Singh (www.cnngo.com), Fiona Fernandez (www.mid-day.com)