Reviewed by Jim McConalogue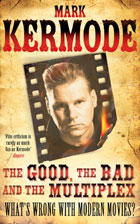 Mark Kermode is his same old self in this book. Like your straight-talking granddad balling on about the price of a cinema ticket, it is littered with anti-Hollywood sentiments (which for Kermode, and for film buffs generally, is understandable because of the blockbusterisation of the industry), his judgements on the role of excessive money in film, combined with technophobic attacks on 3D cinema and of the multiplex experience in general (and his reduction of cinema staff to the level of primates), all of which makes this book an absolutely essential read. This may sound cynical but let me explain.
 
If not for his film criticism, then it is essential for the excellent writing and terrier-like doggedness in pursuing the horrifying contemporary experience of multiplex-going with audiences of popcorn-munching, seat-kicking troglodyte-adolescents going to watch the next bunch-of-crap digital instalment from Hollywood. There is an almost scary result of his rigorous cultural assessment, like the fiery rants of Ignatius J. Reilly in A Confederacy of Dunces, so one cannot help sympathise and root for his cause.   
 
The book begins, in its 'Prologue', with a manifesto protesting at the recent historical death of the projectionist and celluloid – and a stark objection to the general removal of the 'human' from the mechanised, digitised cinematic process. It then moves on to a humorous and cynical analysis of cinema-going as he provides an account of his trip to the multiplex with his eleven-year-old daughter – and the arguments he finds himself pursuing with various cinema staff while purchasing expensive tickets, the obligatory popcorn and the badly projected screening of a Zac Efron film (who bizarrely, Kermode thinks is great). The engine of the modern multiplex is a "computer programme with no memory of the past, no human interaction, no soul" which replaced the care and craft needed for celluloid with digital and smudgy third-rate 3D glasses.
 
Citing Pearl Harbor, the Saw movies, and many others, and their exorbitant budgets, Kermode explains that in blockbusters, money just seems to lead to even more money without fail. On the whole, I find myself nodding in agreement (even though as I write, I read that monster movie, Creature, has received an all-time awful total box office revenue of just $331,000 after 1,507 screens, even though it is made by a well-known producer).
 
Kermode takes us through a vast range of expensive movies and demonstrates "how infrequently they have failed to turn a profit, regardless of quality". The failure of blockbuster-makers to entertain and engage comes down to them not wanting to do better and audiences accepting their laziness. And yes, it is we, the audience, who keep paying them. I must have watched nearly all the films Kermode rubbishes, for my sins.
 
As for 3D cinema, Kermode gives an analysis of its failure – designed to "head off movie piracy and force audiences to watch badly made films in overpriced, undermanned multiplexes". 3D has been consistently rejected by viewers for more than a hundred years. It is now a ploy to feed up money-hungry Hollywood producers. He gives out a pretty heavy 3D-bashing to Clash of the Titans-2010 style as an example of its failure – and on which I couldn't agree more.  
 
He is unrelenting in his criticism of the Oscars – whose films are hand-picked by "a bunch of unaccountable drunken bozos" or the Hollywood Foreign Press Association – and sweeps aside the critique that the British film industry is in terminal decline and strongly defends its film-making and acting contributions, referring favourably to The King's Speech and United 93. Kermode asks us to "stop worrying so much about film production, and start worrying a bit more about the support and upkeep of independent UK cinemas that show the kinds of movies (British, foreign language, arthouse, etc.) in which the multiplexes have little or no interest".
 
In his self-deprecating style, Kermode acknowledges that many do not go by what critics have to say and in many respects they are powerless among audiences but which he accepts – because it is not for the critics to tell audiences what to watch but merely telling audiences what they think about them in an entertaining and engaging way. It is perhaps his 'insider' knowledge of the use and manipulation of critics which I found most intriguing about the whole book.
 
Kermode's protest at this totality of the culture industry, the near-authoritarian output of multiplexes and the blockbuster, the way in which critics feed the very profit-driven producers they seek to criticise, end up bearing a strong resemblance to the film, cultural and music criticism of one of the greatest European cultural (and anti-fascist) critics of all time, Theodor Adorno (1903-1969). In Adorno's view (Dialectic of Enlightenment (1947) and Minima Moralia: Reflections From Damaged Life (1951)), the critic becomes a self-incriminating entity and empty criticism is then an almost defunct activity for the messengers of a totally administered society. The 'absolute' culture industry encompasses the death of its own counter-arguments. Criticism becomes part of the institution. He argued that the critic is free to make accusations but the despairing will rightly predict that only a number of chat shows and a radio show later, such a "dissident will soon be reconciled" into the totality of the culture industry. Kermode's explanation of the way in which film critic's words are used in promotional quotes to sell the films are a perfect example of how this is carried out in the marketing of the modern blockbuster.
 
Theory aside, the critique that Kermode outlines for the modern multiplex, and the cultural whipping he deals out to Sex and the City 2, amongst others, make this a must read for all those interested in the irritating snags and the wider failures of modern cinema.
 
If there is one thing I would have liked to hear more of, it is that Kermode rarely touches on the key issue of 'choice'. Yes, we should support our independent cinemas, as he suggests, but should we not also take on the uniformity of the multiplexes and ask them, through local campaigns, to screen at least one alternative/offbeat/world cinema category movie so that movie-goers can choose? Choice means letting the gobby, annoying cinema-goers have their 3D and awful dumbed-down Hollywood blockbusters – after all, they are the regular ticket-payers – but we can also have intelligent cinema screenings, showing world cinema movies or at least something more engaging that doesn't entail crashing helicopters and end with waving US flags and moronic whooping and jeering. All in all, this is a thought-provoking, illuminating, well-informed and humorous book.