This year's Made In Europe Film Festival offered a fascinating snapshot of the continent's newest cinematic visions. Below are some of the festival highlights to keep an eye out for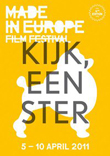 What: 6th Made In Europe Film Festival. "The cultural diversity of the festival movies reflect this international cooperation. With special attention for small, personal films from every corner of the continent, the festival offers an intriguing image of the wealth and diversity of the European (film) culture. Together the festival presents around 40 titles in a noncompetitive setting. There is room for lesser known filmmakers and upcoming talents, but there is also space for engaging mainstream films and movies from famous directors."
Where: Maastricht, Genk and other locations in Belgium and Germany.
When: 5th-10th April, 2011.
Who: David Deprez (Artistic Director), Nico Haenen (Business Director), Mark Vluggen (Editor-in-Chief, Festival Paper), Chantal Kneepkens (Organisation), Adrienne Peters (Press and Publicity), Frank van Laer (Social Media).
Remit: "The best of European cinema".
Films included: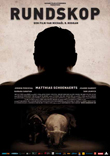 01 Rundskop (aka Bullhead, 2011, Belgium, d.Michael R. Roskam, 124m): "The young Limburg cattle farmer Jacky Vanmarsenille is approached by an unscrupulous veterinarian to make a shady deal with a notorious West-Flemish beef trader. But the assassination of a federal policeman, and an unexpected confrontation with a mysterious secret from his past, set in motion a chain of events with far-reaching consequences. Bullhead is an exciting tragedy about fate, lost innocence and friendship, about crime and punishment, but also about conflicting desires and the irreversibility of a man's destiny".
02 Tilva Roš (2010, Serbia, d.Nikola Lezaic, 99m): "Toda and Stefan are the best friends, skaters, who spend their first summer after finishing high school. Stefan's going to Belgrade to the University in fall while Toda stays back home. They spend time shooting 'Jackass-like' videos and hanging out with Dunja, who came back from France for her holidays, and get into a quiet battle for her attention. In that strange relationship of dying friendship and rivalry they try to get ahead of each other".
03 In a Better World (aka Hævnen, 2010, Denmark / Sweden, d.Susanne Bier, 119m): "Anton is a doctor who commutes between his home in an idyllic town in Denmark, and his work at an African refugee camp. In these two very different worlds, he and his family are faced with conflicts that lead them to difficult choices between revenge and forgiveness. Anton and his wife Marianne, who have two young sons, are separated and struggling with the possibility of divorce. Their older, ten-year-old son Elias is being bullied at school, until he is defended by Christian, a new boy who has just moved from London with his father, Claus. Christian's mother recently lost her battle with cancer, and Christian is greatly troubled by her death. Elias and Christian quickly form a strong bond, but when Christian involves Elias in a dangerous act of revenge with potentially tragic consequences, their friendship is tested and lives are put in danger. Ultimately, it is their parents who are left to help them come to terms with the complexity of human emotions, pain and empathy."
04 The Yacoubian Building (aka Omaret yakobean, 2006, Egypt, d.Marwan Hamed, 161m): "Adapted from the best-selling novel of the same name, The Yacoubian Building in the city of Cairo embodies every aspect of Egypt's capital, from its architecture and history, to its complex labyrinth of stories exploring love and power, sex and politics. Crossing a spectrum of classes, characters, families and narratives, debut director Marwan Hamed's beautiful adaptation of Dr Alaa Al Aswany's novel, turns one of Cairo's oldest buildings into an intricate depiction of the city at broad-reaching levels of the social and emotional scale. Tackling everything from Islamic fundamentalism to homosexuality and corruption, The Yacoubian Building gives us a lively, sometimes harsh and often funny look at modern Egyptian society".
05 La Nostra Vita (2010, Italy, d.Daniele Luchetti, 98m): "Claudio works on a site in the suburbs of Roma. He is madly in love with his wife who is pregnant with their third child. However, a dramatic event comes to upset this simple and happy life. In a rage for life, Claudio energetically fights against the injustice that fell upon him. Love and support from his friends and family as well as the laughter of his children will help him to triumph against the odds."
06 Little Baby Jesus of Flandr (aka En waar de sterre bleef stille staan, 2010, Belgium, d.Gust Van Den Berghe, 73m): "When the three beggars Suskewiet, Pitje Vogel and Schrobberbeeck are tired of their poverty and hunger, they decide to sing Epiphany on Christmas Eve. Their plan is a triumph and they sing themselves rich. On the way back to the pub however, they get lost in the woods and witness the birth of Little Baby Jesus. Bedazzled by this miracle, they decide to give away all their gifts. When next year Christmas is around, they decide to sing again. But puzzled by last year's experience, they start to quarrel over the gifts. Our three friends fall apart and each go their own way'.
Trailers can be seen on www.youtube.com/madeineuropeff