A review by Dolly Delightly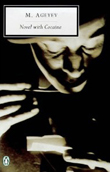 I have a penchant for esoteric Russian literature of the kind that's mostly found in frowsy second-hand bookshops which, I am unashamed to say, I frequent with steadfast regularity. About a week ago, during one such visit, I picked up a 1985 Picador edition of a book called Novel With Cocaine by M. Ageyev. The name denoted an author of Slavic extraction, which the précis confirmed he was. My curiosity was further piqued by the fact that very little is known about Ageyev or his work; except that it was first published in the 1930s by a Russian émigré journal in Paris, after journeying there from Istanbul. To this day Novel With Cocaine remains an unclaimed roman à clef, narrated by a 17-year-old schoolboy against the milieu of a crumbling Russian empire as the aftershocks of the February Revolution solidify into a new Soviet regime. The novel centres on the binary concept of war both as a social phenomenon and an inward battle between "the spirit and the flesh". 
From the outset Vadim Maslennikov's intense, monadic, time-warped narration fluctuates between extreme emotion, giving a clue to his mercurial disposition, his two-faceted nature and his moral adynamia. He leads us down a vertiginous path, navigating between the vitreous ethos and wreckage of a country in turmoil, and his hedonistic quest for shamelessness ("the most passionate trait of human depravity"), amidst the dirty boulevards with foul smelling stairways leading to whores and lechery. The son of a soldier killed in battle, a moral relativist and a closet nihilist, enlightened to a fault and louche to drugged-out distraction, the self-excoriating and self-aggrandising Vadim is bored of war and the echoing of nugatory anti-German sentiments. As he confesses, "I did not vilify the Germans because I hated them; I vilified them because the harder I pounded away with my abuse and invective, the more deeply I experienced the exceedingly pleasant feeling of oneness with the crowd". This sentiment is later mirrored in his feeling of "sharp, sweet pride in the knowledge" he is Russian. Vadim emerges as both a listless defector and a patriotic zealot, but his opinion of the gruesome events unfolding in front of him is summarised best when he says, "Words like war, victory, defeat, the dead, the captured, the wounded – all those ghastly words which in the early days of the war felt as vibrant and alive as live carp in one's hand – they were all, for me at least, suddenly drained of the blood they had been written in, and deprived of that blood, they turned into mere printer's ink". Not so for his classmate, the budding revolutionary communist Vasily Burkowiz, who confronts a scholarly priest by asking him how "conquest, defeat, murder and annihilation of one man by another" squares with his preaching and his "Christian values" before concluding bitterly that "war is no use to anyone except generals and quarter-masters".
Vadim's own bravado of perfunctory detachment wanes as he records his reaction to the squalor, poverty and depravation caused by the nation's patriarchal collapse into chaos, through his profound embarrassment of his mother. Assailed by her penurious appearance on the school steps he says, "She stood alone, of to the side, in her fur coat full of bald patches and her ludicrous bonnet fringed with strands of grey hair peering into the streaming throng with obvious trepidation which only heightened her pitiful appearance". Ashamed of her "tattered, patched, evil smelling rag of a dress" and her "crooked run down heels", he tells his schoolmates she's merely an "impoverished governess" but instantly feels "his heart going out to her". This pang of remorse is quickly supplanted by a "rush of vicious thoughts" as he inwardly imprecates his ageing mother for embarrassing him in front of his peers. Sensing his hatred, her "thin lips, stretching cheek-wards, twist her face out of shape, and from the brown sockets of her closed eyes through the fans of her wrinkles the tears begin to flow". His maternal disdain resurfaces sporadically throughout the book and, like a great contagion, afflicts his attitude toward all women, those "pitiable sluts agreeable to anything", whom he surveys with a "terrifying wide-eyed look" of provocation and hate. While undergoing treatment for syphilis, this "erotic Wunderkind" pursues a prospective receptacle and takes her to a maison de rendezvous – but her naïveté and "infantile tenderness" disturbs him when she bestows on him "a small mound of tiny silver five-kopeck pieces" as a good-luck keepsake. Incensed, he qualifies "the entire incident as a waste". Eager to dispense with her, he says goodbye and watches her "unjustly hurt moving off into the distance" then absentmindedly slips his hand into his pocket to the clink of the kopeks which hits him "like a whip lashing at his ignominious heart". Vadim has only one persistent character trait, vacillation. Thus the novel revolves around the conflict between "a sound heart and a deformed conscience". This pendulous state from good to evil, from hate to remorse, from "cruel lack of scruples" to "rushes of love for the universe" is the dominant and prevailing rhetoric in Novel With Cocaine and its endeavour to illuminate the murky nature of the human soul.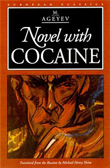 Speaking about rejection, Vadim perorates about revenging himself "on the insults of previous women by insulting their successors" and compares its "bitter perversity" to being rebuffed by a boy at school. This is one of several allusions to Vadim's latent homosexual yearnings, as is his epicene desire to get close to Burkowitz which never goes beyond "normal scholastic intercourse". The violence of feeling toward women is controlled by Vadim's bracing narcissism innate in his explanation for shunning prostitutes because he has "no interest in intercourse legitimised by verbal agreement" and is only after the "cruel and covert battle, the gains and final victory," of appropriation of that which cannot be procured "for a handful of roubles". Vadim's internal monologues align themselves with 20th century philosophical tradition when he says, "It was an odd thing about my life: Whenever I was happy, I would think my happiness could not last; as soon as I thought that, it would indeed go up in smoke. Not because the external conditions creating it had ceased to exist, but because I was conscious that in due course those external conditions would inevitably cease to exist", a rumination in line with Arthur Schopenhauer's pronouncement that "In a world like this, where there is no kind of stability, no possibility of anything lasting, but where everything is thrown into a restless whirlpool of change, where everything hurries on, flies, and is maintained in the balance by a continual advancing and moving, it is impossible to imagine happiness. It cannot dwell where, as Plato says, continual Becoming and never Being is all that takes place… no man is happy… it is all the same whether he has been happy or unhappy in a life which was made up of a merely ever-changing present".
This philosophical practice extends to Vadim's meditations about love when he meets the "fox faced" Sonya, noting that "To a man in-love, all women are merely women except the woman he loves, who thereby becomes a person; to a woman in love, all men are merely men except the man she loves, who thereby becomes a man" – and yet Vadim is unable to express his feelings, which he justifies by saying: "My experience in matters of love seemed to have convinced me that no one could talk eloquently of love unless his love was only a memory, that no one could talk persuasively of love unless his sensuality was aroused, and no one whose heart was actually in the throes of love could say a word." It extends also to the question of sensuality versus spirituality which he qualifies to be different in both sexes, namely that in women the two are merged and in men completely separate and if "womankind bandied together and took the male path, the world would turn into one huge brothel". The relationship between this "callow youth" and his beloved comes to an end when Vadim's sensuality evolves into depravity, prompting Sonya to retreat from the "foul and loathsome mire" of defilement. This denouement veers the course of events off-track and sees Vadim in a dingy baroque den snorting the "devilishly light white powder" and pontificating about the "emotion of motion and the motion of emotion" as his limbs tremble with a new dexterity and a "quietly pulsating core of exaltation".
The ensuing chapters document both Vadim's kaleidoscopic confusion and edification while under the influence of cocaine, as he takes preponderate detours into cyclical contemplations of death and life, and adrenaline-fuelled phantasmagorical excursions against the glaucous backdrop of the "naphthalene shimmer" of Moscow. And while the drug fuels his predisposition to pontificate, it also highlights the bleak reality; impassioned self-abhorrence and the "ever growing burden of despair" which hastens the thought of death and lack of desire to go on. Ageyev's prose is enriched with an inextricable tangle of the sordid and the beautiful of the singularly complex and the bountifully ideological. His extrapolations about the diabolically lunatic effect of cocaine and its imposing immanence brings to the fore the inner conflicts that form the core of the novel, with a tantalising resonance stripped of all ornament and imbued with a bestial force. Novel With Cocaine contains all the components of a utopian idyll of artistic merit epitomised by social realism in Russian literature of the 1920s and 30s. Ageyev's high melange of style combines both the materialist and idealist aesthetics, with eschatological undertones, giving this book much of its originality. The theme of control and escape becomes more overtly apparent with Vadim's decent into addiction, propelled by his desire to find happiness, that "intense awareness of joy" that he may have felt with Sonya. But instead what he finds is a heightened inner discord, a resignation to torpor and dearth of action in the world beyond his own autological confines. Meditating on the psychology of inertia and the phenomenology of drugs in a bid to explain to the reader the strength of cocaine juxtaposed with his own weakness Vadim says, "The reason behind human activity, as diverse as that activity may be, is always one: man's need to bring about events in the external world which, when reflected in his consciousness, will make him feel happiness" and the power of cocaine lays in "its ability to produce a feeling of physical happiness physically independent of all the external events". In his pursuit for that elusive feeling of joy – by way of mitigating the pain and "immortal misery of the empty pocket", the absence of love and lack of self-actualisation – through drugged-out stupefaction, Vadim overlooks the most important truth of all, namely that "Real happiness depends upon ourselves" and everything else is merely a palliative, a fallacy which sooner or later dissipates into nothing, like the drug itself.