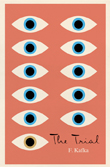 Perhaps Josef K will get to testify in the ongoing wrangle over Kafka's manuscripts in an Israeli court. The Czech author instructed his friend Max Brod to destroy his papers, instead two-thirds eventually made its way to the Bodleian Library via Kafka's niece. The remainder ended up, after Brod's death in 1968, with Esther Hoffe. When Hoffe herself died in 2007, the National Library of Israel disputed her will, claiming it contravened Brod's original intention to bequeath the material to them. Elif Batuman tells the whole story in an excellent article at The New York Times. It's going to make a wonderful novel. The case has already influenced a piece in the London Review of Books by Judith Butler, entitled 'Who Owns Kafka?', in which the ideological stakes are explored:
"The National Library's most powerful adversary is the German Literature Archive in Marbach, which, interestingly, has retained Israeli lawyers for the purposes of the trial. Presumably, with Israeli counsel, this does not have the appearance of a German-Jewish fight, and so does not recall that other trial – Eichmann's in 1961 – in which the judge suddenly broke out of Hebrew and into German to address Eichmann directly. That moment caused a controversy over the question of what language belongs in an Israeli court of law, and of whether Eichmann should have been accorded such a courtesy."
Butler's article was widely discussed and provoked a response from Michael Stein at Czech Position. 'The Uses of Kakfa' accuses her of a partisan reading of history:
"For Butler, with Israel occupying the role of chief villain, there is no room for mention of Kafka's sisters, nor of Auschwitz, nor of the reasons Brod and Esther Hoffe and her daughters were all forced to flee Prague with those boxes of now (monetarily) valuable papers. Butler mentions that Brod 'fled' Europe just as she mentions Eichmann's trial, yet in both cases without any context, as if there was nothing all that sinister about them, just ordinary, everyday fleeing and a man in the dock for embezzling funds."
Whilst it is tempting to deplore this intractable and seemingly irresolvable state of affairs, there was perhaps something inevitable about it. Kafka's own Trial was based on real-life litigation. His writings will only accumulate meaning and this court case is perhaps their ultimate verification.
Trials and Tribulations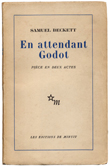 2006: Samuel Beckett Estate / Pontedera Theatre: Beckett's estate is notorious litigious, withdrawing permission whenever performers adapt the writer's scrupulous stage directions. However, when twin sisters stepped in at the last minute to play Vladimir and Estragon, the court ruled in their favour.
2009: J.D. Salinger / Fredrik Colting: Lawyers for the reclusive author of Catcher in the Rye got an injunction against the proposed sequel. Whilst Colting argued that his book was a parody, the judge ruled that Sixty Years Later: Coming Through The Rye was too close in style to the original to support the claims of the defence.
2009: Edwyn Collins / Warner Bros: Although Collins owns the copyright to all his material, his manager and wife Grace Maxwell was prevented from uploading songs to MySpace by Warner Bros, who claimed they had the rights. In fact, it is record labels who have been selling the tracks online without his permission, a situation Robert Fripp has also complained about on occasion.
2009: Widow of Philip K. Dick / Daughters of Philip K. Dick: The world of sci-fi is rife with litigation and claims of plagiarism. Not a year goes by without Harlan Ellison claiming that the latest blockbuster has been ripped off from one of his stories. Similarly, Sophia Stewart has claimed that both The Terminator and The Matrix have come from her screen treatment The Third Eye. But the affairs of PKD always seem to bring a suitable air of paranoia. In 2009, his fifth wife filed suit against Electric Shepherd, the production company set up by Laura Leslie and Isa Dick Hackett to deal exclusively with their father's works.
2010: The Estate of Philip K. Dick / Google: Isa Dick Hackett and estate issued a cease-and-desist letter over use of the name Nexus One for their Android phone. The Nexus line of replicants originally appeared in Dick's famous Do Androids Dream of Electric Sheep?
2011: Karin N. Calvo-Goller / Thomas Weigend: In 2007, Mr Weigend published a review of Ms Calvo-Goller's The Trial Proceedings of the International Criminal Court on the Global Law Books website, calling into question some of the author's "conceptual grasp". Israel-based Calvo-Goller took New York-based critic Weigend to court in Paris for criminal libel. The case was dismissed.
2011: Jay-Z / Terry Miller: The former winner of ITV's Hell's Kitchen and Tyneside chef has been in legal dispute with the music tycoon since 2006 over rights to the name 'Rockafella'. Lawyers have been successful in banning the name from Miller's Newcastle catering firm. I've got 99 problems, but a chef ain't one.