Reviewed by Robert O'Connor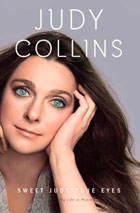 Life Magazine called Judy Collins the "gentle voice amid the strife" when it put her on its cover in 1969. The next year, her sublime voice brought the 18th-century hymn 'Amazing Grace' to the top of the pop charts.
I first remember hearing Judy's voice in 2004, when Bill Moyers did a piece on her for his show Now with Bill Moyers. Bill had become friends with her after she participated in a documentary he did for PBS about the hymn. She sang it in St. Paul's chapel at Columbia University, where she had recorded the chart-topping rendition.
Many people miss the darker meaning of the words of 'Amazing Grace', and its suggestions of complete hopelessness and ultimate salvation. Judy Collins has had an extraordinary life, with many tragic turns – the many tragedies she's had amid her gentle voice. And she's detailed them, along with many of the better times, in her new memoir, Sweet Judy Blue Eyes.
The title is a play on the song her then-boyfriend Stephen Stills wrote about her. They dated in the thick of the strife, in 1968-69. It's there where the book begins, and while the book covers Judy's entire life, most of it goes from roughly 1955, when she discovered folk music, to 1978, when she got sober.
Up until 1955, she was a pianist (there's a picture of her playing a duet with George Shearing), but drifted towards folk music largely thanks to T.D. Lingo. Lingo was a radio host in Denver who was friends with Judy's father (who was also a radio host). He had a mountaintop ranch where he and a group of friends would gather and play folk music. Judy would meet her first husband, Peter Taylor, at his ranch.
Judy began her folk music career in Denver's folk clubs in the late 1950s. She was the star of the Exodus club in Denver, the main folk music hangout when she was signed to Elektra records and brought to Greenwich Village. One night at Gerde's Folk City, where she was a regular, a young man came up to her and told her he liked her set. She described him as having hair that was "unkempt, but soft like a child," and his face as "full of contradiction, a combination of innocence and arrogance." The man's name was Bob Dylan. She introduced herself and he gave her a look like they had met before. She didn't know it, but while playing at the Exodus, Bob had sat in on her playing.
https://www.youtube.com/watch?v=cGGSo530bdA
Judy has similar poetic descriptions of others she's met along the way, Joan Baez, Joni Mitchell, David Crosby, Suze Rotolo, Odetta, Leonard Cohen, Pete Ochs and many others. She tells the story of her appearance as a defence witness in the 'Chicago Seven' trial. She began singing 'Where Have All the Flowers Gone' and one of the guards put his hand over her mouth, while the judge told her he didn't allow singing in the courtroom.
Judy has written before about her struggles with alcoholism. It got worse through the 70s before she hit bottom in 1978 and went to rehab. She had tried other forms of treatment earlier – naming the psychiatrists who didn't help her. Judy says that she was drinking almost nonstop by 1977 and it was affecting her voice. She had surgery on her vocal chords a few days after her guest appearance on The Muppet Show and she notes that her alcoholism almost kept her from performing with Snuffleuppagus – she's appeared on Sesame Street a few times over the years, most notably with Snuffy performing the alphabet.
Collins also has more words about her son Clark, who also came down with alcoholism. Clark went to the Hazelden clinic in Minnesota for treatment, recovered and relocated to St. Paul. But in 1992 he relapsed and committed suicide. Her last book, Sanity and Grace is about her grief and recovery from that, along with her memories of Clark.
The cover photo is similar to the cover of her 1975 album Judith. Judy looks off in the distance with the bright blue eyes that Stephen Stills had written about. Judith came out as she was nearing the bottom, and she has a slight frown.
On the book, she has a wistful smile.
https://www.youtube.com/watch?v=EzF_MoXOU1E