James Turrell's Roden Crater project has been in the offing for several decades, will 2011 finally see it open to the public?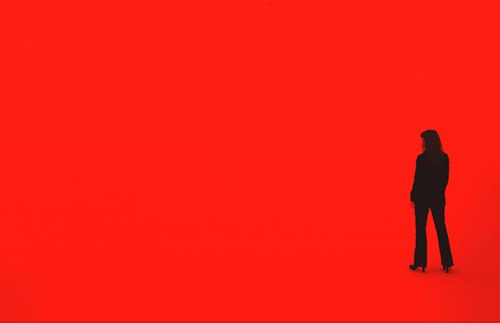 James Turrell, Dhātu, 2010
Mixed media, dimensions variable
Courtesy Gagosian Gallery
"I'm very American, very direct. I don't want something to be about light, I just want to use light. I want light itself. So I don't want it in a glass or in a scrim, I just want to have light seem to be physically present and have its presence be there. I'm trying to deal with cosmic issues without having to move the cosmos, with moving as little physical material as possible. This is what I deal with. These are my kind of materials. People who speak about the cosmos in terms of poetry or writing have the same scale. I know that people want to say this is a big project. It's big for me. But this is one person doing a project. We're not putting a culture behind this, like when we went to the the moon. That's an event that ranked with the Pyramids." (EGG: The Arts Show / PBS)
This quote from James Turrell is a pretty good statement about his materials, his method and his aesthetics. Turrell sculpts with light, exploring its material reality and how people perceptually interact with it. Rather than viewing the work, he talks of the audience touching with their eyes. His father worked in aeronautics and Turrell's study in perceptual psychology included the Ganzfield (or 'total field') effect of staring at uniform fields of colour, clearly evident in his recent, immersive Dhātu room at London's Gagosian Gallery. The mix of science and belief (he has returned to his parents' Quakerism) gives Turrell a unique perspective on artists' materials: "We teach the colour wheel, but we really should speak about the light frequencies of each eye, and then the context of vision in which they reach the eye, because that's how we perceive".
The 'big project' Turrell refers to above is his 30-year construction within Roden Crater, located at the heart of a 400,000-year-old extinct volcano in the Arizona desert. Some of his work, such as Skyspace, draws attention to the way our perceptions give the sky its colour and the height of Roden Crater makes use of certain perceptual illusions, including 'celestial vaulting', changing the curve of the earth or the sky according to how we view it. Despite the science behind Turrell's work, it is experiential: we perceive and, in an instant, understand our own contribution to what we perceive. Plato's Allegory of the Cave is often invoked as a reminder of human limitation but Turrell has managed to transform the prison of our perceptual processes into the sublime.
James Turrell: Timeline:
1943 – Born in Pasadena, California to Quaker parents
1959 – Gained pilot's licence, allegedly involved in espionage and transporting monks from Tibet
1965 – BA in perceptual psychology, Pomona College
1973 – MFA in art, Claremont Graduate School, University of California
1974 – Awarded Guggenheim Grant, spent 7 months flying in search of a site
1979– Acquired Roden Crater in Arizona
1998 – Laureate of the Wolf Prize in Sculpture
2009 – The James Turrell Museum opened in Bodega Colomé, Argentina
2010 – Turrell's immersive light show at London's Gagosian Gallery
2011 – Roden Crater will perhaps open, after being rescheduled several times
Roden Crater (Google Maps)
Nr. Flagstaff, Arizona
Projected to open sometime during 2011
Further Reading:
Roden Crater official website (become a Friend of Roden Crater)
James Turrell biography and documentary at PBS Art21
Biographical interview from 1999 with Richard Whittaker at Works & Conversations
Good interview about Turrell's ideas and approach at PBS EGG (quoted above)
Stunning collection of images at 5magazine