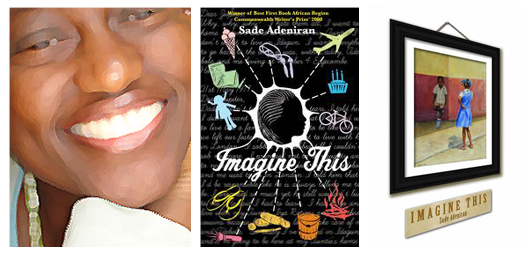 Nigerian author Sade Adeniran self-published her first novel, Imagine This, and went on to win the Commonwealth Prize for Best First Novel. She took time out from working on her second book to tell Mary-Claire Wilson how she did it, what inspires her and why she prefers Mills & Boon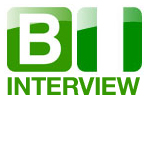 Imagine a self-published book by an unknown writer which, through a grassroots word-of-mouth campaign, achieves international publication and widespread critical acclaim, is long listed by World Book Day, shortlisted on its Spread The Word campaign, and then goes on to win the 2008 Commonwealth Prize for Best First Novel. Imagine This is that book.
Imagine This chronicles the life of Lola, from age nine to 19, through her journals. Lola, a motherless Nigerian girl raised in London, is left at the mercy of a series of resentful and superstitious relatives when her father suddenly whisks her and her brother back to Nigeria, and abandons her in his village in Idogun, without possessions, running water or electricity. As the refrain echoes through Lola's moving journal entries, imagine that. Trapped, powerless and alone, Lola's physical and emotional growth is stunted by a lack of food, love and attention. When as a teenager she finally escapes the village to live with relatives in the city, her trial continues as she faces the hatred of her uncles' wives and children, struggles to get the education that will save her from ending up selling water at the roadside, and deals with the unwanted attentions of men and boys, while her own father, grown rich and powerful, ignores her.
Sade Adeniran, the book's author, was herself taken back to Nigeria aged eight and left in her father's village. Warm, calm and smiling in person, a million miles from Lola's anguish, I have to ask, how much of the book is autobiographical? "I always say, 'It is and it isn't'. Some things in the book are based on real incidents. That village was where I grew up, but what happens to the character Lola is not what happened to me. My experience was not so much bad as a real culture shock. The restrictions that are placed on you there as a woman are extreme. I remember my aunt was sweeping outside after sundown and apparently that was some kind of taboo, so they had a ceremony and shaved her hair off. When you've grown up in the West, you just don't see the logic in that."
Lola's story is set against the backdrop of a culture which, at least at first, is as alien and exotic to her as it would be to a Western reader. "And that's one of the things that make the book interesting." Sade points out. "Normally you read books about people coming from Nigeria to the UK and trying to integrate, but never the other way around, people going back home. When it came out a lot of people came up to me and said, 'That is my story, that's exactly what happened to me,' the language difficulties, the misunderstandings." Lola's experience also rings true to me, as exactly that happened to my sister, who was moved from London to Nigeria when she was 12, and still remembers how her accent was ridiculed and how she was bullied for not speaking Igbo. "And then people [in Nigeria] think that you think you're better than them, but you don't, you're just different," continues Sade. At school, Lola is taunted to "Come and show us how this is done in the white man's land," and told that, "Just because you've been to the white man's land doesn't mean you're better than anyone else". "I never even thought that," Lola protests.
Lola gets knocked down and gets back up again and again through the book. "She's brave!" Sade breaks into laughter, "She's very brave and very resourceful. She's kind of the person I wish I was. I write characters that I think I should either be like or I'm glad I'm not!" One of the proverbs that spring to mind reading Imagine This is 'It takes a village to raise a child', but in Lola's case, this goes badly wrong. "I think it's to do with Nigerian society as a whole," Sade agrees. "It still goes on today, people in the village send their kids to relatives in the city because they hope that they'll send them to school and all that, but they just get used as housemaids and dogsbodies. Then you're obligated to them for life and they hold that over you and that's just inherent in Nigerian culture. And you feel like you don't have a voice, because you're supposed to be grateful for the charity they're giving you. But you're actually being used. In Lolas' case, although this isn't spelled out in the book, her father isn't able to cope with raising two kids after a failed marriage, which was also an arranged marriage."
The male characters in the book are absent, either literally or emotionally. "When I look at Nigerian men, although this generation is probably different, they see themselves as providers. They're not emotional towards their kids. I've very rarely seen a Nigerian father hug their child. It's just, 'Go to school, I'll pay your fees, here's food'. There's no investment in the emotional wellbeing of the child." Given Sade's take on Nigerian society, how was the book received inside Nigeria? "On the whole I would say that those who read it gave really positive feedback. At the University of Abuja the lecturer who introduced me gave the impression it was really negative about Nigeria, so I had to keep on saying, it's not about putting Nigeria in a negative light, it's about how Lola experienced it. There are so many negative images about Nigeria out there, and people think of 419 [as internet fraud is known in Nigeria] and theft and killings, but you could say the same about any country. Even here, you turn on the news and someone's been murdered somewhere and there are guns. Every country has a negative underbelly, but because people see Africa as the 'Dark Continent', they never see the positive side. I would want to portray it in a positive light, but it doesn't always happen like that. Whatever country or family or society you're in, it will have something darker underlying it."
Imagine This started out as a very different book. Believe it or not, it began as a revenge fantasy. "It did!" Sade exclaims. I was made redundant with no warning from my job on January 2nd, and my boss let me work the whole day, then at the end called me into his office and let me go. I went home, cried a lot, and wished I could do all sorts of horrible things to him. And that was how the book started." What changed it? "I wrote about a hundred pages and realised it was rubbish. But I had these diary entries of Lola's back story which intrigued me."
The diary form of the novel gives it vibrancy and immediacy, because Sade manages to capture the voice of a nine-year-old girl, and then teenager, authentically. "It's from listening to my nieces and the way that they speak and the way that they think. Because kids think differently. We forget that. In the beginning when Lola's still at school, one thing that's captured is the way that kids misunderstand meaning. They don't realise there's a deeper meaning to words." In the book there's an incident where the Principal advices the morning assembly that any girl who keeps her legs open will be expelled. Lola, determined to be expelled, takes to sitting with her knees wide apart.
The strength and individuality of Lola's voice makes it hard to discern Sade's literary influences. "I can't really pinpoint anyone. My tastes are very eclectic. I read Mills & Boons as well as serious literature. Though I prefer the Mills & Boons I have to say!" Sade laughs, "When I don't want to think anyway. Even though I'm yet to read a Mills & Boon that has a black character in it. I don't think of myself as a literary writer. Literary to me means heavy tomes that no one wants to read. I'm a general fiction writer." Imagine This falls into the category of contemporary literary fiction, which is more diverse than the Great White Canon of old.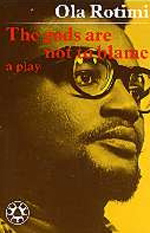 Lola's journal is rich in African proverbs, which as she grows up she begins to comprehend. Rather than chapter titles, each section is headed by a proverb related to events in it. Sade explains, "My father loved proverbs. He used to write them for me. Actually some of the proverbs are from the play The Gods Are Not To Blame by Ola Rotimi. It's a twist on the Oedipus story. That's one of my influences." The proverb that opens the book reads, 'The spirit that keeps one going when one has no choice of what else to do must not be mistaken for valour'. This applies to Lolas' situation, but does it also apply to Sades' decision to self-publish? "If I had known the stigma attached to self-publishing, I'm not sure I would have done it. The Commonwealth Prize took the book to a different level. People ask me if they should self-publish, and I say, yes, if you believe in your book. I believed in Imagine This. I was quite naive, because I thought all I had to do was print it and take it into Waterstones and they'd put it on the shelf, not realising there was a whole industry behind the distribution of books. The scariest thing for me was doing the promoting, because I'm not an out-going person, so picking up the phone was tough. A bookshop, Crockatt & Powell, wrote a blog denouncing self-published books, and I called them and convinced them to take two copies, which they sold that same day. They read it, then wrote another blog saying, we were wrong, not all self-published books are bad. So that's how I started to get it into shops. Though I still have books under my bed to get rid of! The attitude to self-publishing has changed now though. It's much more acceptable."
Sade studied English and Media at university, writing a radio play for her dissertation that was accepted and aired by the BBC. Since then she's worked in technical and business consultancy and project management. What drew her to writing? "I guess because I just could! I'm not an articulate person on a one to one when I'm speaking to people. When I was growing up, my dad and I didn't get on at all. I'd try and talk to him and I felt like he didn't listen to me, so I started writing him letters and slipping them under his door. He always read them and things would get better after that. That was my first experience expressing myself through writing."

Imagine This was published in Nigeria by Cassava Republic, one of the few publishing houses that exist there. "Nigeria's a tough market. There's no distribution. There are hardly any bookshops, though that's starting to change. I've never seen a library in Nigeria. When I was growing up I remember buying books on the roadside. They [Cassava Republic] are not doing it to get rich, they're doing it because they love books. It's tough for them. We have to encourage the culture of reading from a young age. You're expected to be a doctor or a lawyer or an engineer. But after you've built the bridges and the roads, it's art that you need to adorn the walls. Being a writer isn't seen as something to aspire to. We need to change that perception at the grassroots."
It goes without saying that there's a lot that needs changing in Nigeria. Lola speculates 'We should have a woman as President. She'll knock the country into shape.' Unfortunately, as Sade says, "As a woman in Nigeria if you don't have a man next to you, you're nothing. I think that's why there are so many bad marriages there. My Dad started off saying, 'Don't marry a Jamaican or a white man or an Igbo man,' which basically left me with just a man from Idogun! Then over the years it became, 'Ok, maybe you can marry a Jamaican or a white man', then it became, 'Just get married! I don't care who! Marry anyone!'" Sade giggles. What does she think would get Nigeria into shape? "Just one honest person," Sade sighs, "Just one. But the corrupt people outnumber the honest. The corruption is so endemic and starts at the top and goes all the way to the bottom. Everyone must take a piece. And I see the children of the politicians in the UK spending money like it's going out of fashion, living in Mayfair or Belsize Park, and I think, you didn't earn this. There are people suffering and they just take, take, take. Nigerians have no long-term vision. The politicians don't build the hospitals. When they get sick, where are they going to go? Anyone can have an accident. We don't have any facilities for emergency medical care. We don't have ambulances, nothing. And the politicians own more houses than anyone can live in."
Sade is based in London now, but visits Nigeria regularly. After a childhood spent moving between both, is she a Nigerian or a Londoner? "When I'm in England I'm British and when I'm in Nigeria I'm Nigerian. I said that at a reading in Nigeria and it caused a big brouhaha. But that's how I feel." What's she working on at the moment? "Whenever I start talking about something I'm working on, it just becomes talk, and I never actually write it. All the energy dissipates."
Although there are plans for a sequel to Imagine This, entitled Imagine That, for the moment Sade is still surprised by the reactions she receives to her first novel from a diverse range of readers. She describes attending a book club in Manchester run by the blue rinse brigade, and how much they loved Lola's journey and related to her character, although their two worlds couldn't be further apart. "At one of the school I visited," Sade tells me, "This blue-eyed, blonde haired teenager came up to me and said, 'Miss, Miss, this is my life!' When an ordinary reader comes up and says, 'I get it,' it's more gratifying and humbling than any accolade. I guess that's why I write." That, I can imagine.

Further Resources: