A comic book that tells the story of dog-headed gay male escorts living in a London world of sex, drug dealers and porn stars isn't going to be the easiest sell to a casual reader. Certainly The Lengths won't be for everyone, but Hardiman has taken this dark and potentially bleak backdrop and created a book that's warm, sometimes funny and ultimately very engaging. Kes Seymour reviews
Eddie is an art-school drop-out who is starting up a relationship with an old friend, Dan, who he hasn't seen for a few years. As well as having to deal with the usual insecurities that arise at the start of any relationship, Eddie is also trying to keep his other life as 'Ford' the male escort a secret from Dan. The struggle that results from leading two very separate lives, and trying to juggle the relationships within both, underpins The Lengths. Has Eddie immersed himself too far in one world to allow himself to find happiness in a loving relationship in the other?
What could be an insular proposition for a story is made accessible by Hardiman's brilliant characterisation. You may not have a male escort or a drug dealer in your life (what sheltered lives some of us lead…), but you will certainly know an Eddie or Dan-type and empathise with their day-to-day relationships and dilemmas and it's this familiarity that draws you in to an otherwise potentially impenetrable world.
Hardiman has said that The Lengths is based on interviews with people in the sex-trade as well as his own experiences and there is a definite sense of just how personal this story is. The characters feel real (which is even more remarkable as they sport the heads of dogs!) and are instantly recognisable in both their actions and inactions. I'm not sure how much of the character of Eddie comes from Hardiman himself but you can almost feel the author's frustration at Eddie and his questionable choices. "I'm a fuckwit," Eddie thinks to himself after further jeopardising things with Dan and you can't help but agree with him. As a reader you want to reach into the page and shake Eddie to stop him making bad decisions that will ultimately lead him too far down a path he won't be able to return from.
As well as having to "work weird hours" as Ford, we learn that Eddie's insecurity comes from his previous romances. These are explored through flashbacks and remembered conversations with former lovers and boyfriends. Eddie is obsessed with Nelson, a bodybuilder and fellow escort, but this love is unrequited and has left Eddie in freefall. We also get to see glimpses of Eddie's previous relationship with James, a laid-back character who gives Eddie free reign to do as he pleases which seems to cause their undoing. These experiences have left Eddie in an emotional crisis and play a huge role in undermining his fledgling romance with Dan.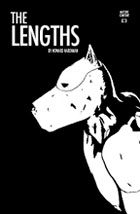 But while the relationships between Eddie, Dan, Nelson and Ford are what draw the reader in, it's the characters' relationship with the city that I found the most fascinating. London looms large in The Lengths. Its presence is felt in almost every panel, towering over the players, making them seem very small and isolated. This is a very separate London to the everyday. It's a lonely place that feels hard and uncaring; the isolation further highlighted by the absence of any women or children in the story. It's an unfamiliar London. All of its landmarks can be seen but there's a sense of foreboding about them; the art portrays the characters looking lost among the buildings as if being penned in and trapped.
I've painted The Lengths as being quite austere in tone, but there is a genuine humour present here that's often quite unexpected. I found myself laughing quite a few times at things that maybe on the surface don't lend themselves to comedy. Even the fact that the characters are held so much in London's grip leads to a surprise funny moment with Eddie fantasising about spending a lottery win on an annual Oyster Card. There are some funny references to popular culture that fanboys will enjoy (Eddie's Yoda ringtone always makes me grin and there's a comical intergenerational conversation about Doctor Who) along with a knowing nod to the idea of comics themselves ("Do I tell him, or try to lead this stupid double life? Like a superhero").
Of course, the question that continually arises is 'Why dogs?' Hardiman has said that "people care more about dogs than humans", but I think he may be slightly tongue-in-cheek when he says this. Considering this story is based on real life experiences, the dogs certainly allow a level of anonymity to the lives being written about. It also cleverly lends itself to being able to recognise character traits by just looking at what type of dog they are; for example the muscular, but slightly dangerous Nelson is portrayed as a rottweiler/bull terrier type, whereas the safer, more faithful characters such as Dan and James are portrayed as friendly, loyal breeds (highland terriers and retrievers/spaniels – sorry, my knowledge of dog breeds isn't that great!). I'm dying to see what sort of character a poodle would be. Or a chihuahua.
Over the course of the first three issues of The Lengths you can see a real progression with both Hardiman's storytelling skills and his artwork. With the first issue you can sense that he is finding his voice and learning how to pace the story, while the art feels slightly sketchy and lacks confidence. A lot of The Lengths is told in flashbacks and its portrayal is slightly unclear, requiring a second or third reading to make complete sense of the narrative. But these are minor quibbles with what is obviously an ambitious and complicated story that is trying to be told. Certainly by the second and third issue, Hardiman's storytelling skills have sharpened and his art becomes bolder and starts to flow beautifully across the pages.
I like The Lengths a lot and I really recommend you hunting it down. It's certainly not your average comic book but while being set in an initially unfamiliar world, The Lengths reveals itself to be a tale that is easy to empathise with. Hardiman tells a very human story with his dog-headed characters. With a focus on relationships, both at their cautious beginnings and messy ends, and the insecurities felt and the mistakes made, it is ultimately a story that readers can relate to.
I've read somewhere that The Lengths is going to be limited to just eight issues. I certainly hope that this isn't the case as Hardiman has created an intelligent comic with thought-provoking characters that can challenge and entertain for a good while yet to come.