Yuletide films are a risky proposition (and reviewing them in summer equally so). Can a Norwegian director of note make his mark? Declan Tan finds out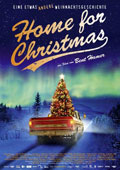 Only a shade darker than your standard Disney snow-and-Santa fare comes Bent Hamer's latest, a surprisingly uninspired bit of yuletide flakiness from the writer/director who seemed to have adaptations down, with his earlier Bukowski-cover of Factotum being a wryly poetic example, but who we now see returning all-bells-jingling with a big wintry sack of schitty Christmassy schmaltz.
Occasionally intertwining disparate threads all running on the general theme of loneliness for those on the outskirts, and getting in skirts, at this time of year, Hamer's mixed bag weaves in a do-good doctor, a besotted teenager, a grieving elderly man, an interloping couple, a dumped husband and a homeless wanderer (determined to get home for Christmas). At first glance it shows some suggestion of what we've come to expect from the Norwegian auteur's past work. If you didn't already, you'd know it's a Hamer pic after a few scenes, yet his usually distinctive voice is gradually drowned out by the yelling Christmas-story conventions you see in just about every other Christmas movie (excluding Bad Santa). Not only this, it seems we can almost see the pen scratching the script desperately trying to crowbar in some bizarre events or, to employ one tired adjective, that 'quirky' quality.
On the brighter side, at least we're offered a scattering of residents and passers-through of our small-town setting in Norway's Skogli, all ages and varying social classes, diverse elements of society that Hamer had dealt with credibly in his previous efforts. Present here too is his lightness of touch that handles well the often-tangible absurdity of situations concerning bourgeois philanderers and their ilk, served with his visible respect for humanity seen in O'Horten and Kitchen Stories. We're not forced to judge the ensemble of characters we're presented with, we view them with a kind of objective eye, the stories at times delicately told, though a risible second half undoes any earlier subtlety forthwith; just a few too many indigestible filler moments (plus an outrageously over-sentimental ending) heap up over the duration of this festive feast.
Perhaps it's the hope in all the melancholy of the season that Hamer wants to hammer home. There's the doctor who 'does the right thing', a discarded father desperate to see his kids, along with the worn-out 'child born on Christmas Day' bit that shows this collection of Levi Henriksen's short stories (Only Soft Presents Under The Tree), though possessing a message you can't knock, merely demonstrates a way of being told that leaves you cold and yawning.
So it's a different kind of sadness that welcomes Hamer's sixth feature, a film that although showing a certain maturity in its form also grates with a kind of laziness in its delivery. Yes, it has the Hamer stamp all over it: the awkward silences, the off-kilter storylines, the dry humour and twisted characters pushed to melancholic despair in the face of life that are real and even believable. But in Home for Christmas there is a kind of bowing to the commercial pursuit of a filmmaker who now seems to want to make steps in that ignoble direction.
And it's a finishing shot that leaves you perplexed, for all the wrong reasons, as to why it had to end on such a note of disappointingly realised cheesiness. All this leads to making you feel that by the credits you're no longer sure what you just saw really was a Bent Hamer film, thinking to yourself that this is one adaptation that could have been left on the shelf and, though he seems to mean well, he proves that it isn't always the thought that counts.
Thankfully we still have Bill Murray's annually re-run appearance in Scrooged to come home this year.