Dolly Delightly is granted an audience with New York performer, artist and 'downright dirty' author Stephen C. Bird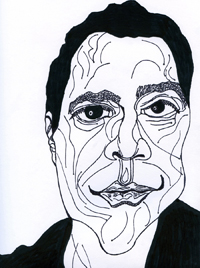 Writer, performer and artist Stephen C. Bird was born in Ontario, Canada, but has spent most of his life in New York City. He studied theatre with the Stella Adler Conservatory in association with New York University, but dropped out with one semester to go. A regular on the post-punk scene in East Village, Bird pursued a career in stand up comedy, worked as a musician, a Christmas tree decorator, a busboy, an art store employee and a word processor. Due to his lack of people skills and his "omnipresent attitude", Bird was fired from every day job he ever had. Eventually he went back to NYU to complete his BA and later resumed his stand-up and acting career, performing at Surf Reality and Collective Unconscious, in East Village where "Art Stars" of the time were known to congregate. In 1997, Bird started producing, writing and performing a series of one-man variety shows before taking time out to concentrate on visual art. He resumed his acting career again in 2006 performing in self-produced variety shows in the East Village. In 2009, Bird completed his first book, Hideous Exuberance. He is currently working on his second book, when he is not distracted by learning foreign languages, art-house cinema, laziness, bouts of decadence, self-sabotage and procrastination.
Although seemingly slapdash, you said Hideous Exuberance was actually meticulously considered. Could you tell me a little bit more about that, and how the initial idea for the book came about?
The book is a giant spew of filth, which I guess it had to be, and although seemingly fractured and thrown together willy-nilly it was intended to appear that way. As regards the conception of Hideous Exuberance, some of the stories within it are based on monologues I performed on stage which I then converted into narratives with more surreal/fantastical settings. Two chapters out of 15 are performance based pieced. The final chapter I'd call a poem. And the rest of the narratives I developed from scratch.
How long did you spend writing Hideous Exuberance?
The short answer is "too long". I copyrighted the first semblance of the manuscript, which was eventually to become the book, in 2003. I don't think at that time, I was even sure I was writing a book as it was very much an off and on again process. I think I was also somewhat hampered by lack of confidence, insecurity, self-sabotage and procrastination. In June 2008, however, I copyrighted what I thought would be the final version of the book but spent May through to July 2009 revising it. I think I probably revised it more than I needed to, but I am a little bit of a perfectionist. Fortunately though, at a certain point, I decided "enough".
Are the characters in the book based on people you've encountered or are they entirely fictional?
Several of the characters are based on high profile individuals who are both famous and infamous. Others are based on people I saw growing up in Western New York. The rest were developed from 'types' and 'stereotypes' of people I've known throughout my life.
What comes first in sitting down to write: a concept, a character, a scene?
What comes first could be an image, a phrase or a conceptual fragment which would then lead me down either a literal/literary and/or visual path. I think of Hideous Exuberance as a series of portraits of fractured, angry, absurd and tragic characters collaged together in an arbitrarily cohesive way. Sometimes the setting or the background is just as important, or even more important, than a character. A lot of the action in Hideous Exuberance occurs within the psyche of its characters, for example: it is not what Dzjheemi Sparks does or says that's significant, but how he perceives the world, and/or how the world perceives him.
How would you sum up the ideology behind Hideous Exuberance?
In a philosophical context, I'd call myself a pessimistic realist and I think that's reflected in my work. All the characters in the book are tormented by their baser natures; they are driven to destroy or to create by their innate animalistic impulses. And as you probably noticed, they're much more interested in destruction. I have juxtaposed individual tragedy with the greater social concept of 'the human tragedy' and that's what I hoped would come through in the book. As you noted in your review, I am incredibly sceptical about the various institutions that try to make us 'socially normal'. Although on the other hand, they are a necessary evil that keeps the human race from descending into total chaos. I hoped to relay this in Hideous Exuberance through its absurdity and by going against everything that's thought to be a 'correct' form of writing.
Why did you dedicate the book to your brother, is he an artistic influence in your life?
I dedicated the book to my brother, Fred, who has battled paranoid schizophrenia for the last 36 years, since the age of 19, because he was and still is a creative influence. Throughout our childhood he always took part in school plays and wrote poetry, and continues to do so, but has been deny the chance to fulfil his artistic potential because of his illness. I have always been inspired by his determination and along with my sister helped him produce a book of poetry in 2008.
Are there any other aspects of your childhood that you think may have contributed to making you the creative force you are?
Yes several: a familial history of mental illness, on my mother's side; parental neglect; my desire to rebel against the 1950s American puritanical values with which I was raised. I mean no disrespect to my parents, however, as they taught me many valuable things. And, I think the artistic impulse comes from my mother's side of the family.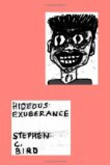 Which writers would you say have been your biggest influences? And, who do you read for fun?
Well, I haveven't necessarily been influenced by writers alone. I am very interested in film, especially of the art house and avant-garde variety. I began to explore foreign cinema more thoroughly in the last 10 years: French, Italian, German, Russian, Spanish, Mexican, South American. Some of my favourite filmmakers include, Jean Luc-Godard, Luis Buñuel, Federico Fellini, Sergei Eisenstein, Alain Resnais, Jean Cocteau, Rainer Werner Fassbinder, Woody Allen, David Lynch. Music has also always inspired me: classical, psychedelic, jazz. I remember being fascinated by William Shakespeare as a child and throughout my adolescence. I also liked Kurt Vonnegut (particularly Sirens of Titan), Edith Hamilton's Mythology, The Chronicles of Narnia and The Fellowship of the Ring. In my 20, I read about five or six Anne Rice books (for fun). I remember I loved Bret Easton Ellis' American Psycho. I also found Camille Paglia's Sexual Personae hugely influential. I've read three or four books by Paul Bowles: Sheltering Sky being the most memorable. I've also always liked absurdist playwrights, like Edward Albee (I am currently reading Who's Afraid of Virginia Woolf having seen the film countless times) and Christopher Durang (particularly Laughing Wild). I admire the philosophy of Friedrich Nietzsche; Thus Sprach Zarathustra is amazing and mystifying; though I can't say I understood it, and maybe never will. I am not a great fan of poetry, but I did enjoy Gergory Corso's Elegiac Feelings American. I have read several works by William S. Burroughs, but I'm more interested in his life and point of view than his often incomprehensible books. Victor Hugo's The Hunchback of Notre Dame was a page-turner and a masterpiece. I read Dan Brown's Angels & Demons and The Da Vinci Code purely for diversion, and I respected all the research that went into creating those books. I read all the Harry Potter books and they were great for escapism.
You've mentioned some very interesting and diverse influences, in particular experimental writers. Is writing for you personally an exercise in the use of language, an attempt to explore character or a balance of both?
I would say it's more of an exercise in using language and using it as a form of poetry-humour-satire. A lot of the way I use language does arise from my experience as a performer, and my penchant for improvisation. A lot of the scenes in Hideous Exuberance were taken from my own experience of things and transplanted into a fictional context, with little regard for linear consistency. I think that exploring character is something I could investigate more thoroughly.
You also draw and perform, but what do you enjoy most? I think writing is the most enjoyable for me, and probably the most natural. I write very long emails that most of my friends don't have the time or inspiration to answer in equal length. I am old-fashioned that way. And unfortunately in our era where technology has come to reign supreme, I feel I have to curtail that habit. Drawing and/or making collages/visual art is something I tend to do when I'm very down, but not regularly. I've been performing much less since 2009 as I began to focus more on writing.
Your writing is loaded with black humour, have you always had the capacity to make people laugh?
Yes I think so. I am something of a natural clown, I have even studied some clown. Although, I was never the 'class clown' in school. I remember doing impressions as a teenager that my classmates often found amusing. Humour has always helped me, since I can be shy and/or socially awkward in certain situations. I'm not the happy-go-lucky type; I am a melancholic; I can be a downer. But with humour I can light up and forget about that. I spent years in the 80s through to the 90s pursuing stand-up comedy, longer than was necessary. Yet I continued, I liked the 'attention'. It was during that particular time in my life that I morphed into a performance/writer/artist.
What are the pitfalls in writing humour?
First of all, I think writing humour comes more naturally to me than having to write something serious. I'm better off writing fiction, it will always be funnier. If I try to write about the everyday, it will most likely turn into a bore. I'm not sure I could openly write about real people either, I don't think I'm brave enough to satirise celebrities in the way that a comic, such as Sandra Bernhard, Kathy Griffin or Joan Rivers, does. I don't think I could deal with the highly negative feedback.
Talking of feedback, what has been the overall response to Hideous Exuberance? How do you deal with heavy-handed criticism?
I've received some vaguely favourable reviews, although nothing that could be called high profile. I think some of my closer friends didn't get it. One friend told me it was too haphazardly assembled and by the time she became interested in something the narrative would veer off in a completely different direction. But of course, that was my intent. Another friend, who I consider a modern day beatnik, offered minimal commentary which surprised me, since her initial reaction to the book was very positive. I think your review was probably the best one I have received, there's only one other who nailed the underlying philosophy as you did. So, I guess all in all I would qualify the reaction to Hideous Exuberance as polarised.
Do you keep an ideal reader in mind when you write?
No, I don't think I know who I'm writing for. I don't know if that's necessary. When writing, I think the most important thing is trust one's intuition.
You've lived in New York for most of your life and parts of Hideous Exuberance is set there. Is the city an artistic inspiration?
Most of the book is set in New York State, yes but not New York City. For instance, Gothra Schvulkopf is often in New York City, but not always. 'Cindy Cipro' is set entirely in New York City. Some settings/locations of the stories are never referred to. When I wrote it, I pictured the narrator of "A Letter from June Cleaver to William S. Burroughs" in the house of one of my neighbours when I was growing up. She's standing in front of the kitchen sink, looking out the window at her backyard. So technically, although she could be anywhere, she is also in New York State. As for New York being an inspiration, I've always had this love-hate – or even hate-hate – relationship with this city. I'm not happy with how it's changed, especially in the last 10 years. I've recently been questioning whether I want to spend the rest of my life here. Much more than New York, I tend to find other artists, wherever they come from, to be inspiring.
What really motivates you as a performer/artist/writer?
First of all, I'd say recognition although I've received very little of that. I'd never say money, because my writing is extremely niche and non-commercial, the opposite of a bestseller. The joy of creation, for the sake of creation, can be very satisfying. I think it's important for an artist to know how to entertain himself, and by doing that, he can entertain others. I've always been aware of my creative voice and its need to be exercised. Now that I've reached middle age, with a newfound, visceral understanding of my imminent mortality, I'd like to keep producing work–written and/or visual–for the rest of my time on the planet. Whether that translates into critical and/or financial success is out of my hands.
And lastly, could you tell me a little bit about your forthcoming project?
That I would like to remain for the most part a mystery. I'd rather that the baby be given more time to gestate. Nonetheless, I expect it will pick up and continue from where Hideous Exuberance left off. Parts of the new project will be made up from scratch and part will be based on my own experiences, tone will also be slightly more modulated. I want it to be experimental and surreal but also little more accessible, as long as that can be achieved without compromising my vision.
Hideous Exuberance is available from Amazon
Stephen C. Bird at Good Reads