A major new gallery opens next month but could it be the last of its kind?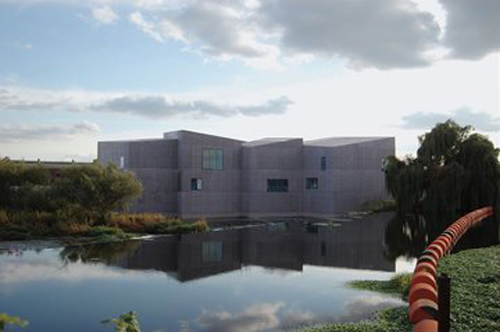 The opening of Wakefield's stunning new Hepworth gallery on 21st May could mark the end of an era. The 5000 sq m space, designed by David Chipperfield Architects at a cost of £35m, is the largest purpose-built gallery in England outside London and welcomes the public just as the Ikon Eastside in Birmingham closes in response to funding cuts. As such, the Hepworth could signal the last hurrah of a phenomenal boom in public art investment over the last 20 years. Peter Box, leader of Wakefield council recently told The Guardian: "To simply pull the plug now was not really a viable option. If the question is, would we go ahead now, in this financial climate, then the truth is, I don't know".
The core collection is formed around the Hepworth Family Gift: 30 previously unseen models and prototypes by locally-born sculptor Barbara Hepworth. There are also works from Wakefield's collection of 6000 pieces of predominantly British art, from the 16th century onwards. Anthony Caro, Jacob Epstein, Henry Moore, David Bomberg, David Hockney, Patrick Heron, Ben Nicholson, Walter Sickert, Graham Sutherland, and Paul Nash are included, as well as loans from the Tate, the Hepworth estate, and the Arts Council and British Council collections. Borrowed items include works by Constantin Brancusi, Piet Mondrian, and Victor Pasmore. The gallery will also feature major exhibitions from contemporary artists. The first of these will be by Eva Rothschild.
The building itself, constructed from 10 trapezoids, might be considered a work of sculpture. It was built using innovative self-compacting pigmented concrete. Balanced within a beautiful location on the River Calder, large windows frame the views, whilst the upper gallery spaces are lit naturally through the pitched roofs.
Explore Further:
Barbara Hepworth (b.1903, Wakefield, d.1975): Interviewed in 1972:
Eva Rothschild (b.1972, Dublin):
"I'm interested in un-systems of belief, non-systems, in how people move their 'spiritual' desires between different objects and traditions. Also how certain places and things can have a spiritual power which specific belief doesn't necessarily exclude. I'm interested in the ways of looking that go with concepts of faith and in how things are invested with a power above and beyond their materiality, the transference of spiritual onto objects. That's where sculpture comes in, making something that seems to have something extra to what is physically there. I'm interested in thinking about why we feel an object has more than a material presence and in the idealism of belief. I like that the objects and images associated with belief don't have any other function except to furnish that belief, that they are anachronistic in a secular society, where most things have a defined function or end use. Making work is like trying to show the gap in contemporary culture, where everything is available and catered for. It's like trying to supply something… that doesn't fulfil a specific need, but that leads to something else undefined".
Early One Morning, Whitechapel Gallery, 2002