"Guernica is an award-winning magazine of art and ideas. In its short time online, it has grown from one of the web's best-kept secrets to one of its most acclaimed new magazines."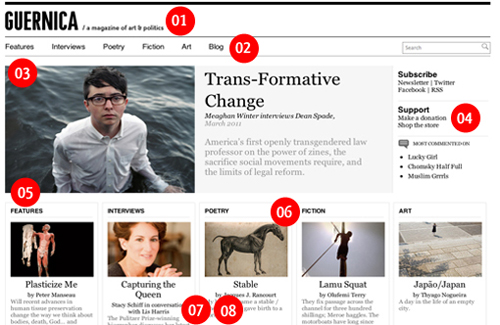 01 Guernica: Launched in 2004 by New York-based writers Joel Whitney and Michael Archer, Guernica is an online journal of original creative and non-fiction work. Material is published on a fortnightly basis with a weighting towards the journalistic side. Many interviews discuss loosely political themes with novelists, as well as poets, filmmakers and others, whilst features generally investigate a wider pool of opinions and ideas. Guernica also publishes new poetry, short stories and slideshows of art (mainly photography). Their blog features a range of more politically focused commentators.
02 A magazine of art and politics: As the allusion to Picasso's iconic painting implies, Guernica's stated aim is to explore "the crossroads between art and politics". This is an interesting fault line, which the site more or less traces. Sometimes this is explicit: Jamal Mahjoub's recent interview with Egyptian novelist Ahdaf Soueif, for example, spoke of January's uprising and Poulomi Basu's photographs follow India's first women soldiers. Often, though, the crossover is implicit, connecting liberal politics with an artistic sensibility.
03 Features and style: Long-form journalism is complemented by much briefer poems and short stories (including a recent experiment with flash fiction). American writing is frequently punctuated with new pieces from around the world and sporadic translations. Although opinions are drawn from across the United States, there is a hardcore Brooklyn writers and, although Guernica has an international perspective, it remains something of a New York project. Likewise, many contributors share a background in MFAs and teaching creative writing, giving the site a unique voice. The visual material is generally more global.
04 Behind the scenes: Something of Guernica's philosophy carries over into its masthead. Having been incorporated as a no-for-profit two years ago, it is a collective effort relying on the goodwill of smart and engaged contributors. The 30-plus editors, broadly journalists and teachers, are all involved with a large collection of other publications and projects. Former Spike contributor Nancy Rawlinson is a contributing editor.
05 Features and interviews: The site has interviewed an impressive roster over its six year existence, including John Updike, Don DeLillo, Juot Díaz, and Arundhati Roy. The schedule usually includes two new features and two new interviews every fortnight. Recent highlights have been David Morris' article 'Public Disinterest' and Meaghan Winter's interview with Dean Spade. The former is a history of how vital channels of public information (the US postal service and broadcast airwaves) have been hijacked and the implications for the future of the internet, whilst the latter profiles America's first openly transgendered law professor on an eye-opening range of issues.
06 Creative content: Whilst Guernica's poetry, short stories and visual arts each get, on average, only one post each per fortnight, they have garnered a numbered of awards. 2009 was a particularly good year with E.C. Osondu's story 'Waiting' winning the Caine Prize and Matthew Derby's 'January in December' got a Dzanc Books Best of the Web award. Both were published in 2008. Recent highlights have included Melissa Ann Chadburn's 'Loose Morals', with it immortal opening line "Did you know that more people jack off than pick their nose while driving?" and Albert Abonado's poem 'Snake Story'. Birthe Pionek's photographs of life in Canada's Yukon ('The Idea of North') have a View-Master depth and tone, the portraits look away from the lens, lost in thought.
07 Support: The not-for-profit philosophy of Guernica is reflected in its calls for support. The homepage is bordered with large advertising placeholders, suggesting different ways for readers to join the community. In addition to donations and subscriptions, there is a rather hopeful shop offering t-shirts, stickers, mugs and magnets. Guernica also offers a tiered membership scheme ranging from a $25pa Friend to a $1000pa Sustainer. The latter receives a quarterly newsletter, a messenger bag, various tickets to Guernica events, and a name on the website. The organisation frequently advertises for interns to help develop the platform.
08 Blog and opinions: Guernica's blog offers near-daily material, often co-hosted on other blogs. More overtly political, these posts can offer a leftist defence of American liberal values, as demonstrated by Robert Reich's writing on domestic policies. Reich served under Clinton and is now a Professor of Public Policy at Berkeley and much of his Guernica material focuses on the economy. The blog also has a global dimension, exemplified by Robin Yassin-Kassab's posts on the Middle East. But there is also room for arts coverage on the blog, a recent highlight being Erica Wright's promotion of the term 'dude-lit': "It speaks to a debate I've simply had one too many times about great novels in which Thomas Hardy and James Joyce win out over Brontë and Virginia Woolf every time. And by 'win out', I mean the dude I'm talking to speaks louder and more forcibly".