Rooted in the history and traditions of the Pacific Northwest, Jonathan Evison's West of Here rethinks the epic American novel for the 21st century. Dan Coxon talks to the author about the difficulties of selling his American vision overseas. Portrait by Keith Brofsky
For a New York Times bestselling author, Jonathan Evison has remained remarkably true to his origins. Those who are familiar with the literary scene in the Pacific Northwest – and particularly in Seattle and nearby Bainbridge Island, where Evison has made his home – will undoubtedly have crossed paths with him at some point. At times he seems to be the connective tissue that holds Seattle's growing literary culture together, and it's not unusual for Evison to appear unannounced at readings and events around the city. Speak to any author in the region, and you'll almost certainly find that they know 'Johnny'.
When it came to selling his novel West of Here overseas, however, Evison has encountered more resistance. The market for a sweeping, widescreen novel about the Pacific Northwest wasn't immediately apparent, and publishers repeatedly shied away from committing to such a locally-rooted epic. Luckily Evison's bold, energetic style of storytelling was enough to win them over, and West of Here is now – finally – heading east across the Atlantic.
You've just had a pretty incredible year, including the release of West of Here in the US and your first appearance on the New York Times bestseller lists. Has this brought any major changes with it, or is life pretty much the same as before?
This year was a dream come true. Life is the same but even better. In spite of all the touring and other public stuff, I'm dealing with less financial anxiety, so I have more time and energy to focus on my art, which is bliss. Also more time to chase my boy around. And a cabin in the mountains to inspire me.
But really, I've been living the dream all along. I'm simply grateful to have the work, the focus, the sense of purpose writing provides me. As odd as it sounds, I get a little wistful when I think of all those late nights in Kinko's collating stories and packing them in envelopes, and sending them off like little packages of hope – even though they invariably came back as form rejections. I was perfectly happy living off pot pies and cheap beer. I just like being in the game, you know? Not that I wouldn't be stoked to be so rich that I could finally buy that thirty foot inflatable duck in sunglasses I've always wanted. That would look badass in my yard.
You've been in a variety of 'games' over the years… radio host, comedian, punk rocker. Do you consider these to all be part of the same progression? Or is your career as a novelist totally different to what came before?
I'll be honest, all the other stuff, besides the punk bands, was just stuff I did because nobody was publishing my novels. All I ever wanted to do was write novels. I wrote my first novel when I was 18 years old. Nobody published me until I was 40. And I'm still considered a "young" writer – ha! I learned a lot writing screenplays, writing comedy, doing talk radio – stuff that has informed and instructed my writing in various ways, but it was all vaguely dissatisfying. If it weren't for my career in radio, I'd probably have a couple more unpublished novels sitting around.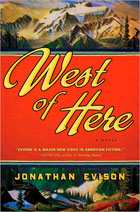 West of Here has been a huge success in the US, but it's taken a while for it to be accepted overseas. Why do you think this is? Did you always intend to write such a region-specific novel?
I'm perversely proud of the fact that every single non-English speaking European country dismissed West of Here as "too big and too American." After all, I did set out to write a big American novel. If I would have written a big Chinese novel, I doubt this would be the case. America literature just isn't considered as relevant as it used to be. Fine. Whatever. Neither is Bordeaux wine or German engineering. Or clogs. That said, the themes in West of Here are universal – personal destiny, national identity, reinvention. I'm a believer that if the themes are universal and the characters live and breathe, nationality shouldn't get in the way.
Do you think American literature will have to change to remain relevant? Or is this, in fact, the time to turn back to the classics?
America is in the throes of a massive re-invention, and I think it will make for fascinating literature, and if the rest of the world is smart, they'll pay attention. What is our national identity now that we're no longer the world's producer, that we're no longer at the head of the world order? What is our new idealism? How will we adjust to a new standard of living? Politically, how will we restructure and reform from within? These are huge questions!
Whitman and Emerson used to talk about the "American Experiment" – and guess what? It's still a big experiment! I think American Literature is poised for a big comeback, and I think the west, particularly the northwest, is going to be the nerve center. Between myself and Patrick DeWitt and Vanessa Veselka and Benjamin Percy and Jess Walter and Jim Lynch and Joshua Mohr and Jenny Shank, etc, etc, I think over the next decade the world is going to see an incredibly rich and dynamic body of work coming from the American west.
Did you purposefully set out to write a big Pacific Northwestern novel with West of Here? What was the original inspiration?
Oh yeah, I totally set out to write a northwest epic. The Olympic peninsula is a fascinating and rugged place. I wanted to write a story about how the land shaped the people, and how the people shaped the land. My goal was to write a sprawling egalitarian novel which would subvert many of our accepted notions about history, and to frustrate readers expectations about what we expect from "historical" fiction. I didn't want to write historical fiction – I wanted to write a story about history and how it works.
And do you feel that you succeeded in achieving that? I know that I loved the book, and it dealt with many of those ideas – but I also know that the writing process is a complex one, and the end result isn't always what you originally set out to achieve.
To be honest, I feel like I accomplished more than I set out achieve. That said, not everybody gets it – including some critics. Readers who lose sight of the big picture run the risk of getting lost in this novel. The first 175 pages might feel like one character introduction after another. But if you keep your eye on the big picture, you'll begin to see all these characters and story lines converge and coalesce. In order to create the effect I was going for, I had to have 70 characters and 40-odd points-of-view – that was the whole point! History is not some linear progression peopled by a few great men, history is the sum of all the small vividly realized moments in each of our lives, and how they interact and relate to one another. History is connections and convergences and shared themes.
Can you talk us through your writing routine? Where do you write, when, how many drafts… and has this changed much as you've progressed and changed as a writer?
For me, discipline is the key. I approach writing like an athlete. Some mornings I don't feel up to the task, but I strap on my trainers nonetheless and do my workout rain or shine. My optimum writing day begins at about 5am., that quiet hour when most of the world is still asleep and I don't have any distractions. I'll write until about noon. That time literally seems to pass in an instant. If I can write a page a day I'm feeling pretty good. I like to spend an hour in the evening going over the day's work with a red pen – making notes in the margins and whatnot. I begin the next day by addressing these notes. That way I'm never stuck, I always have a starting point. I'm an obsessive revisionist. I must write 20 drafts of stuff. It's never finished. At some point somebody just has to pry the manuscript out of my hands.
I know you've been working on edits of your next novel over the past few weeks. Has that process changed for you at all, now that you're with a bigger publisher? Have you found that your approach towards edits and rewrites has changed over the years?
Nah, my approach is pretty much the same as always. I've been lucky to work with amazing editors, and also with an agent who gives great editorial. The key is to work with people who want to help you make the book that you want to write the best book it can be. I've heard horror stories from writers whose editors try to make the novel their own. I was fortunate enough with West of Here and The Revised Fundamentals of Caregiving to work with the editor of my choice, Chuck Adams. When I was entertaining offers, I talked with each of the editors at great length about WoH, and Chuck was the guy who best understood my vision for the novel and how to make it better.
You've used the places you've lived in as the settings for your two novels to date: the Pacific Northwest (West of Here) and California (All About Lulu). How important do you think it is for authors to draw upon the environments that have influenced them? Do you think you'll stick with these settings, or do you have plans to write further afield?
I'm going to Alaska for research on my next novel, but part of the novel will still be set here in Washington. I've got a bunch of notes for a novel that takes place in Montana, too. I also want to write a novel that takes place in Baja. Mostly because I want to live down there for a year and get fat on fish and tequila.
Is it too early to ask about The Revised Fundamentals of Caregiving? What was the inspiration for it, and when can we expect to see it on shelves?
Galleys for The Revised Fundamentals of Caregiving are going to print any day, and the novel will be released in October 2012 in the States – not sure about UK. It's a very different book than West of Here. While West of Here represented a huge technical challenge for me, TRFoCG was a huge emotional challenge. It's a coming-of-middle-age about a male nurse in crisis. Without talking too much about the subject matter, I'll just say that the novel really took a lot out of me emotionally. In the end, it's probably my funniest book because it had to be. I'm really excited to get the novel in people's hands because I feel like it's one of those novels that's going to be cathartic for a lot of readers.
Not that you asked, but I'm almost finished with another novel now called The Dreamlife of Huntington Sales, which is another departure in that it actually employs something of a thriller apparatus to frame 16 different limited points of view. I'm really excited about this one, too. I thrive on pushing myself into new and uncomfortable places as a artist.
Do you think it's necessary for a writer (or any artist) to keep pushing the boundaries of their craft in that way? Or is that more of a personal decision to keep things fresh and interesting?
I don't think it's fair to make it some kind of general edict, but as an artist, that's certainly what I'm after. I want to be developing tools as I go along, surprising myself, frustrating my own intentions, learning, facing new problems all the time. Otherwise I feel like I'm just going through the motions. Sometimes this can make novel-writing an excruciating exercise that leaves me totally exhausted, but I feel like it's always worth the effort in the end. Especially for the reader. They say hard writing makes for easy reading and I believe that on every level. I do think there is a danger of alienating your readership at times, or at least those readers who have certain expectations for a specific artist. But I can't worry about that. I just need to keep pushing myself.
I know that you're constantly reading new writers, and you're noticeably active in the writing community. Whose books have you particularly enjoyed over the last year?
I read two Ron Rash books this year which really impressed me: Serena, and the forthcoming The Cove. I also read two by Stewart O'Nan this year: Emily Alone, and the forthcoming The Odds. These two guys are among the best American novelists working in my mind. I'm also a big fan of Dan Chaon, along with Adam Ross.
And finally… you've interviewed a lot of authors yourself over the years, so what's your favorite question to ask? And what would be your own answer?
Hmmm. I guess I don't have a favorite question. I suppose if there was one question I'd ask every writer it would be: Why do you do it? Why do you endure all the heartache and frustration and financial duress and existential discomfort that comprises devoting your life to writing novels (which people may or may not ever read)? And I guess my answer would be that it makes me a bigger person – a more expansive person, a more understanding, thoughtful, empathetic person. A better problem solver, a better husband, a better dad, a better son, and a better friend.