Los Angeles author and filmmaker Vanessa Libertad Garcia writes about the subcultural life that informs her writing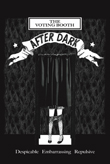 The Voting Booth After Dark: Despicable, Embarrassing, Repulsive delves into the unique subculture of a specific, and frequently overlooked, group of Latino-Americans. The book's protagonists are comprised of first generation Latino-Americans in their twenties who were born in the US, but raised by parents that emigrated from Latin-American countries such as Cuba, Mexico, and Chile. Characters such as Marta and Diaz Diaz live a rare hybrid reality in which old world and new world cultures enmesh to create the hipster hub they call home – The Los Angeles Eastside.
Neither fully Latino or Gringo, these first generation-ers reside in a place that reflects their heterogeneous predicament. The LA Eastside is a scene where one can buy $1 tamales from the Mexican street vendor while waiting in line to enter through a dilapidated wall into an underground red-lit club, which spins an eclectic mix of musical fusions like Manu Chao and Goldfrapp. At the bar, Spanglish speaking Americans, of all ethnic backgrounds and sexual orientations, congregate to buy $12 Long Islands and debate with a stranger about whether to vote for the liberal or moderate Democrat in the upcoming 2008 presidential elections. The nameless stranger they later drunkenly stumble home with. As described in the short story 'Mourning': "It wasn't a gay bar, but it had some of the prettiest young things in town. Most were straight dead eyed hipster girls who enjoyed some lezzie fun in the car after a couple of tequila shots and a Morrissey song".
The Voting Booth After Dark: Despicable, Embarrassing, Repulsive chronicles a portion of Latino-American experience that often goes undocumented – the existential and spiritual angst, which accompanies laden career-driven twenty-something lives. Common human experiences most frequently recorded from the ruling population's perspective (i.e. WASP) point of view. My book, however, spotlights the nuances of these struggles as they unfold for Gay & Lesbian Latino-Americans within Los Angeles' subcultural Eastside scene.
–––––
About Vanessa Libertad Garcia: A Cuban-American writer and filmmaker who has grown up between the 'burbs and hoods of Los Angeles and lived throughout the United States, Mexico and Europe. Ms. Garcia's films include the HSF/McNamara Family Creative Arts Grant recipient A Two Woman One Act and the documentary Little Statistics, filmed in India. Full details of her work can be found at www.vanessalibertadgarcia.com.
About The Voting Booth After Dark: Despicable, Embarrassing, Repulsive: A collection of short stories and poems interwoven into a narrative that follows a group of addicted gay and lesbian Latino club kids destroying themselves throughout the course of the 2008 elections. The book focuses on how they affect and are affected by the national politics happening around them.