This week, Jacob Knowles-Smith takes on the 20th century as seen through the cinema lens and the eyes of Julian Fellowes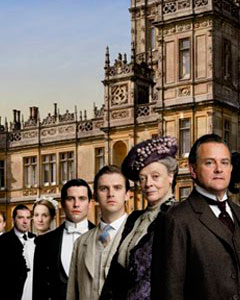 It is curious that since the first series of Downton Abbey (ITV 1) the BBC has also made an effort to create period dramas set in the 20th, rather than 18th or 19th, century. Have they lost their faith in bonnets? After all, the autumn television is the season for getting people hooked on such comfortable dramas so they can ward off the effects of the waning year. Whatever the reasoning, the 9pm choice on Sunday was between the death, or finale, if you prefer, of Spooks (BBC 1) and the start of the new series of Downton Abbey, I went for the latter, never having watched either before.
On first viewing, the dialogue, both down- and upstairs, seems authentic enough and mercifully light of cliché with wit peppered throughout, particularly in the case of Maggie Smith's character who is plainly one the main reasons to watch. Together with Hugh Bonneville's performance at the heart of the show, who unfortunately he had little screen time in this first episode, except a glimmer of greatness whilst having a professional break up with a servant. It's difficult to know whether there's enough here to keep one coming back in the week after week – if you don't really like love stories, there's little to engage with. Certainly the issue of class struggle hardly plays into it; last year it was decided by the media that people would enjoy seeing the sumptuous sets and how the other 'half' live during a recession, but will a second helping prove too much to stomach? After all, "thick and rich" said Samuel Beckett of the cream of society.
Staying with ITV 1 for a moment, the adverts during the new Jonathan Ross Show are, of course, book-ended by sponsor messages – however, one 'skit' has the line 'not funny at all' in it, which is a potentially dangerous case of word association for Ross's new venture.
What can be said about More4? Noble attempt – gesture? – to recapture Channel 4's long-lost association with the higher end of middlebrow and cultural significance? Or graveyard for repeats of the less sensational documentaries made by its parent channel and those dramas they no longer care about (later episodes of The West Wing, for example)?
Probably both; but if Channel 4 doesn't have the money to produce or buy programmes other than those that have the asses-in-seats potential of Seven Dwarves (if you don't know, don't look it up) or The Inbetweeners, then that's the cycle of ad-revenue power they're stuck in. Occasionally, however, they do move out from under the shade of the cat house and bring to our attention something significant like Mark Cousins's 15-part documentary, based upon his book of the same title, The Story of Film: An Odyssey. The first thing to say is that people – critics, mainly – will argue about the merits of Cousins's delivery ad infinitum and his rising, languid tone can, at times, be distracting but not, surely, enough to deprive him his seat in whatever Valhalla is reserved for documentary makers.
With that safely to one side, something about the series itself: three episodes have aired so far, taking us from the birth of film, to Hollywood in the 20s and the activities of film makers around the world in that, and the proceeding, decade. Cousins guides us through the work of various directors, paints their themes and dreams, and interspaces shots from their pictures with, where possible, images of what the streets and buildings look like today. Is this technique an attempt to demonstrate the timelessness of film or, as in shots of Shanghai, to show that where film starts, capitalist excess follows? Or, perhaps, does it give him time to say what isn't going on in preceding movie scenes, but rather what the directors were attempting? Either way, he does sometimes have a tendency to spend a little too much time describing what we can plainly see for ourselves. However, this is, arguably, a necessity for the viewer whom hasn't seen many of the films from around the world. Though, one supposes, many contemporary audiences wouldn't be very familiar with the work of Chaplin or Keaton. Cousins also shows us scenes from later directors that are inspired by his current period's film makers but, all too often, these shots are so brief that we have to take his word for it.
But these are minor 'flaws' (the bigger problem is that, by virtue of being on More4, the film simply won't be seen by enough people) and, taken as a whole, The Story of Film is hypnotic and magnificent. With a further 12 weeks of episodes to come, moving next to the birth of sound, as far as this column goes: you ain't heard nothin' yet.