Although you may not know his name, it's likely you're familiar with Jordi Parra's design work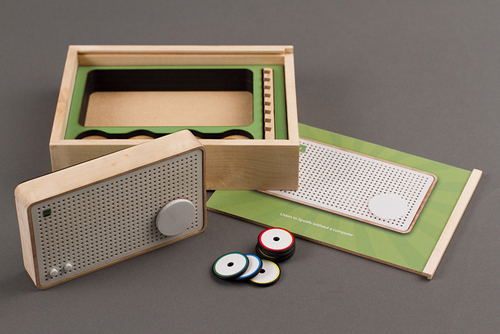 Chances are you saw this beautiful Spotify device that was all over the internet a few months ago. The player makes novel use of RFID tags to create exchangeable playlists linking back to the Spotify service. Although haling from Barcelona, 27-year-old Parra relocated to Sweden in order to get his industrial and interactive design chops up to scratch. I wondered whether training in design had influenced the way Jordi lives his life. He was happy to answer with the following caveat: "Your questions are a bit tricky. I do like minimalism, but it's not necessarily a philosophy of life to me. It's definitely good in certain contexts, but there're things that have to be complex too. But well, there're a lot of products and services out there that could be way more simple and easier to use, of course".
Has interaction design taught you anything about living?
What I've learned so far is that design is about empathy, about listening to people. Everybody can design stuff if they understand the problems of a certain task. Designers used to make things beautiful and functional, nowadays I think it is more about providing what people really need. Sometimes it's obvious, others you really need to talk to people to understand what are the real problems. Guessing what do people need on your own can be risky if you don't have a good understanding of the context.
Some people cannot afford to hire a designer, how do you advise they introduce better design into their projects?
Small companies still don't see the added value of investing on design. Some people still think design is just about making beautiful objects and don't want to pay extra money for that, they think they can do it themselves. This can work sometimes, and others won't. Designers are probably more interested in listening to the people using the product while people with less experience tend to fall in love with their ideas. It's quite common that small companies have a vision of what they want, and sometimes they're right, but it can also happen that a company is too much into their business and they loose perspective about what are the final users really expecting from their product. In that way, a design team has a broader perspective. It is really important not to fall in love with ideas, explore other options… Designers can help businesses have a better perspective and find out about problems and opportunities that were not so obvious at first.
Dieter Rams famously has 10 principles for good design, do you have any extra ground rules to add?
I don't think I have experienced enough to add my own rules on top of Dieter Rams' principles. He's a big reference to me and I'm still in a learning stage. My background is engineering and I have only spent 3 years working in the industrial design field. Dieter Rams principles might seem obvious, but that's the beauty of them. Writing down the obvious in such an understandable way is a big challenge. If I had to add something, it'd be that designers have to talk to people. Test. Get feedback. Sometimes users don't really know what they want, but talking to them can be the catalyst to come up with great solutions.
You went back to university when you wanted a change, should everyone go back to school to find a new direction?
I went back to school because I didn't feel I had the skills enough to move from Engineering into Design. I wanted to give it a try and it felt like the right option to me, but not everyone will feel the same way. I have known really talented people that didn't even study design. It's something very personal and becoming good at something doesn't always require a college degree. There are plenty of entrepreneurs that dropped out from college or didn't ever start.
Is there anybody whose work (in any field) you've recently been raving about?
There's a lot happening nowadays. Even though my work is not into arts and installations, I do enjoy all the work from that field. Karsten Schmidt is doing amazing stuff. He is pushing the use of code as a design tool and the results are amazing. London's scene is really big in that field. There's a lot of computational art and installations happening there. Timo Arnall and Berg (the second, a consultancy, also in London) are also doing beautiful work visualising the invisible amongst other projects. Timo is working as a researcher on NFC communications in Oslo and it is really interesting the way he is visualising things that we cannot see, while Berg is a design consultancy with really fresh ideas. Besides that, there's a lot of people working in the open-hardware and DIY community. It is growing incredibly fast. Thanks to them we have the Arduino and other resources to make electronics and design more accessible to people from all backgrounds. The fact that a lot of people are contributing on stuff like that makes it easier for people like me, with no previous experience with electronics, to explore and play with new stuff is amazing. Now it's easier than ever to merge design and technology, we've to be really thankful to all the people contributing.
Jordi Parra's official site