Reviewed by Declan Tan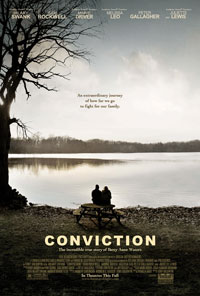 Conviction is a sickly and cynical bit of force-fed fluff, masquerading as serious drama as it squeezes all life out of its once-dignified story, dragging it through the shit heap of Hollywood to exploit its working-class subjects with predictable execution. Not the first, and not the last time this will happen.
That Conviction has had an underwhelming box-office run in America so far seems like sweet justice to this brand of tracing paper 'cinema' cranked through the mangle of big name production houses year-in year-out. Taking its cues from past successes of the genre (Erin Brockovich) it proceeds to tell the real-life story of Betty Anne Waters (Swank), a divorcée mother of two who went through all workable avenues to acquit her brother, Kenny (Rockwell), when he was convicted of murder and given a life sentence in 1983.
The details of the actual case are interesting: the revelation of DNA evidence (introduced after his sentencing), the vengeful and corrupt activities of the police (particularly one local cop) and of course, Waters' sustained dedication. She gets a high school diploma, then a degree, before finally enrolling to study law. The film, however, skips over vast areas that could have been mined with subtlety, instead going for the dulling effect of a race through the events, dashing them off in its attempt to crank up tension and tragedy whilst condescendingly celebrating the determination of 'the little people'. Bastardly individuals are picked out as the source of the problem, blissfully avoiding the potentially daring approach of targeting the system itself.
We get to know the Waters' only in the most superficial sense, a troubled childhood that has made Betty Anne seemingly indebted to her brother, who seems to like a drink and throw a few punches now and again. Instead of exploring the prospect that Kenny could have, in fact, committed murder, we have to sit through the blare of Swank storming about with her uni buddy, Abra (Driver) putting the pieces together in a kind of Columbo-esque fashion.
Just one more thing, without going on about it, in one of these films you know exactly how it will look and how it will play out without having to see it, here even the performances are too strained to admire. Miss it.