Germany's Goethe-Institut is running a year-long project bringing together bloggers from different cities around the world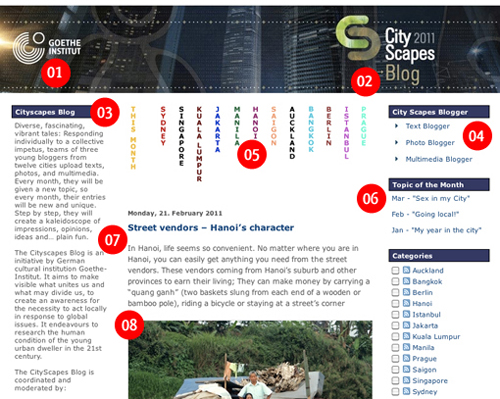 "Diverse, fascinating, vibrant tales: Responding individually to a collective impetus, teams of three young bloggers from twelve cities upload texts, photos, and multimedia. Every month, they will be given a new topic, so every month, their entries will be new and unique. Step by step, they will create a kaleidoscope of impressions, opinions, ideas and… plain fun. The project CityScapes – Tales from the Invisible City aims to make visible what unites us and what may divide us; it wants to create awareness for the necessity to local action in response to global issues."
01 Goethe-Institut: The Goethe-Institut is a non-profit cultural institution with centres around the world. It aims to promote the German language and arts through cultural exchange and education. In addition to its multifarious activities, the organisation has an extensive online presence, including micro-sites engaged closely with the different host countries. Other web projects, such as Cityscapes connect these different cultures in innovative ways.
02 Cityscapes 2011 Blog: "The Cityscapes Blog is an initiative by German cultural institution Goethe-Institut. It aims to make visible what unites us and what may divide us, to create an awareness for the necessity to act locally in response to global issues. It endeavours to research the human condition of the young urban dweller in the 21st century".
03 Who? The CityScapes Blog is coordinated and moderated by the Goethe-Institut Australia. This microsite offers details of the 10th Audi Festival of German Films (6th-18th April, Sydney / Melbourne / Brisbane / Adelaide / Perth), the German Film Blog and KULTUR – the magazine of the Goethe-Institut in Australia.
04 Hanoi's Photo Blogger: "Viet Hung Nguyen was born in Hanoi. Presently he is the photo reporter of Dan Tri online. Working for an electronic newspaper, he is free to follow his interests. He is also the freelance photographer with GTZ, WWF in Vietnam". His photographs normally document social issues such as poverty, disease and pollution but the blog gives space to explore the human side of Hanoi in carefully observed street portraits. The collection of street vendor photographs are particularly recommended.
05 Hanoi: Twelve cities were asked to take part in the project. In addition to Hanoi, three bloggers contribute from Auckland, Berlin, Istanbul, Jakarta, Kuala Lumpur, Manila, Saigon, Singapore, and Sydney. To date, there are no entries from Bangkok and Prague.
06 2011 Themes: Each month a new theme influences the bloggers, offering the chance to compare and contrast perspectives from the different continents. So far, these have been 'My year in the city' (January), 'Going local!' (February), and 'Sex in my city' (March).
07 Stories: Many of the entries will be familiar to anyone who has visited Hanoi: the scooter traffic, relentless activity, how cold the weather can be at times – in words and in photos. But the blog helps contextualise these against a backdrop of domestic reality, how the vendors come in from the suburbs every day to make a living or the rate at which the city has developed over the last decade.
08 Further Reading: The Cityscapes project also offers a number of interesting essays on urbanism and architecture: including 'The Global Culture of the Apartment Block', 'Rivers as the Artery of City Life', temporary accommodation and sustainable living.