Bible, manifesto, rant, autobiography, and instruction manual rolled into one. Reviewed by Vikki Littlemore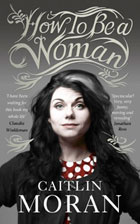 Caitlin Moran's How To Be a Woman, putting water on the fire of my own year-long hope, is far from a how-to guide to being anything. What it is, essentially, is a reminiscence of a woman's life, told with an ingeniously comic voice, holding the added bonus of granting immense comfort to all those women who wanted the reassurance that they aren't weird, that other women think and feel the same things, do the same things, like masturbate in the afternoon, just like Caitlin, a person they can respect. Basically, it's Harry Potter for women.
To those who read Moran every week in The Times, or follow her face-splitting and blazingly 'normal' extemporisations on Twitter, this book is a perfect progression. It offers Moran's disciples (growing in number every day) three benefits: 1. An insight into her life. 2. A holy and cleansing feeling of "Me too" in almost every line. Even reading her tweets, one constantly feels compelled to shout aloud "I think that!", "I do that, too!", and the book is no different. 3. A feminist elucidation, in which bra burning is made old-fashioned, and a set of principles for the modern, intelligent woman is proposed.
Moran is brave. She has to be, her reputation and career depend on it. She earns high respect, and (one assumes) high wages by not shying away from difficult ground. In the book she faces subjects head-on; from wearing her mother's secondhand knickers as a teenager, because it's all they could afford, to holding her lack of guilt after an abortion up to the limelight of a whole chapter. If the respect she's earned by being fearless, and open was ever subject to re-evaluation, it's surely still intact. This book proves that Moran deserves the balls she's so often credited with, and in a way that makes it ridiculous for it to have ever been up for question.
The book starts with the obligatory 'period' chapter, something which has, over the years, given feminism a bad name. Whether it's necessary or not to discuss menstruation, Moran is forgiven, because she handles the subject with such linguistic skill and humour that you almost forget to squirm. Instead of rolling one's eyes at another feminist wrenching of blood and guts in the name of women, one laughs, and feels warmth, and the subject is given a new lease of life. As with every subject she takes on, Moran wrestles with the subject matter with fierce gumption, and wins. Moran isn't just funny, though, there's a sadness behind every joviality that makes you feel close to her, sometimes makes you want to cry. "'I don't think Judy Garland ever had a period,' I tell the dog unhappily, later that night. I am watching myself cry in a small hand-mirror. 'Or Cyd Charisse. Or Gene Kelly'." The woman who dressed as Beyoncé and attempted to learn the Single Ladies dance routine for The Times (the video of which appears to have vanished completely from the internet), unashamedly and humbly introducing herself as "Caitlin Moran, a mum from North London", truly earns her dues, in terms of comedy and raw honesty.
Moran discusses the many self-explorations involved in growing up, especially sexual ones, and also her parents and siblings, with sometimes cringe-worthy naked honesty. However, a fraction of a second before your face screws up and you form a gut feeling of embarrassment or pity for this clumsy ingénue, you remember that you did or said exactly the same thing many years ago. What's more, you felt the same, too. Moran's biggest asset, apart from being nifty with words, is her deep connection to honesty and normality. She describes growing up in a council house with no money and so many siblings that they shared beds, and one realises where her humility comes from.
The book is being called a "feminist manifesto" by almost everyone who's reviewed it, and it's easy to see why. Moran uses every 'C' word on the list, with the proud guffaw and Greerist austerity of what she calls a "strident feminist", without ever losing the gentleness of a mother. She manages to embody tender frumpiness, learned from the council-estate, and also leopard print, metropolitan, spiky glamour, learned from London. It's so tempting to feel that it is her rightful place, on the monolith that allowed her to write a book entitled How To Be a Woman, duly inaugurated as 21st-century London's perfect example of womanhood. Perhaps, one thinks, she is the perfect woman. Certainly, to many, she is a role model. Without lectures, or demands, or demonstrations, Moran teaches young women, and old alike, that you can have a brain and use it. As Margaret Thatcher said: "If you have to tell people that you're a lady, you aren't", so Caitlin Moran proves that you can be intelligent, hilarious, and nurturing to your family, and she does it without kicking her feet, or chaining herself to a building, as her feminist predecessors had to. She does it while admitting that she doesn't hate men (another misinformed axiom heaped on feminists): "I love boys. They're funny and can lift heavy things", and that she felt right and morally justified to terminate her pregnancy, because it wasn't the right time in her life to have another baby.
Moran discusses feminism and its few heroes with contemporary awareness, one foot in modern society, the other in history. She talks about feminist heroes, and everyday women, with realistic practicality, rather than stereotypical convenience: "I started reading Sylvia Plath, who everyone agrees is one of the few women who can write as well as a man, but who also keeps trying to kill herself". How To Be a Woman is affirming, comforting, and empowering for women; giving them permission to feel confidence in being who they are, rather than a pre-formed mould of the perfect woman to conform to, and funny for men and women alike. Bible, manifesto, rant, autobiography, instruction manual; this book can be so many things to so many people, the only invariable is that it will do something significant to you. It's one of those books that you can't not read.