Vanessa Libertad Garcia drops into Los Angeles' stunning Annenberg Space for Photography for an exhibition exploring how processed imagery influences our notions of beauty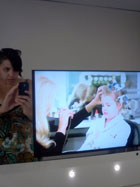 In Los Angeles, we drive a lot. It can take anywhere between half an hour to two and a half hours depending on traffic to make it from one part of the county to the other. During these car rides, Los Angelenos think a lot. We ruminate over the economy, worldwide government corruption, and the "ugliness" or "prettiness" of people in surrounding cars. We also text and, without looking up, instinctively hit the break to avoid slamming into the bumper ahead of us. Most of all, I think, we check out of our excruciatingly slow stop-and-go drives by drifting off into the countless images that overrun our town like cockroaches. While flipping between radio's NPR news updates and K-Day's Old Skool Hip-Hop, we ingest thousands of ads lining our walls, billboards and bus stops. Sometimes we're lucky enough to skim past the screaming Miller Lite and Scientology signs and catch sight of a banner promoting a magnificent new art exhibit. In any case, that's how it played out for me this summer.
Stuck in my truck without air conditioning, I checked out of the heat by drifting off into ads, many promoting the Beauty CULTure exhibit at the Annenberg Space for Photography. Varying types of feminine beauty stared down at me in self-assured poses that said, "I am beautiful. You, however, need to lose a hundred pounds and get a girlfriend who looks like me". Those arresting images of "beauty" transfixed and tormented me as they had done in my teens. I thought, "Oh, hell. Another superfluous showcase of soullessness by the criminally vapid fashion industry." Nonetheless, I couldn't pull my eyes away from all those pretty faces and so, I finally noticed that accompanying them were revolting images of a lip injection and an overly done beauty pageant queen. The phrase "Beauty CULTture" headlined each photograph. That title in combination with the images relayed the impression that the ad understood the crippling ideologies they were reinforcing in me, within all of us women stuck in traffic.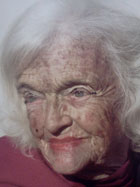 Finally this past Saturday, I dropped my last $10 in the gas tank and drove from tha' hood to the other side of LA County – The Westside. The exhibit was free, parking only $1 and the locale was as gorgeous as the featured models. Kohle Yohannan, the exhibit curator, investigated the beauty cult created and propagated by the fashion and make-up industries from multiple angles. He screened several short documentaries, which discussed the concept of beauty with regular girls, modelling agency heads, fashion photographers, supermodels, plus-sized models, actresses, beauty pageant contestants and their stage moms, and old women with horrifying amounts of plastic surgery. They discussed western culture's definition of beauty, their personal relationship to it and its damaging and/or beneficial implications on their self-image and lives. I found the display necessary, refreshing and entertaining. I especially liked Lauren Greenfield's photographs, which manage to combine the entire exhibit's varied and contrasting ruminations on beauty in one perfect shot. Mostly, I loved that it inspired me to, yet again, question my beliefs about ideal beauty and the knee-jerk reaction I have during traffic to deem people in surrounding cars as "prettier" or "uglier" than one another. Last year, I read about two young Argentinean models, the Ramos sisters, who died of anorexia within six months of each other. The older one collapsed and died on the catwalk. When it comes to beauty in western culture, it seems as if we women are suffering from Stockholm's Syndrome. We have been taken hostage by abusive, damaging and unrealistic ideologies that are killing us, but have fallen for them, defend them and most disturbing of all, continue to pass them down to the next generation of women.
Top image: Lauren Greenfield. Bottom image: found in a vintage photography magazine accompanying the exhibition
Beauty CULTure runs until November 27, 2011. Directions and further details here
Further Resources: