Jeanette Hewitt Is the author of Freedom First Peace Later, a novel about life in Crossmaglen, Northern Ireland, against the backdrop of Republican activity. The book was first published in December by BlueWood. and has been submitted for The Orwell Prize 2011. In 2008, Jeanette Hewitt won the silver award for the Author v Author short story competition, supported by the National Literacy Trust and has had a story published in the Jimston Journal.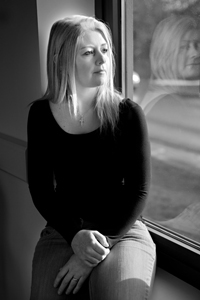 What drew you to writing about 'The Troubles'?
Northern Ireland was the war of my generation. As a child it was always on my television screen and as I grew older I wondered what they were fighting about. Inquisitive by nature, I read up on the subject and was intrigued to discover 'The Troubles' had been going on for centuries. When I was 16, I had friends stationed in Crossmaglen, Northern Ireland, and the letters and telephone calls that I received – as well as illegal videos they sent me that directly documented the war, eventually led me to write Freedom First Peace Later.
Did you do a lot of research for the novel?
My research was firstly to read Martin McGartland's novels Fifty Dead Men Walking and Dead Man Running. It was to inspire one of my characters, Barry – an undercover IRA man actually working for the British Government. I read all of the history that I could find so I could get an accurate view, and I read it from all sides so it was unbiased. This is part of the reason I wrote Bobby Sands hunger strike and subsequent death into the novel.
Has writing about the situation changed your attitudes at all?
At the starting point of my book the only viewpoint I knew was that of the British Soldiers and what was reported on the BBC. It was interesting to know the other side. In part I wish that the 2008 film Hunger, directed by Steve McQueen had been about, as I watched it when it came out and wondered if I'd done enough justice to that side of the story.
I hear that the economic downturn has increased sectarian activity in Northern Ireland. Can you imagine a sequel to the book?
I can absolutely imagine a sequel to the book. The basic storyline is already in my mind. I know that Connor, who escaped the IRA to New York after the brutal death of his Catholic girlfriend, got off far too lightly at the end of the book. He was all set to live happily ever after, but I feel the effects of Post Traumatic Stress Disorder setting in.
Freedom First dramatises the struggles of people dealing with social division, would you say that individuals will always find a way to build relationships? Or are some ideological conflicts impossible to overcome?
Interestingly the working title of my novel was actually The Divide, before I came across a mural in Northern Ireland stating the words: "Freedom First Peace Later". In my opinion there should be no social division in any circumstance. My catholic grandfather came to England after escaping from an Italian prisoner-of-war camp. Failing to locate his family back in Poland and believing that they were dead, he met and married my grandmother, an English Christian. He raised his children in English schools but showed them their Polish heritage by sending them to Polish language schools and introducing them to the Polish community. Cultural diversity to me is a beautiful thing, and one can only become richer for experiencing it.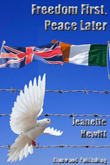 Do you think that novels can help in this process of understanding?
I believe that anyone having trouble accepting other cultures into their community should read Rose Tremain's The Road Home. It is a beautiful tale of an immigrant coming to England to work to send money home to his family. We are surrounded by people like this, but so often dismiss them as 'playing the system' or not taking time to listen to their story. The Road Home rightfully won the 2008 Orange Prize for Fiction and was short-listed for the Costa Prize 2007. If any book can provide understanding on social and cultural division it is this one.
I think I read that one of your passions is history. What is it about the subject that makes for such compelling fiction? How does fiction differ from history? What can it add?
Historical events are a fantastic template for fiction. By using actual events a writer can have the best of both worlds, highlighting causes or occasions but adding their own spin and characters and by adding these ingredients make the tale a little more personal. A great example of this is Mario Puzo's The Godfather. Everyone has a general idea about the Mafia, but to bring the story down to one family makes it little more understandable, and in some instances a little more sympathetic to that character. Of course the historical events have to be accurate, as I found out when I inserted a real historical event in my book, which happened in 1987, although my book was set in 1981! I realised this during the final edits and it was amended in the paperback version, although not in the ebook version that had already been produced. This was picked up on by an Irish newspaper and the backlash was something I had to respond to. I have also learnt that people are sensitive about their history, I came across a newspaper article about my book on an IRA forum and the review of my book wasn't flattering. I felt the need to defend my work and I joined the forum to put my side of the story across. That day that I spent on the forum was challenging, although none of the posters had actually read my book they assumed – incorrectly – that it was stating that the IRA were bad men. After much deliberation, suspicion that I had written my novel with political motive on my part and barely concealed threats, I managed to convince these men that I simply had a tale that I wanted to tell.
Tell us about your other manuscripts.
Rather than writing one book from start to finish, I have a few on the go. The novel that I am currently working on is about a 16-year-old agoraphobic boy named Jack, entitled Fear of the Market Place. Agoraphobia in Latin literally translates to 'fear of the market place'. Alongside Jack's story is that of his neighbour Mrs Hirsch, a survivor of Ravensbruck concentration camp in Germany. The Holocaust is a historical event that has always been close to my heart, and I always knew that one day I would write about it. I started this novel in 2009 and around the same time was diagnosed with Crohn's Disease. I found it increasingly hard to continue writing the novel as I realised my life was becoming more and more like Jack's. At that point I wasn't taking any medication and was feeling like I couldn't be too far from my home, so I could spend weekends recovering in my favourite chair in order to make it through work the following week. My illness and the demands it made of me were taking over my life. Things came to a head when one day I was so stripped of energy I had to choose between going to work or doing my housework, when of course one should really be able to do both! After a two-week stay in hospital in April 2010, ongoing help from my consultant and proper medication, my Crohn's went into remission (and still is!) and I was able to continue with Jack and Mrs Hirsch's story. I'm now 20,000 words in and Fear of the Market Place has been submitted in for the Yeovil Prize 2011.
Further Reading:
Jeanette's website
Jeanette Hewitt at BlueWood Publishing