David B. Livingstone
Nobody talks much about the quest for "great American novel" anymore; the phrase, once a sneering European attempt at an oxymoron, was long ago answered by Faulkner, Hemingway, and Miller. To the surprise of some, even America – first, the motley amalgam of immigrant trappers and farmers; later, the citadel of capitalism and the mecca of disposable pop culture – proved capable of cultivating its own strong literary tradition.
With Gain, Richard Powers launches his own strong bid for entry into the canon of America's best novelists, delivering a work both epic in scope and universal in emotional resonance, a contemporary book drawing upon timeless, and often uniquely American, themes. Mining the same rich, long-neglected vein of socially-aware fiction once plumbed by Upton Sinclair, John Dos Passos, and Sinclair Lewis, Powers creates a subtle, quietly horrifying mirror reflecting the seldom-noticed, tragic consequences to life in a modern consumer society. Like a Sinclair or Dos Passos, Powers successfully apprehends and elucidates both the expansive sweep and intricate workings of corporate power; like Lewis, he succeeds in translating these into human terms, and human stories. And like Faulkner or Steinbeck, he arms his tale with an unrelenting, sometimes unforgiving, emotional grip.
The first of Gain's two interwoven plotlines concerns the birth, growth, and ultimate decline of the Clare Corporation, a soap and chemical manufacturing concern; the second, the story of the Bodey family, residents of the fictional Lacewood, Indiana – a quiet, comfortable midwestern company town, home to Clare's massive agricultural operations. Aside from geographic location, there would seem to be little commonality between the Bodeys and their corporate neighbor, but it soon emerges that the destinies of the Bodeys and Clare are destined to meet and collide, and likely with cataclysmic results.
Gain begins with the birth of Clare in the 1830s as Jephthah Clare's Sons transform their family's struggling shipping and trading business into a soap manufactory. Samuel, Benjamin, and Resolve Clare, through hard work, faith, and assimilation of the new country's ideas and ideals – the land is to be conquered, God is to be worshipped, industry is the Lord's Work and profit is a sacrament – gradually transform their enterprise into an edifice, a being with a life of its own that will thrive and survive beyond their lifetimes. Clare's Sons becomes Clare, then Clare Incorporated, its interests and influence spreading across the land and around the globe like the Gospel, like a prairie fire, like a fast-growing weed, like a cancer – or like all at once.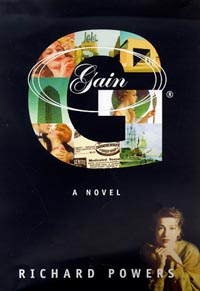 Meanwhile, in the 1990s, Laura Bodey is a divorced mother and a successful real estate agent, an American Everywoman whose daily concerns revolve around her work and family: Is her son spending too much time playing computer games? Is her daughter smoking pot? How can she manage the uneasy truce with their father? Will she make receive a Top Performers award again this year? Though the days and years have flown by in a blur of work, parenting, consumption, and more work, with little time for Laura to realize her own dreams, the Bodeys seem to have settled into a suburban idyll: Life is comfortable if not perfect, and the future, although unwritten, seems to promise more of the same. The multi-headed hydra that Clare has become, however, will change all that.
Where was the point where Clare's Sons' noble enterprise became a destroyer of worlds, where the company dedicated to cleanliness, quality, and purity became a monster? The growth of Clare is an allegory of the loss of innocence of a country and its people, the story of the alchemical transformation of ideals into avarice, of solemn vows into hollow public relations pronouncements, of physical reality into vacant and ephemeral imagery.
Gain is the story of the decline and fall of a company, a family, and a nation rendered in quiet symbolism and graceful, elegant prose. In lesser hands, the raw materials of Gain could have easily been transmuted into a soap opera or a shrill anti-corporate rant; instead, Powers' careful craftsmanship and almost obsessive attention to linguistic nuance, to period detail, and to the tiny but telling words, phrases, actions, and rituals that make up the stuff of existence in '90s America render Clare, the Bodeys, and their world in photorealistic detail, giving Gain the feel of real life.
In the end, Gain is about losses, fiscal, physical and spiritual: A woman who loses her health, a corporation that loses its soul, and an emerging democracy that loses its way en route to the promised land. Gain is a modern American tragedy, and like all classic examples of the form, its tragic heroes' undoing occurs as the result of a catalytic reaction between the characters' own hidden vulnerabilities and immense, unseen forces greater than themselves; that these are invariably ultimately recognized, once past the point of salvation, is the classicist masterstroke that imbues Gain, like a modern Richard III or Medea, with monumental, timeless power. Is Gain really this good? Yes. Yes. Yes.