Chris Mitchell
If Mark Slouka is to be believed, we are losing our grip on reality. With the proliferation of technologies that allow us to immerse ourselves in artificially created worlds – from radio and television through to virtual reality and cyberspace – the line between real reality and artificial reality is blurring. Soon, Slouka argues, we will be unable to distinguish between what is real and what is artificially generated, with disastrous consequences.
What troubles Slouka most about new technology is those people – the "digerati", as he dubs them – who are guiding its progress. Certainly, when Slouka quotes the likes of John Perry Barlow, who asserts that the movement into a completely virtual reality "is less a matter of advantage than inevitability", or Kevin Kelly, the executive editor of Wired magazine who supposedly favours the assimilation of humans into a drone-like digital hive, it's not hard to see why he's so worried.
However, instead of keeping his guns firmly trained on the outlandish hyperbole of the digerati, Slouka slides off into an attack on almost everything that could be considered to induce an artificially constructed reality. Radio, TV and photographs are held as much to blame as cyberspace and virtual reality. "No technology is ever a neutral force", Slouka asserts, but then misses his own point that it the people using such technology which dictate its consequences.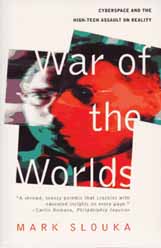 This is shown by Slouka's refusal to acknowledge any of the benefits of these technologies – for him, they are all part of the attempt to replace or reinvent reality. Naturally enough, he withholds his greatest horror for the virtual reality of computers, bemoaning the trivia of the Internet newsgroups and the addictiveness of PlayStation games. As such, his final chapter urges a distinctly vague "return to original things, things we can experience directly and for ourselves, not through the mediating influence of technology". In other words, a digital Back To Basics campaign.
What Slouka seems to forget is that the virtual versus real world distinction is not necessarily an either/or situation. TVs, computers and radios are part of our reality, not parallel with it, and the ability to misrepresent reality didn't begin with the advent of the machine. People have been lying to one another for thousands of years.
It's perfectly possible to live a life where you enjoy both the real world and all its technological gadgetry and wouldn't want to do without either. The real argument, as Slouka realises, is where research for future technologies will be directed. War Of The Worlds spends too much time trying to turn the clock back rather than addressing its real subject.