Dorothy Johnson
Although Laura Hird's Born Free is quite different in style, it is hard not to think "Trainspotting" when reading it thanks to the narrative's descent into the squalid underbelly of Edinburgh and the abundance of pop culture references.
Four family members live in a broiling hell of ongoing resentments and frustrations within a lifestyle limited by deprivation. The two teenage children, Jake, and Joni, the latter carrying faint echoes of Alan Warner's Morven Callar, and their parents Angie and the well meaning Vic, are all given distinct voices and alternating turns to use them.
The emphasis swings between the characters' perception of their lives to sudden and sometimes nauseating bolts of humour. Middle aged alcoholic mother Angie is the most unsympathetic character, and it is her fall off the wagon, enthusiastic infidelity and extreme behaviour which becomes a catalyst to various subsequent events.
Alcoholism is in itself a ghastly presence in the book, and although having been dealt with many times before in fiction, Hird brings a shocking and altogether specific edge to the imagined experience.
There is ferocious energy in the writing. Scenes of mob hysteria and brutality towards a Downs Syndrome couple, and the vulnerability of a mentally handicapped young woman are captured with a truth and intensity which makes the scenes familiar, believable, and deeply uncomfortable to read.
There are acts of violence and accidents presented at times as shock tactics and precursors to a humour which manages to be black and fresh simultaneously. The pace is frantic, racing from the characters overlapping and sometimes conflicting points of view, and hurling towards each ugly incident.
There's violent school bullying, teenage drink and soft drugs, undirected sexual urges and sexual encounters ranging from the disastrous to the merely unpleasant. The funny moments do not come as any kind of relief from the unremitting seediness, rather they comment on and underline it. The writer mixes ordinary teenage experiences of shoplifting and stealing cash from parents with extreme examples of the same. It becomes vaguely familiar as ordinary experience and at the same time, quite alien. Laura Hird's ear for dialogue is precise, and the pace and rhythm of Edinburgh speech is reproduced immaculately.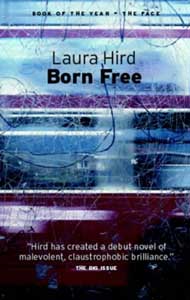 Perhaps too many loathsome details are ladled on relentlessly, becoming almost a mannerism, and a distraction from the truth of the characters. Details of the family's poverty, such as their '50s occasional table, teeter on the level of soap opera. The title seems rather a heavy, leaden irony.
Sympathy is almost equally divided between the characters. They all have their say, all present their perception of the world. It is a mean trick to carry off four completely different seen versions of the same events in such a claustrophobic environment, but she does it. They are all believable.
Both Angie and Joni end up becoming the victims of men outside the family, and in turn victimise the men within the family, which is a rather reactionary outlook all other things considered. The implication seems to be that however tough and resourceful Joni is, she will continue to be a victim.
At heart their lives are all equally bleak. None of them possess the means to break out. Vic has resignation as his main ally, and comfort. Jake has some redeeming, likable qualities which might make him at least, socially acceptable. He is capable of appreciating the integrity of his friend's family, and questioning his own handed down sectarianism. He realises the possibility that there are other, better, ways to live a life.
There is the feeling that we have been here before. Sixties kitchen sink realism, like A Kind of Loving, Long Distance Runner, Billy Liar and the more recent squad of Scottish contemporary writers including the aforementioned Welsh and Warner. Whereas the older kind of book dwelt more on unremitting mundanity and the bleak sentence of a lifetime of boredom and low achievement, the more contemporary vision, especially the Scottish one, adds a vicious nihilism to the broth.
They didn't know they had it so good. This book reflects the feeling that those in the present day, marginalised, down on their luck, don't even have the paltry job choices of the past, or the luxury of any kind of belief in community or ideologies. There are no safety nets, there is little to hope for. Decent family life is virtually impossible to sustain, any problem throws it immediately out of kilter. Instead of a code to live by, and consolation, religion is shorn of any of its supportive qualities, emerging naked as only another dividing factor.
It is a style of writing which is always popular. Perhaps we feel we are confronting the issues. It will be interesting to see what subject matter she chooses next time. There will be readers waiting for more of this.