Björn Wiman
"I am Human", cries the protagonist in Will Self's novel Great Apes. A phrase that may sound like a sturdy truism, in Self's novel rings heavily: the protagonist has waken one morning only to find all human beings transmogrified into chimpanzees. The reader and the protagonist are both kept in the same suspense: what are the fundaments of this world? Is he mad, is he subject to a sinister experiment of psychiatry or ­ worst of all ­ are his experiences a virtual simulation?
The boundaries for what we regard as "human" are highly unstable in contemporary culture. In the movie The Matrix, what we call "reality" is just code in a giant computer, constructed by artificial intelligences. Similarly, David Cronenberg's eXistenZ is about a computer game that is so biotechnologicaly complex that no one can tell whether they are in the "game" or in "reality". Bret Easton Ellis' latest novel Glamorama shows that people are literary just as virtual as real, and Ormus Cama, the protagonist of Salman Rushdie's The Ground Beneath Her Feet constantly sees through into parallel world, right along the "real" one.
Science fiction literature and ideas have slipped into a wider cultural current and has dragged what we regard as "human" with them. At American universities it is nowadays common to speak about the "posthuman" condition. Old sci-fi concepts of androids, virtual reality and cyborgs are seriously discussed by computer scientists and cybernetic researchers. Researchers Edward Fredkin and Stephen Wolfram claim, for example, that reality is a program run on a cosmic computer ­ a theory highly similar to the one fictionally launched in The Matrix.
In her book How We Became Posthuman, UCLA professor of literature N. Katherine Hayless describes the robot scientist Hans Moravecs vision in Mind Children: how a sophisticated robot purées a human brain and downloads it onto a computer disc. Operation concluded, the human awakes with her conciousness intact, but liberated from the chains of the flesh. Now she exists forever in the form of eternal, incorruptable information. And off to inmortality we go.
Moravec, obviously, is one of the most anti-biology researchers in the field, and would happily see the human body join the dinosaurs in historical oblivion. In her book, Hayles emphatically opposes the idea that posthumanism would implicate the destruction of the human being. Rather, Hayles regards posthumanism as a beautiful thought: to see the human as a distributed cognitive system, where part of the intelligence lies in the human brain, part in intelligent machines and part in the interface between them. Hayles is decidedly opposed to the thought of people wandering about considering their bodies as fashion accessories; for her, posthumanism means welcoming the possibilities of information technology, without being seduced by dreams of de-biologized immortality and unlimited power.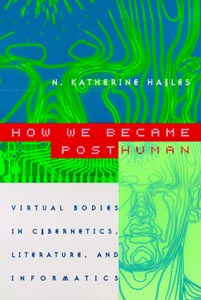 The posthuman vision smashes the pedestal on which humanity has put itself and reconfigures the human condition to incorporate a frictionless interlacing with intelligent machines. In the posthuman condition, there are no differences between bodily existence and computer simulation, not between cybernetic mechanism and biological organism. Information is the originate, the phsysical body is the derivate.
This way of perceiving human beings shoots the Western idea of a coherent, independent subject to pieces. Certainly, for those familiar with the jargon, posthumanism borrow some of its theoretical underwear from postmodernist thinking, or at least some of the theoretical idols are the same. Throughout her book, Hayles enroles the work of among others Jacques Derrida, Michel Foucault, Lacan and Deleuze and Guattari. The texts she analyses cover vast ground: ranging from sci-fi icons such as Bernhard Wolfe, Philip K. Dick and William Gibson through toWilliam Burroughs and Italo Calvino.
Just as is the case with postmodernism, one can argue at length wether posthumanism is really a forum for reactionists or radicals. For Katherine Hayles ­ as for Donna Haraway ­ it is decidedly the latter: a springboard for feministic and postcolonial thinking. Hayles' vision of posthumansim does not implicate the end of humankind, but an end to a particular way of looking upon humans, a way which only suits those with enough power, money and time to regard themselves as free, individual and unique subjects. You know who I'm talking about? Of course: the Great White Male.
I believe she's right. A large part of the inhabitants in the Western civilisation is already to be considered cyborgs. For example, 10 percent of the U.S. population already carry around different forms of artificial implants as pacemakers, plastic joints and electronic pumps ­ cyborgs in the technical sense of the word. The rest of us, who daily use computers to think and communicate, are so in a metaphorical sense. There is no longer any reason to regard the intelligent machines and the smart cards as vicious enemies. Machines spit out our cash, heat our food and open our doors. Perhaps Philip K. Dick expresses the deepest (post)human truth in his classic story Do Androids Dream of Electric Sheep: "The electric things have their lifes, too. Paltry as those lifes are".