Chris Hall finds out why J.G. Ballard thinks Crash is the first film of the 21st century
One week before David Cronenberg's Crash opened in the UK at the beginning of June, the normally reclusive author J.G. Ballard appeared at a regional press conference and pre-screening of the film in Wardour Street, London. Cronenberg's film is based on Ballard's 1973 novel of the same title, and the controversy surrounding Crash has brought Ballard back into the public eye to defend a film which he sees as a hauntingly accurate depiction of the book he wrote nearly a quarter century ago.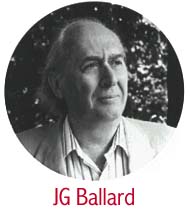 It is a measure of the confusion surrounding the film that it was felt necessary to show Crash to regional newspaper editors and reviewers, as well as having both Ballard and Crash's co-executive producer Chris Auty present, to try and dispel the sensationalist media myths that had grown up around Crash since its premiere at the Cannes film festival.. Thanks to the London Standard's headline that Crash was "beyond the bounds of depravity", four local English councils banned Crash from being shown within their regional jurisdiction on the grounds that it is nihilistic, sado-masochistic and graphic in its sexual and violent content.
Such hysteria has not been confined to this side of the Atlantic – Crash has only just been released on video in the US this month, having been delayed for over a year due to the personal intervention of media mogul Ted Turner. As the owner of Crash's distributor Fine Line Features, Turner attempted to block Crash being released in the States at all, and only backed down when the press caught wind of his behind-the-scenes manoeuvres. (For the complete story, check out the report at Wired News).
Ballard for his part is bemused and outraged by the double standards in operation against Crash and cannot understand why the film has been singled out for such outrage. What about films such as Martin Scorcese's Goodfellas and Casino, he asks. Both are "bloodthirsty and horrific" and "practically a handbook to any yobbo wanting to beat someone up."
Ballard is particularly appalled at the film "coming up against little England at its worst" and characterises the British as "a strange, nervous nation" unable to defend anything on the grounds of freedom of speech. Indeed, it was Cronenberg who noticed that nobody had defended the film on these grounds. The absurdly aptly-named British councillor John Bull said that in the light of the Dunblane massacre, you've got to look a lot more closely at the effect on the audience of films like Crash. Ballard's heart sank when he read those comments: "For God's sake, what can we do when people jump to make connections like that?"

So why is it that people have got Crash all wrong? Why do we find the idea that there might be a sexual component to driving and crashing so abhorrent? You could say that by this very response Ballard and Cronenberg have tapped into something. There appears to be a lot of denial going on. Ballard notes that "people seem to be excited by car crashes or film-makers wouldn't film them. David [Cronenberg] said to me, 'Jim – the problem with car crashes is that they're damn difficult to film!' Film-makers wouldn't make all this effort if they didn't think people were getting a thrill from them'"
This is borne out by the experiences of Crash's stunt co-ordinator Ted Hanlon. "Usually with car crashes, you just line up two cars and let them hit. The more damage and the bigger the explosion, the better. In this film, it's the opposite. Cronenberg wanted the crashes to be brutal, nasty, intense and quick, as crashes are in r eal life, and without the attendant explosions or cliched slow motion tracking shots, in order to convey the immediacy such events.
That people should think, upon hearing what Crash is about, that these usual Hollywood conventions would apply to the film is hardly surprising and, further, that they should find a realistic representation of crashes so alien is testament to the domination of the Hollywood blockbuster genre. A sarcastic Ballard complains that "Bruce Willis can behave just as sadistically as the bad guys, but because he's working for the NYPD it's OK…Add a layer of sexual excitement and you've got the film culture that dominates the planet. We all know as drivers that there are young men who cannot bear being overtaken by a woman driver. Young men feel powerful sexual emotions – half of America used to be conceived in cars. there is nothing revolutionary in the idea that there is a sexual component to our idea of, our excitement by, car crashes."
How does he think that Crash differs from this? "Crash is honest – it says we won't put a reassuring moral frame around it. We won't pretend this is a story with a happy ending, and all it's ambiguities are up on the screen. I think that's what so original about it." The real problem, as Ballard sees it, is will Crash encourage people to imitate the behaviour. "People aren't going to take this film literally," he reasons, "it doesn't invite being taken literally. It's a very cool, almost glassy, rather eloquent, mysterious film…it's obviously something more than what you see on the screen at any moment. There are no Buicks slo-moing through the air, crashing into buses; obviously something very strange is going on in the minds of the characters. Vaughan is clearly mad."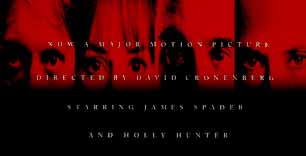 Chris Auty thinks that the British find the problem problematic because the Protestant world has no surrealist tradition within which to place or make sense of it. "Poland, Argentina – these are deeply religious catholic countries. they have no problem at all with Crash. They think of it alongside Belle De Jour, something like a Bunuel movie, which is how we think of it. Personally, I see it as a ghost story…it is as though the film's protagonist James has died and become a ghost and then tries to become human again. Maybe I sound mad but I found the ending immensely touching and romantic and full of hope in a dehumanised world."
Ballard is keen to make a comparison of Crash with Alfred Hitchcock's groundbreaking Psycho: "I think of Crash as the first film of the next century, if you like. I think that the very influential role of Psycho since 1962 will apply to Crash…Paul Schrader [scriptwriter of Taxi Driver] said 'Wonderful film – if only I'd been so honest', and I think it will impel a new frankness and honesty that will reveal itself over the next few years."