Bethan Roberts talks to Jeff Noon about his new novel Automated Alice
What's really nice about Jeff Noon is that, firstly, I can use a word like "nice" about him (not, I expect, a word most cyberpunks would be comfortable with), and secondly, beyond the street-level-city-techno-punkiness that precedes him in the form of his novels Vurt and Pollen lurks a sense of humour. It's such a relief to find the macho/computer-nerd expertise sometimes seen in cyberpunk is apparently not for him. Reader, I want you to know that Jeff Noon has admitted to me that he just makes it up. He's no "method" author, relentlessly seeking out the truth that must lie within years of research. In fact, he's rather proud of the fact that "I know nothing at all about science or technology, and I'm bored by descriptions of how spaceships and computers work…"

Labelling works of fiction is often bloody annoying for authors who, for the most part, would like to think there's a difference between writing and production. Predictably, Noon is keen to reject the cyberpunk label, even though he has been named its "foremost British exponent", and this must have had its uses. He insists that "writers don't choose the labels, we just live them". However, "for want of a better word" he does call his new book, Automated Alice an "avant-fantasy." Clearly he feels there is something previously unlabelled to be found between its covers. What he's written is the "trequel" to Lewis Carroll's Alice tales; Alice steps into the near-futuristic Mancunian nightmare Noon created in his previous novels Vurt and Pollen. The innocent Alice takes on the post-industrial city and makes some playful fun at the modern world. Noon explains: "I suppose that Carroll's rabbit hole and looking glass can be seen as a Victorian version of Gibson's 'jacking-in' to Cyberspace".
Noon began his literary career with Ringpull Press, a small Manchester based publishers set up by his friend Steve Powell in 1993. They published Vurt and Pollen in true pulp fiction style; Noon won the Arthur C. Clarke prize for science fiction and hailed Ringpull as the literary equivalent of an independent record label – taking risks but reaching the charts. Ringpull has recently folded – Noon calls it "a grand experiment that went wrong". This has meant, though, that Noon can step out of the supposed margins and into the mainstream. Independent street-cred may be lost, but Doubleday have stepped in with a lavish publication of Automated Alice, complete with illustrations and a rather spangly cover. Noon admits that whilst being on the margins suits the experimental aspects of his work, the mainstream has its advantages: "Basically, I want as many people as possible to find my books…Alice is such a broad concept, it would be a shame if only a few people read it".

Alice seems much simpler, and certainly less harsh, than Noon's previous novels; its wry smiles at the modern world replace the previous violent chaos. This new found clarity and regularity of pace may be due to the fact that Noon has not just used Carroll's character, he has attempted to pick up his pen: "I really felt Lewis Carroll was looking over my shoulder, correcting things, giving me ideas…Spooky!"
Whatever the validity of such spiritual gestures (worthy of an afternoon chat with Vanessa, at least), the roughness of Vurt has been abandoned in favour of a more fluid style. Automated Alice is less tatty round the edges – Noon says that in Vurt the reader can follow him "learning how to write"; you certainly can't do this in Automated Alice. I think this is a bit of a loss for both reader and writer; Automated Alice. struck me as an altogether more writerly, more polished, and less interesting than Noon's previous efforts. Although Miles Davies and Jimi Hendrix feature in Automated Alice's world, the comic-book wackiness and searing treatment of "street angst" are quietened, and the literary volume of Noon's work is whacked to full blast: his fascination with how words work, the fluidity and the tricksiness of language, what is said and what is meant, and how all this this shifts in time is very much in evidence. Re-writing a classic, too – serious stuff for really literary figures.
Then again, I suppose Alice in Wonderland is a popular classic, and Noon is adamant that he will remain a well-read writer whilst making it clear that he isn't a "one trick termite…I do want to be a popular writer whilst still satisfying my love for James Joyce and Tristram Shandy". An ambitious and probably impossible project, which sounds heavier than it actually is – Alice is one of those books you can read to kids and guffaw at yourself – what Noon calls "an experiment in fun". The book is about the pleasures of language and its wiles, it's a softly-softly satire. Whilst his touch isn't nearly as light as Carroll's, pleasure is a key idea in Noon's work, particularly the pleasure of music. He claims that Vurt was written whilst listening to The Pixies and Nirvana, Pollen to ambient dub trance. I asked him what Automated Alice was written to and his answer was "country and western! Drum and bass! Free jazz! Frank Zappa! A jigsaw, in other words, like the book."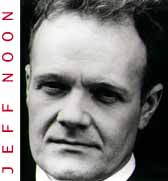 This parallel between popular music and fiction strikes me as rather dubious, but Noon's cultural roots are in music – he's a former member of punk band Manicured Noise ("that's okay – no-one else has heard of them either"). If he has to place his writing, he does so within the Manchester music scene rather than in any literary tradition: "it's never been a literary city; I suggest it never will be. It's a musical city. I hope this comes across in the language I use, the musical rhythms of Mancunian music." I think that Alice actually moves away from this, although Carroll's propensity for psychedelic trippiness has influenced many a pop lyric. Noon seems determined to use his commitment to the Manchester music scene to communicate with the "kids" – a good liberal idea, but one that strikes me as just an eensy-weensy bit patronising, the sort of thing FabFM DJs might claim to do. After all, whatever Noon is, he certainly isn't one of the kids anymore.

Having said that, I do hope Noon manages to keep his blasé attitude to the whole literary thing amidst the sheen and glossiness of Automated Alice. Fans of Vurt and Pollen and the more cyberpunk aspects of his work will probably be a bit worried for him on reading Automated Alice – all that cyber sexiness and immediacy lost- but he will, no doubt, reach his desired larger audience. Noon promises that his next book Nymphomation will be a return to the earlier style (and, judging by the title, the earlier sexiness). And anyway, Noon is currently producing books at such an alarming rate that I suspect he will annoy and delight his readers at quite a pace in years to come. Asked about his book-a-year output he comments: "I hope to alternate styles from now on… It's a bit like Michael Jackson versus REM… Jackson takes five years to make an album; by the time it's out the public is so desperate for it, there's bound to be disappointment. REM on the other hand, just put out an album when some songs are ready. If it's not as good as the last one, well, there'll be another along in a minute…While I can still say to myself occasionally, 'Bloody Hell! That's a good sentence!' then I'll keep writing."