Spike looks at the man behind the spray can with the publication of Keith Haring's journals
At the close of the twentieth century, trying to find a stable definition for the term "art" has become increasingly difficult. The traditional notion of art as the privilege of the educated and wealthy, preserved within galleries and private collections, has continually come under attack by popular culture, from Dada and the Surrealists all the way through to Warhol.
One of the few artists that actually acknowledged this new, precarious, nature of 'the artist' as it emerged was Keith Haring. Keith was born in Kutztown, Pennsylvania in 1958, and from an early age expressed an interest in art. After a period studying commercial art in Pittsburgh, Haring realised this was not the right direction for him. He left in 1976 and hitchhiked cross-country, before returning to sit in on classes at the University of Pittsburgh. It was here that central elements of his later style started to emerge. That style had a self-confessed similarity to the work of the French Modernist Leger, and the later work of Jean Dubuffet. However, no artist is just the sum the of their stylistic influences. By the time of his first one-man show at the Shafraz Gallery, New York in 1982, Haring's individual approach to art was fully developed.
Haring's recently published journals, first begun in 1977, offer a great insight into his artistic development. These fragments of Haring's life provide not only a glimpse of his private life, but also go some of the way to outlining Haring's artistic manifesto. The density and complexity of his thoughts and aims act as a shocking foil to the apparent lightness of Haring's iconic 'cartoony' style. This was a man for whom art, though disposable by nature, was not to be underestimated in power. One of Haring's major ambitions, which he stated at an early stage, was to return art to the public. This at first appears to be a simple task: however, as Haring was to later prove, it was somewhat more daring than first imagined. Haring did not want to produce art that was simply physically accessible, available from the street to the high street store, but art that was also freed from the delimiting vision of the traditional institutions, be it gallery or critic. It would seem, if we follow Haring's lead, that an Art that is easy to read has far more power than an Art that is simply obtuse or high-brow.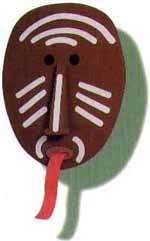 The measured simplicity of Keith Haring's work was the result of much close and detailed study. By reducing the visual elements of his work to what can best be described as icons, Haring managed to produce what amounted to keys which unlocked ideas. However, the impact of these images rests not only on this process. What increases their pertinence is their universality. Haring employed an imagery that seems to connect with everyone; the more cynical would liken it to the power of advertising. However, Haring was not interested in the empty sites of materialism per se. In place of the usual trite commercial messages, Haring invested personal introspection and concern into the public space of advertising, using the directness of the advertising medium against itself.
Another invigorating aspect to Haring's work was his willingness to address and acknowledge the importance of not only popular culture, but also it more shady son, subculture. Haring's work would have been impossible without the previous impact on the popular conception of art by both Walt Disney and Andy Warhol. With Disney opening up the viewer to the joy and pleasure to be gained from the cartoon figure, not only as an entertainment, but also as an art form, it was surely only a matter of time before an artist managed to tap into this idea. However, to make that step from popular entertainment to Art, or High Art, would have surely been impossible without the ground-breaking work of likes of Andy Warhol.
Warhol managed to re-create the artist, to slap the art-world in the face and say that commerce has a place in art. With Warhol having broken the mould of what was acceptably defined as art and what wasn't the next generation could now reach out an explore the culture that they found around them. So, by reflecting the subcultures that surrounded him, be it skate-boarding, Hip-Hop or homosexuality, Haring opened the door and allowed real, contemporary life into his art. With 'the street' in his work, Haring instantly made connections with the common viewer – as opposed to the educated viewer. Such accessibility was also furthered by his POP SHOP in SoHo, New York, and later in Japan, which sold pieces of his 'commercial art'.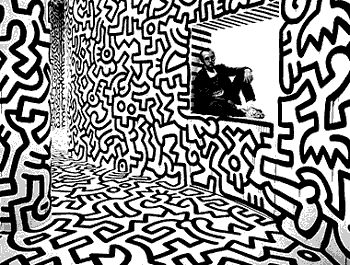 Haring's own sexuality also found a voice in his art, and hence many of his motifs have homoerotic connotations. However, to view his work as purely 'queer' art is nothing but limiting. The humour and impassioned politicking evident in many of his more sexual works surely increase their palatability to the straighter audience. As a result, works such as those produced for the AIDS awareness group ACT UP have now reached the level where they can almost be considered as classic images of the 80s.
Another interesting aspect of these journals is the way in which Haring himself dealt with his fame. For a man who quickly rose to fame, collected by both major galleries and celebrity collectors, such as Madonna, he remained surprisingly level-headed. Even though he was consistently displayed through Europe, he still had doubts to his own importance as an artist, and whether or not he was really cutting edge. Such modesty is truly a rare gift in the art-world, and especially significant, in the crazy New York culture of the celebrity artist. The publication of Haring's journals offer the interested an opportunity to glimpse some of the motivations of what clearly must be one of the key American artists of the late twentieth century. However, they also offer us much more. They provide us with a chance to consider the concerns and fears of an ordinary man who suffered with the same problems as us all; self-doubt, love, and fears for our own mortality. If I were to attain half the compassion and understanding that this man achieved in his brief life I would I consider myself to be a happy man.