Miriam McDonald
This book, set mostly in the 1940s, begins when Joe Kavalier escapes with the legendary Golem from Nazi-occupied Prague, only to find himself in America with no way to free his family, no matter what he does. Just as America is wide-open for these characters, so Europe closes around their loved ones and refuses to let go. His cousin, energetic yet directionless and mostly friendless Sammy Klayman – or Clay, as he becomes – seems freer, but, you eventually discover, is trapped within himself. Together the two cousins dream up a comic-book character called the Escapologist, and try to find their liberty.
If you're at all familiar with the history of American comics, this aspect of the novel will delight you. The depictions of the golden days of comics, when Superman was new and America was on the brink of launching itself into the second World War, are beautifully depicted. The enthusiasm people had for the new medium, the plethora of bizarre superheroes, the way so many writers lost all rights to their characters and were effectively ripped off by the comics companies, it's all here. The book is written from a modern viewpoint, as though Cavalier and Klay really existed, with footnotes here and there telling us what eventually happened, how much issues sold for at auction and so on. It adds a huge touch of reality to the story.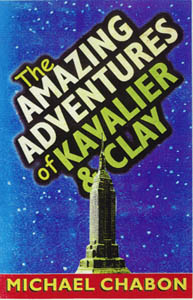 However, while Chabon has researched it thoroughly, the history of the comics industry is a smoke-screen, and you if aren't interested in comics, that shouldn't put you off this novel. This book is well worth hours of anybody's time. There's a breadth to Chabon's writing that's breathtaking. Sixty years of history, both real and imagined, and a story that moves from Prague to the United States and on to the Antarctic, finally heading further West with Sammy. Despite all this, and the full supporting cast of characters, Chabon's novel never loses its focus. The comics matter because of what they mean to Joe and Sammy, who express their wishes through their medium, but cannot escape through it. No matter how many Nazis the Escapologist attacks, the Kavalier family are stuck in Prague, being treated ever more badly, and all Joe can do is save his money and dream of being able to treat them well when they get to America.
Being bound and at liberty run on so many levels through this novel. There's the sense of being bound by others as the Kavalier family are in Prague, and as Joe is bound by bureacracy, unable to help them, yet also bound to them by love and blood. There are physical bonds, such as those Joe endures learning magic and escapology, or when he's stationed in the Antarctic, surrounded by open vistas but trapped by lack of light and means of sustenance away from his base. There are the ties one imposes on onesself, as Sammy does when he rejects what he really is, and marries the pregnant girlfriend Joe leaves to go to war.
It's only at the end of the novel when it becomes apparent that the acceptance and giving of love, regardless of faults can set people free, and it's something Joe has known all along without understanding, and something Sammy has instinctively come to learn for himself. Whether they are going to be happy, Chabon doesn't tell us. But they are free.