Stephen Mitchelmore
It is a commonplace that anyone brought up within a religious tradition and who has subsequently rejected it finds that its legacy runs deep. It is also a commonplace that the rejection often takes the form of the vacated space. It still seeks out the comforts of belief, even if it is a belief in nothing. Religion, it seems, is part of our deepest nature. Passed on like a gene, its properties emerge often after its host has matured and procreated the next. But if this analogy suggests a prejudice – that science can explain the phenomenon of religion – it also implies that while science has taken the place of religion as the concluding authority, it is subject to the same process of displacement. It is significant that recent editors of the Bible tell us that Sir Issac Newton's obsessive interest in biblical history and prophecy suggests the scientific revolution owed as much to Hebrew mysticism as to Greek rationality. The scientific tradition, it seems, was not created in its own image.
Leon Wieseltier is a creature of the culture steeped in this tradition – he is literary editor of the Washington-based journal The New Republic – but is also unusually aware of that Hebrew mysticism, having studied it at Harvard. After college, however, he neglected to follow his ancestors' devotions, preferring to concentrate on a career in the secular world. Yet when his father, a holocaust survivor, died in 1996, he felt an overwhelming physical need to recite the mourner's kaddish, a prayer meant to help the dead relative in the afterlife. He knew it would involve a big change in his life, as, to have the right effect, it has to be performed at the local synagogue three times daily for a year following the death; an arduous task for anyone with a life to lead. (It involves more than putting one's hands together and mumbling a few words.) But Wieseltier took on even more: he kept a journal following his investigations into ancient and modern studies of the kaddish ritual. His need to utter the prayer was matched by his need to understand it. This book of 585 pages is that journal. It is a remarkable document. Unlike many modern day journals, it doesn't have any lurid details to help the publisher. Yet the urgency of his study, concurrent with his grief, means we join him in his discoveries as though they are important events in his life, which indeed they are.
He finds fault in modern philosophy: "When Nietzsche lost his faith" he writes "he concluded that God is dead. This is not critical thinking. This is narcissism." Wieseltier's aim is to look beyond the mirror, toward an older tradition. To have such an intense existential need felt alongside explications of, say, a treatise on repentance by a fourteenth century Provençal Jewish scholar, is a rare experience. The mixture is usually despised by exegetes and escapists alike. Picador is to be congratulated for publishing such a unique volume (I bought my copy).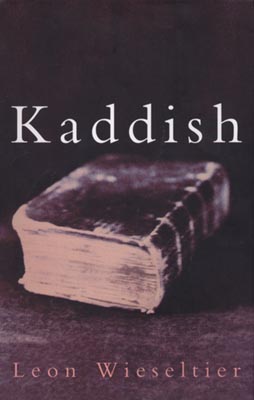 As a creature of this culture, Wieseltier is aware that part of his need to embrace the ritual of kaddish is that it saves him from having to improvise them, which would have probably infected his secular life and perhaps been diagnosed as Obsessive Compulsive Disorder. And so too the contemplation of rabbinical texts. In the sense that, as he shows the Provençal scholar deducing a lesson about mourning from Ezekiel, grief must be yielded to rather than fought; it is a sin to put up such defences; it is a sin not to be shattered: 'it is pointless to put up a fight' he writes 'for a fight will blind you to the opportunity that has been presented by your misfortune.' This seems to explain why the book appears in the form it does. Rather than being fashioned into an unbreakable whole, the book is made up of short paragraphs and aphoristic sentences in daily response to the fortunes and misfortunes of his year of mourning and study. Sometimes he is elated, sometimes indifferent, sometimes shattered. Sometimes the reader is too. And while the aphorisms don't have the nitric power of a Nietzsche or a Cioran, the longer sections often have the wit and modesty of another great user of the form, Lichtenberg. And it is this modesty that is necessary to mediate between worlds. But only once does Wieseltier mention another Jew caught between one world and another, Franz Kafka. This is a pity as I think Kafka's writing reveal a lot about grief and reason.
Still, I wonder how Wieseltier would react to Nietzsche if he hadn't lost his faith but never had it the first place, where the death of God would be as foreign as His presence; an absence beyond absence? Have we ever had a major writer in this position? Or is such a thing impossible? Are those of us brought up without having seen the inside of a house of worship, never having had the fear of God put into us, or never even looked into the sky and wondered, still subject to a tradition hidden under decades of secular sediment? Maybe, but I think that the sediment has alienated us from its core beyond retrieval. Does this mean we cannot have a relation to what he writes? I think we can, still, because we too are subject to the same misfortunes, and therefore in need of a means of dealing with them without destroying ourselves and those around us. It means we have to look beyond the mirror and remain on the road to working something out, as Wieseltier does so brilliantly, but for ourselves.
This working out can take many forms. Wieseltier's is philosophy, of sorts. Indeed, at one point he says 'philosophy' is the most beautiful word in the language. This seems odd for someone so engaged with something bordering on the irrational. But he says houses of worship are also houses of philosophy; they too are concerned with first principles, and "as long as there are shuls [the Hebrew word for synagogues] and churches and mosques, the feeling for philosophy will not be lost. The same cannot be said about universities." This jibe is ironic as a strictly kosher philosopher, the late Emmanuel Levinas, who published Talmudic readings alongside his extraordinary philosophical works, is now one of the most renowned names in university philosophy. Later this year, the first English translation of Derrida's book Adieu Emmanuel Levinas will appear – the Dieu in the title being very significant of course. So perhaps the same could be said for universities: as long as there are universities, the feeling for religion will not be lost. However, this book demonstrates that neither is the best place for either.