Chris Mitchell
Even in death, Timothy Leary is still trying to shatter society's taboos. Design For Dying appears eighteen months after the former Harvard psychologist turned LSD guru passed away from prostate cancer. Written during his last months, Leary's book attempts to dispel our fear of death by suggesting that technology increasingly lets us orchestrate the how, where and when of our own grand finale.
Leary designed his own death in loving detail. Scorning hospitalised medical care, he announced at one point that he intended to take his own life, which would be broadcast live on the World Wide Web from Leary's website, and then be cryogenically frozen. The ensuing media furore provided the perfect vehicle for Leary to give countless interviews about making death the high point of life.
In the end, Leary died peacefully at home, untelevised and unfrozen, but he managed to pull off an audacious parting shot: in April this year, some of his ashes were sent into orbit alongside those of Star Trek creator Gene Roddenberry.
With chapter titles like "Dying? Throw A House Party!" and "Death Is The Ultimate Trip", Design For Dying isn't a standard self-help manual. Indeed, Leary's daily ingestion of both onmouseover="window.status='Get some in-yer-face ecstasy'; return true">prescribed and proscribed medicines gives plenty of ammunition to those who would want to write this book off as a collection of drug-crazed ramblings.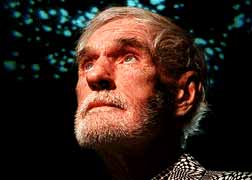 Yet Design For Dying's discussion of the various current and future technologies that could outwit death – everything from cryogenics to downloading the mind onto hard disk and regenerating the body through nanotechnology – shows a keen, analytical intelligence at work. Inevitably, he focuses on drugs as a means of achieving insight into what happens beyond death. Underpinning his optimism is the Leary Theory that death is "a merging with the entire life process." For all his hyberbole, Leary's sense of humour remains intact: "The idea of keeping someone's head in cryogenic suspension pushes people's taboo buttons even more than whole-body suspension, which is one fun reason to do it".
Perhaps the only measurement of Leary's success in designing his own death is in the reaction of his friends. Editor R.U. Sirius, former Mondo 2000 head honcho and longtime Leary friend. concludes the book with testimonies from those who spent time with Leary during his final days. What emerges is that despite his relentlessly upbeat public appearances, Leary, like anyone else, succumbed to pain and depression. Moreover, he was fortunate both to have so many friends to call on and to remain mentally alert throughout his illness.
Rather than devaluing Leary's celebration of death, these testimonies only emphasise how much he succeeded in dying as he wished. Design For Dying is a curiously compelling coda which ensures that Leary's voice is not yet quite silent.