Budge Burgess
Given the enduring capacity of English and Scottish courts to sentence large numbers of men and women to prison, it may seem that a book about 19th century penal reform has missed the boat. John Clay's Maconochie's Experiment is a reminder that many of the founding fathers, and mothers of the English-speaking world were somewhat reluctant to board that boat in the first place.
Clay offers an intriguing insight into the system of transportation which saw many thousands – often petty criminals or political dissidents – abandoned, first in the Americas, then in Australia. It was a policy which attracted little comment in England – on the out of sight, out of mind principle – until one "cool-headed, shrewd, ambitious, meddling Scotchman" produced, not just an intellectual argument for reform, but a working experiment to prove that there was a better way of treating convicts.
In 1840, Captain Alexander Maconochie, formerly of the Royal Navy, took charge of Norfolk Island, a tiny penal colony, midway between Australia and New Zealand. Norfolk Island also occupied a role midway between that of Devil's Island and Colditz – it held some of the more serious prisoners, and those who had a history of trying to escape.
Maconochie's conviction that penal reform was not only necessary but a utilitarian possibility reflected personal experience. He had, himself, spent time in prison during the Napoleonic Wars. While there are obvious differences between the role of a POW and that of a Prisoner of Mother England, Maconochie understood that both endured the luxury of time.
Maconochie's practical understanding counterpointed the spirit of the era. Clay shows that pressure for reform was largely a moral, cerebral affair; it could offer no empirical evidence of the comparative effectiveness of transportation and its role in combating crime.
The then dominant models of custodial sentencing embodied an evangelical zeal, which emphasised punishment, contemplation, and the quest for forgiveness, and a primitive form of aversion therapy – the effects of offending had to be associated with loss of freedom and an expectation of brutality.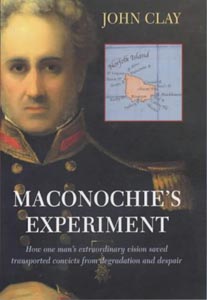 Maconochie insisted that the objective of prison was not to punish for past misdemeanors, but to prepare prisoners for the future. He had observed, while commanding pressed sailors, that his men responded to motivation and peer pressure. Few managers at the time, let alone gaolers, demonstrated such awareness.
He arrived in Norfolk Island convinced that prisoners had to be given the educational stimulus and the psychological strength to divert themselves from crime, and to open the way to a more productive lifestyle. Maconochie felt that prisoners should become agents of their own welfare. This insistence was not rhetorical. His aim on Norfolk Island was to establish a living experiment – giving prisoners productive tasks and access to education and training. They were to grow their own produce on communal farms, and employed a form of token economy which enabled them to buy privileges, even eventual remission of sentence.
Clay avoids any over-sentimental commentary on Maconochie's humane experiment. His efforts met with resistance at every step – from colonial adminstrators in Australia and civil servants and politicians in London. Nevertheless, when one of his most vociferous opponents, Sir George Gipps, visited Norfolk Island in 1843, he was impressed by the results, and admitted Maconochie had been denied necessary backing.
There was, in the 19th century as in the 21st, little political mileage in advocating reform of the penal system – unless to demand harsher punishment. Experiments in sentencing and custodial treatment remain few and far between and remain fraught with opposition at every turn. Maconochie has been too long transported to a forgotten role. It is to John Clay's credit that he has chosen to rehabilitate a visionary social scientist who can remind us that, while courts have a responsibility to try, the penal system can always benefit from experiment.
What Clay demonstrates, however, is that the application of social sciences to the field of penal reform requires more than academic interest – it is utterly dependent on political will.