Mark Ostrowski meets Lesley Himes, widow of the late, great Chester Himes
Women without men: María survived Borges; Linda Lee, Bukowski; Mary, Hemingway; and Lesley, Himes. Women who dealt with their husbands' blindness, alcoholism, mental disorders, strokes. Women who now control the reproduction of their late husbands' work, their copyright.
I was ruminating on the peculiar fate of these and other authors' wives-turned-widows as I waited for Lesley Himes, widow of American expatriate writer Chester Himes. Himes, who has been hailed as "the father of black American crime writing," is best known for his Harlem-based thrillers, eight of which feature the detectives Grave Digger Jones and Coffin Ed Johnson. He also has the distinction of being the first non-French author ever to win the Grand Prix de la littérature policière; it was awarded to him in 1958 for his novel For Love of Imabelle, which is now published as A Rage in Harlem.
It was a clear, hot day in Moraira, an increasingly pretentious fishing village in the south of Spain, but from the shady confines of the Plaza de la Sort the heat was much diminished.
Lesley arrived wearing a pale green chiffon dress. Although now in her 70s, she hasn't lost any of the flair of her Paris days, when she worked as a photo librarian for the Herald Tribune. ("She was Irish-English with blue-gray eyes and was very good looking," Chester Himes wrote in My Life of Absurdity, the second volume of his autobiography.) "I was extremely elegant," she admitted. "Everyone around here always thinks I'm going to a party."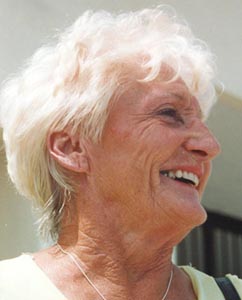 The waiter had hardly finished uncorking our bottle of Marina Alta white wine when her cellular phone rang: "Hello? How are you! When does your football match kick off? Oh, Ted, what a pity! I'm going with David on Monday…" Life after Chester indeed.
My expression must have betrayed my thoughts, for she reminded me that a long time—fifteen years—has gone by since Chester's death, over the course of which she had been tempted to re-marry twice. The first of her suitors, a "pompous Jewish man who lectured in minority studies at Berkeley," was surprised that Chester hadn't written more about her in his autobiography. One of the reasons Lesley believes she was given such short shrift in My Life of Absurdity is because Chester's failing health had thrust her not only into the role of typist but editor as well: "Chester had a hard time finishing it. We got into arguments because I'd take the manuscript back and say, 'Chester, this wasn't like that.' He had me sleeping with someone I didn't even know…"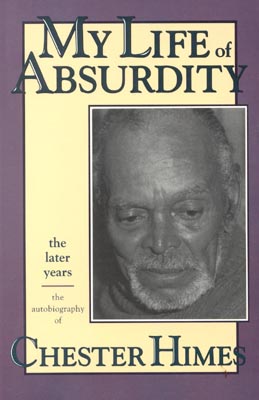 What lured the Himeses to the obscurity of southern Spain and away from the conviviality and recognition they enjoyed in Paris remains somewhat unclear. (Perhaps James Sallis's upcoming biography will shed new light on the matter.) Was it simply Chester's compulsive personality, his urge to jump in the Jaguar and go somewhere new? Upon my bringing up the suggestion made by one of Himes's first biographers, Michel Fabré, that they couldn't afford the French Rivera, Lesley became livid. She would become similarly piqued twice more: first, at the mention of long-time Himes confidant and author of Sweet Sweetback's Baadasssss Song, Melvin Van Peebles ("Somehow when anyone starts talking about Chester, Melvin always gets in on it. He never drops me a note…We fed him for weeks and weeks in Paris."); and again with Ellen Wright ("The only problem with Richard [Wright] was his wife. I couldn't stand the woman.").
But before accusing Lesley of unwarranted vituperativeness, it bears mentioning that she—no double-entendre intended—did not cast the first stone. Van Peebles's portrayal of her in his introduction to Himes's prison novel, Yesterday Will Make You Cry, the unexpurgated version of Cast the First Stone, as "Chester's ladyfriend-cum-watchdog" is anything but flattering. (For a thorough thrashing of an author's wife, see Graham Greene's review of Jessie Conrad's Joseph Conrad and his Circle. )
Obviously the inverse of Paul Bowles's axiom – "intense discomfort often helps to induce intensive work" – was true in Chester's case. "I think the only problem with coming here was that it got to be too comfortable," she said. "He really didn't have to work…Chester didn't write because he loved to sit down and write. He wrote for a living. He wrote to make money."
The last thing written by Chester is generally regarded to be a letter of complaint to the Herald Tribune. "He didn't write that. I did. Because I was so pissed off they never mentioned Chester's name. I thought, I know what Chester would say, so I'll do it for him." Multiple strokes had deteriorated his health so badly that Lesley was forced to do more than attend to just his physical needs: "In the final years I had to take over the books…I had to write letters to some important people. I was very good at faking his signature. I knew exactly what he was going to say."
Lesley has decided that upon her death all income derived from Chester's books will go to the Amistad Research Center at Tulane University. The money will be used to set up a grant in Chester's name for Afro-American artists. "Chester would have wanted it that way," she added.
As we sat sipping our muscatel, I realized that the question of race had hardly been mentioned during the whole afternoon. When I told Lesley this, she smiled and said: "That's the thing people say was most incredible about me. Chester said one day, 'You're the only true colorblind person I've ever met in my life.'" Coming from the likes of Chester Himes – as anyone who has read his Plan B will understand – this was quite a compliment.