Spike reflects on the work of England's quintessential Renaissance man, Derek Jarman
By the time you read this, Derek Jarman: A Retrospective will have closed at the Barbican Centre. However, the Barbican Centre's comprehensive catalogue of the exhibition, which has been published by Thames And Hudson, gives a chance to re-evaluate the impact and splendour of Derek Jarman's work. Though largely famous for his film-work, Jarman was also a prestigious artist and writer, with his artistic skills even pouring over into other diverse art-forms such as scenery design and gardening (yes, gardening).
With a man whose output was so divergent, whose character so like quicksilver, it is hard to pin him down. And this is the beauty of Jarman. He was indefinable and unique, a British maverick comparable in importance to artists such as William Blake, and as such, should not allowed to drift to the side-lines of history, or to be pigeon-holed solely as a queer film-maker.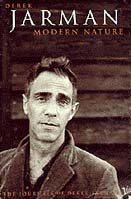 I discovered Derek Jarman myself through his journals, published as Modern Nature (1991), and At Your Own Risk (1992). Written as direct result of his knowledge that he was HIV+ these books offer the reader a startling honesty. Nothing is hidden from us, and as such we enter into his world, and his everyday life, more as a friend than an observer – no brave face is put on for us, no politeness offered. Instead, Derek gives us truth and compassion, and at times pure, honest, anger. He leaps between the meditative contemplation of his garden and haranguing the British film industry for its complacency, between describing the omnipresence of the nuclear reactor behind his home at Dungeness and the evils of what he called "hetrosoc". The result is a potent, valuable set of books pulsing with pure emotion.
This truth and honesty is also a quality found in Jarman's films; he eschewed the expense and contrivance of big-budget films for the simplicity of Super8 stock. Even Jarman's most expensive films were made at a fraction of the cost of the cheapest Hollywood film. His work was radically different, especially from the usual British attempts at generating some form of quirky pseudo-Hollywood style. However, this outsider position quite suited Jarman, and as he said, "I am the most fortunate film director of my generation: I've only ever done what I wanted ". People have said that they find his work hard, or just unintelligible, but that is part of their charm and power. Jarman frequently used the camera like a paintbrush, with the visual quotient of a scene carrying the charge normally left to the narrative: as it were, painting with light. However, such concepts are hard to conceive by a generation who goes to the cinema not to be challenged, but rather, have their eyes stuffed with Hollywood bubble-gum. That is not to say that such films don't have their place; you just have to learn to look at films by the likes of Jarman with open eyes.
His films were also frequently of a revisionist tone, with Jarman looking back at history and re-viewing it through his own twentieth century eyes, and turning it into something new, something pertinent. For example, in 1977 he released his film Jubilee, coinciding with the Queen's Silver Jubilee, blending a time-travelling Elizabeth I and John Dee with oppressed and violent punks in sharp commentary on contemporary Britain. This concern for the state of the British nation is also reflected in his more complex, and yet more visually rewarding film The Last Of England.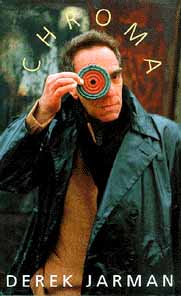 Moreover, Jarman was not afraid of re-evaluating the classics, and produced his own idiosyncratic revisions of Shakespeare's The Tempest, and the more successful version of Marlowe's Edward II. This film, like many of his later films, utilised the strength of simplicity with it's sparse ahistorical sets, and mixture of period and contemporary costume. Again, Jarman looked to the past, especially to the hidden ramifications of a possible gay history, in order to comment on the situation today. That is to say, by re-examining men such as Edward II, Ludwig Wittgenstein or Caravaggio Jarman could shift the emphasis of traditional (read 'straight') history, and trace the previously hidden importance of a succession of homosexual men in key roles in Western intellectual culture. However, even though his films were often serious in tone, Jarman always seemed to have his tongue firmly lodged in his cheek, and concepts that could quite easily dissolve into pretentious drivel, frequently sparkle with irreverent wit.
The paintings displayed at the Barbican are, like most retrospectives, a mixed bag. We travel from the cold controlled nature of his early abstract landscapes of his youth to the fiery anger of his compelling last works, and so can easily trace Jarman's origins and subsequent progression. The curator has also had the chance to assemble some of the artist's personal artefacts, and the fact that people stand in rapt attention looking at such things as Jarman's fountain pen or diaries is testament to the lasting power of the man himself.
The last section of the exhibition is the most striking, with the gloomy intensity of the pitch paintings and the dazzling outbursts that constitute the paintings that were first shown in the "Evil Queen" exhibition. These polemical works are Jarman at his most impassioned and his anger and frustration seep through the canvas. Their uncompromising nature was matched by his last film Blue. This film, with the screen saturated with an unchanging blue, was his most lyrical. It would be foolhardy to try capture the power and poignancy of this film in words. With the eyes confounded with nothing but an infinite blue, you are left to the voice-over to lead you through Jarman's imagination and your own in a way that has never been attempted before.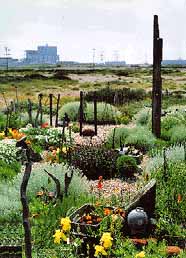 Jarman's home and garden at Prospect Cottage in Dungeness, Kent, figure frequently in his last works, be it writing or film, and some attempt to address this has been attempted at the Barbican. Outside the gallery local children have made their own gardens a la Jarman to quite good effect. However, nothing can recreate the sense of isolation and strange other-worldliness present at Dungeness. It is as if here everything, including time itself will dissolve at moment into the vast swathes of shingle. His home and the others around it stand stranded in this stark landscape, now dominated and threatened by the vast nuclear reactor behind them.
A posthumous book, Derek Jarman's Garden (1995), with splendid photographs by Howard Sooley, captures the beauty of the place that meant so much to Jarman. I personally had never considered that gardening could ever be considered an art form, but what Jarman created here is nothing but art, albeit more challenging to construct and maintain as it is an art that continually changes and grows. Innumerable plants provide islands of colour that sit in the sea of shingle which flows through the garden. Driftwood and flotsam punctuate the garden in the form of sculpture and ultimately serve to unify it with the area surrounding it. The result is a bounty of visual delights, made more powerful by the improbability of their setting. It is characteristic that Jarman's writing, even when discussing the creation of his garden in this book, soon breaks down, and becomes a discussion of so much more. Surely there is no better example than Derek Jarman of an artist whose work is entwined with their life.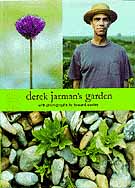 How, then, are we to remember this man? Should he be placed in the shrivelled canon of British twentieth century art, filed under "minor artist", or should he be cast in the limiting role of "queer director", or just dismissed as loud, over-opinionated, English eccentric? It is symptomatic of artists who work in several media to be dismissed as a jack of all trades but master of none. However, this would clearly not be a worthy epitaph for a man who obviously excelled in nearly every art form he chose to turn his hand to. Jarman was also much more, being not only a very political man, but whose work also had a great feeling for the decline of all the positive elements of British culture that have been stifled and repressed since the start of the Thatcher years.
Whatever his agenda, Jarman always made himself heard and it's a voice that painful not to hear now. I feel, then, that all us can claim a part of Derek Jarman – he was an important film-maker, and an undervalued and little discussed artist, and wrote books that will surely stand the test of time. And yes, he was a consummate gardener. To lose an artist at the height of their powers is hard to live with, but to neglect what they left us is criminal. What is important now is that no matter how fragmented he may become in our minds, this man of rare vision must be preserved in a unified form in drafty corridors of history. Jarman, with all his divergent skill and charm, was surely more than just the sum of his parts, and that is how he should be remembered. Go and see this retrospective, watch one of the films, or even read the books, but do try and take the time to enter into Jarman's world. I can assure you, it's quite an amazing place to be.