Polly Marshall hears why sci-fi is a four letter
word for the Lee Scratch Perry of contemporary
letters, Jeff Noon
<!-adsense-->
Jeff Noon's gorgeous girlfriend has her hands on the wheel and a crazy glint in her big blue eyes. Jeff and Julie are my not entirely reliable guides on the Vurt tour, a late night ride scorching the tarmac of the scary bits of Manchester, following the path and pace of Noon's Stashriders of Vurtchester. I make some feeble noises about speed limits. "Ya great mimsy ponce," calls out the great science fiction writer, guest of honour at 1999 Eastercon, as white of knuckle and green of cheek I cling to my safety belt.
The car grinds to a halt in an enormous pothole in Hulme, a district of dismal skyscrapers about as inner city as you can get, the model for Vurt's Bottletown. There are no lights in the streets, entirely deserted apart from two shady characters lurking on the pavement, up to no good, some kind of deal going on. I lock the doors. Then Julie's foot is flat on the floor again and we're careening at full g-force down the Rusholme curry corridor.
The car screeches to a merciful if sudden halt. Noon selects a garish neon-lit Indian restaurant, and we take our seats. Among the fragrant spices of dansak and balti, he is animated on the state of the art, on the writing techniques he has filched from dub music and contemporary painting, and damning of elves and spaceships, for him a blight on science fiction. In his view the genre has forgotten its finest moments in inner space and is fossilized in conservative narrative forms that went out with the ark.
Noon first sprung on an unsuspecting reading public in 1993 with Vurt, a brilliant debut which the New Statesman with uncharacteristic lyricism described as "too beautiful for bikers, too harsh for hippies." Just right for everyone else though, it won the Arthur C. Clarke Award in 1994. Other accolades include 1995 John Campbell Award for best new science fiction writer; and nomination for a second Clarke Award with Nymphomation in 1997.
Born in 1957, Noon is a barely-reformed punk with all the mischievous cynicism that comes with the territory. He's also an erudite lover of the artistic avant garde. His is hip nihilism with rhythm ­ Beat with beat, a mix that's won him star cyberpunk status in the States. Vurt, Pollen, Automated Alice, Nymphomation and Pixel Juice ­ all his works are page-turning cliff-hanging adventure stories told in slinky poetic style with a rampant and fecund imagination.
Frequent allusions to music also embellish Noon's work and give it pace and pulse. This science fiction uses the technology of techno and the riffs of Hendrix as its stepping off point. Pop lyricism and Noon's soulful emotional bravura puts him in a different class from the habitual technofetishism of the cyberpunks. Yet his number one fan is William Gibson.
As the dishes heap up on the table, Noon talks of his Vurt series. "The pure Vurt sequence ­ in chronological order ­ is Nymphomation, Vurt, Pollen and one other, which will come eventually. Automated Alice fits into that; and some stories from Pixel Juice tangentially. The last book will be the proper last book. It won't be like the others. I'm not going to do it till I think there'll be an audience for it. I'm writing these books and putting them out, and I get the impression they're being lost to the general public because they're being classed as science fiction."
Hang on a minute. This is the man who took SF's top prize with his first book. He is guest of honour at Eastercon this year and he's dissing the genre? "Yeah. I think it turns a lot of people off. It's unfortunate. It happens. I'm one of those writers ­ and there's an increasing number of us in Britain ­ who are on the edges of the science fiction. And it would do us more good to get our books on to the general fiction tables."
I'm stunned. Noon is known as the Philip K. Dick of the 90s. He's in great company, rated alongside classic speculative fiction writers like J.G.Ballard. How can he say such things? "I'm in great company. But Ballard has managed that transition into general fiction. When the public goes into a book shop, the only people that venture into the science fiction section are hardcore fans and usually it's on the third floor at the back."
And then there's the challenge of book jackets with elves and fairies. "Exactly, exactly. Even Philip Dick's work has flying saucers all over the jackets.
"I know for a fact that my main audience doesn't come just from the science fiction community, but from a vast amount of rock'n'roll kids. To a large extent I'm writing for and with them. Being put in science fiction, I'm losing out on kids who will walk into the bookshop, see a book and think 'That looks okay.' The science fiction writers in Britain, and there's a number of us who are all on the edge, have to make a decision before it's too late.
"It's an extremely laddish genre which doesn't appeal to me at all. My work sets itself up against that. If I had my way, I would define science fiction very precisely as being about two things: it's either about spaceships or it's about elves. And in the SF section of a book shop, I would put just those books. Now everything else, including Ballard, Dick, me, Michael Marshall Smith, Paul J. McAuley, and Pat Cadigan, I'd move into general fiction."
But we're talking about a noble tradition started by Mary Shelley which questions the progress of technology, genre literature that suggests new ethics and values. "Of course. But the problem is the real ambiguity in science fiction. When you open a science fiction book, it's about change isn't it? And opening that book is accepting that change. This is going to be different than the world I live in. I'm going to maybe learn something from that element of change.' Which is great. And you can't beat science fiction for that. It is the most transformative genre.
"Unfortunately at the same time as that worship of change, you've also got this really strong streak of conservatism in science fiction, which just goes all the way through it. I'm trying to work my way out of that conservative element, so I'm just concerned with the element of change."
What form does this dreaded conservatism take? "On a very basic level: some people go off in space on a spaceship. And what happens on that spaceship, for all intents and purposes, it might as well be happening in some little village in England. For the amount of truth it has about contemporary Britain, or contemporary feelings, or contemporary emotions. So why it's in a spaceship, I don't know, except the writer gets off on this fact and the readers do, so it becomes a pure excitement thing.
"It's not a question of wanting to get away from science fiction. It just so happens that if you write anything weird ­ and I love writing weird stuff ­ you get classed as science fiction. What I'm trying to suggest is that science fiction has got very very conservative. And that's against the basic idea of the genre.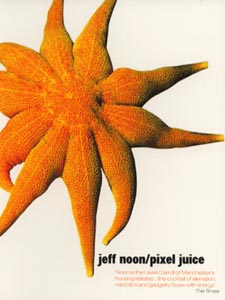 "It's narrative conservatism. I was talking to an SF writer at a convention and I said I was writing this book in the present tense. The writer couldn't believe that I was writing in the present tense. Cos when you tell a story, quite naturally, you start to write in the past tense. If you write about the future in the present tense, it's much more immediate. The words tend to leap off the page at the reader. It's a powerful tool to use."
Feminist science fiction is bending the rules, surely? "Women's science fiction writers are so concerned with gender issues that it becomes an issue-based fiction anyway. Which is fine. Male science fiction, you might as well forget it, mate. You get a lot of these incredible descriptions of female bodies, but for some reason they never describe the male body."
Noon makes science fiction sound as hackneyed as cowboy stories or noir gumshoe tales set in San Francisco. Has SF had its day? "No. What we've got to do is keep moving in science fiction. And we have to glorify the fact that it is this transformative fiction. To be honest, there have been too many novels written about space travel and elves."
Maybe Tolkein is to blame. According to legend, as he read a day's production of Lord of the Rings to C.S. Lewis and his circle in their Oxford local, Lewis was heard to mutter into his mild-and-bitter "Not another fucking elf." A view with which Noon would seem to concur.
Philip Dick tried a genre-crossover into what he felt was more serious literary endeavour with "straight" novels like The Transmigration of Timothy Archer and Mary and the Giant. Is Jeff Noon trying to do the same thing? "No not at all. I'm not going to go straight. If I want to go straight I'll do it because the subject demands it.
"My next book is a fictional history of Manchester music. It's going to be my straightest book, obviously. Because the subject demands it. That's one of my key things. The subject demands the form of the book. I'm never going to loose the weird element in my work. Sometimes, the weirdness is going to be ultimate, but other times it's going to be a little thread running through the story, quite a subtle thing. And I want to have the openness to move, to play with that."
Wordplay informs Noon's work with a shimmer of poetic puns that seem to have wandered off the pages of James Joyce, softening the blows of his sometimes harsh narrative. The attention to detail in language is thorough. Noon acknowledges the influence on his writing of Victorian poet Gerard Manley Hopkins. "His poem Pied Beauty ­ Glory be to God for dappled things' ­ was my introduction to wordplay."
"I try to make a book work on every level, which means from the word level, sentence level, paragraph level, chapter level to book level. I put a lot of effort into making it work on all different levels."
Unlike Noon's colleagues in science fiction, who are not getting off lightly. "In a lot of science fiction books, writers are working at the chapter level. You can do that, and there's nothing wrong with it. You write chapter one and then you write chapter two till you've got about twelve chapters and then it's a book, and then you put it out. But if you delve down a bit deeper and start working at the paragraph level, it gets more interesting. If you say 'Right, this paragraph, what's it about? What's the reader got from this paragraph? What's the reader got from this sentence? From this word?' In traditional science fiction there's not a lot of that kind of writing goes on. Because the spaceships travel from chapter to chapter, basically, not from line to line."
It is difficult to pin Noon down. Is he seeking a specific effect with which to manipulate his readers? "Not necessarily. I'm not quite sure what the effect is going to be. What I'm trying to do is quite specific ­ excite them. Two things are going on when I write. One is that I'm trying to give the reader a bloody good time. And the other thing is that I'm trying to be brilliant.
"The very act of trying to be brilliant forces you to work hard, and to start working on this word and line level. It takes a lot of time, though. It's using poetry to tell an action story. That's avant pulp."
What is that when it's at home? "There are two ultimate avant pulp novels. One would be if James Joyce wrote Farewell My Lovely. And the other one would be if Raymond Chandler wrote Ulysses. Now I'm not quite sure which of them would be the best avant pulp. But they could fight it out, those two. That's what the avant pulpist aims towards, one of those expressions."
Um, yes. I wonder if he has conversations with these people in his mind about this? "No, it's just a fantasy of mine, the avant pulp. I do take it very seriously, though. I'm a fantastic lover of twentieth century art. I've always absolutely adored it, the more difficult the better as far as I'm concerned. At the turn of the century, the thing split off ­ you get the sudden invention of populist art, and the invention of the avant garde. If you go back to, say, Dickens, he was an avant garde popular writer. There weren't many books published that you could class as avant garde in those days. They tended to take the popular form and work with it, explore things within it. At the start of the twentieth century it split into two. If you look at each artform you can actually see the moment of split.
"In jazz, it's very specific. Charlie Parker. He was the split. Up till then, jazz was a popular form. As far as I'm concerned, Duke Ellington is the highest popular artform there is. With Charlie Parker it split, and you've got this offshoot that said 'Ah, jazz! It's an avant garde artform. Charlie Parker, come on!' They all donned their berets and got down on it. At the same time, all the other jazz fans were thinking 'Oh we don't like Charlie Parker, it's not music!' So they formed the trad jazz movement. Which went back to New Orleans. 'This is real jazz. Guys in waistcoats playing solos all at the same time.' So you got this sudden split.